80 Good Afternoon Quotes To Brighten Your Day
Are you looking for creative ways to wish someone a good afternoon or just some beautiful good afternoon quotes?
This compilation of funny, heartfelt, and philosophical sayings and greetings is just what you need then!
There are good afternoon quotes for her that are sure to make your sweetheart know you are thinking about her during the day.
For tea lovers, there is even a section about how special tea time is!
It can be easy to get caught up in the business of our mornings.
It can be a bustling time to try and get everyone ready and where they need to be.
There always seems to be a lot of work on our to-do lists first thing in the morning too!
The evenings can be more of the same with dinner, kid's activities, and other household stuff to do.
The afternoon can be the perfect time to appreciate the beauty of your life, and there are even some suggestions about how to spend a lazy afternoon if you find yourself lucky enough to enjoy a few extra moments.
Take a breather and enjoy these good afternoon quotes!
Don't forget to also check out these inspirational morning quotes to help you seize the day.
Good afternoon quotes about the things you can do to ensure you have a good one
1. "If you come at four in the afternoon, I'll begin to be happy by three." ― Antoine de Saint-Exupéry, The Little Prince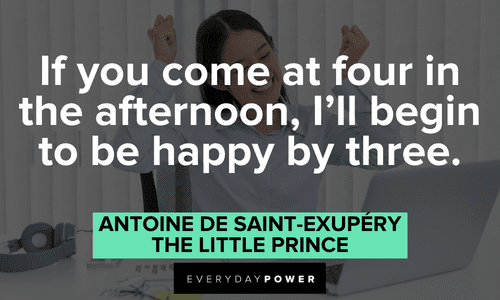 2. "Home may be where the heart is but it's no place to spend Wednesday afternoon." — Walker Percy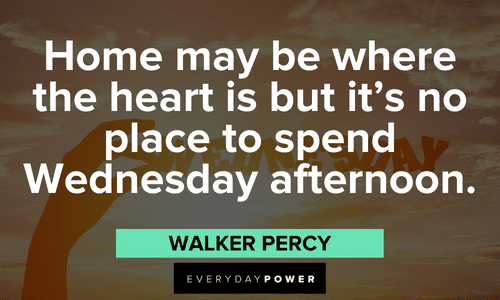 3. "A dead afternoon in a dark bar was not the worst of fates." — Don DeLillo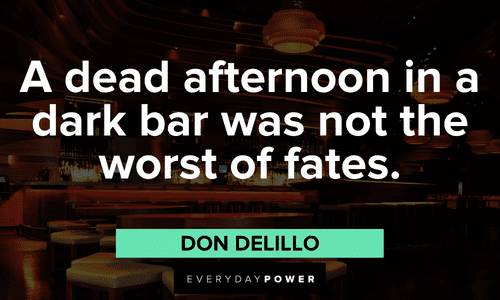 4. "A frozen daiquiri of a scorching afternoon is soothing. It makes living more tolerable." — Tallulah Bankhead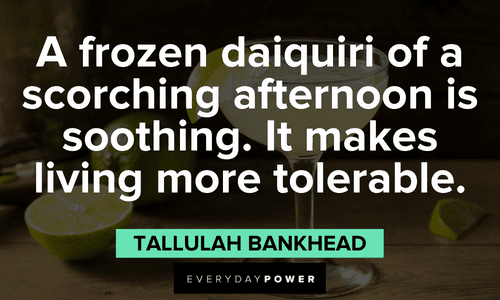 5. "Mornings belong to whatever is new. The current composition. Afternoons are for naps and letters." — Stephen King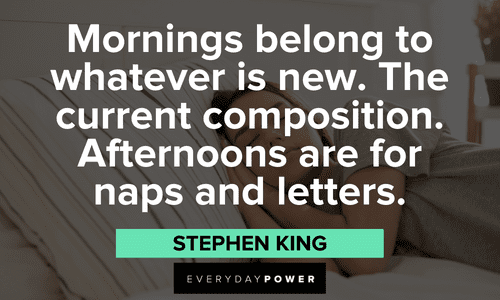 6. "Good, better, best. Never let it rest. 'Til your good is better and your better is best. Good Afternoon." — St. Jerome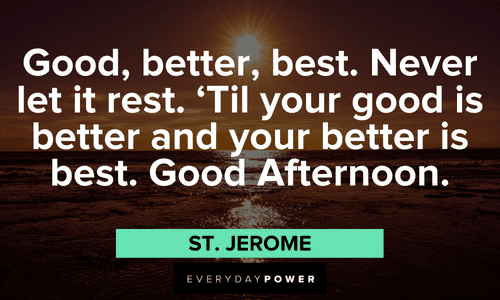 7. "Who can resist sleep at two or three in the afternoon in these sunlit parts of the Mediterranean?" ― André Aciman, Call Me by Your Name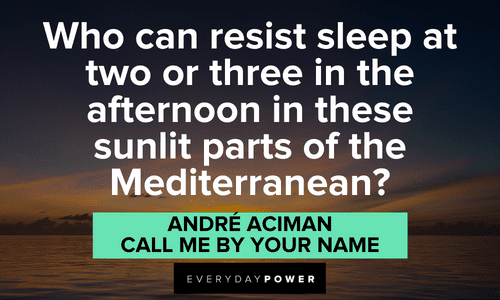 8. "Spend the afternoon. You can't take it with you." — Annie Dillard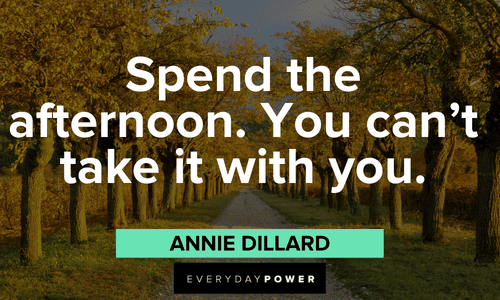 9. "Happiness is a hot bath on a Sunday afternoon." — A.D. Posey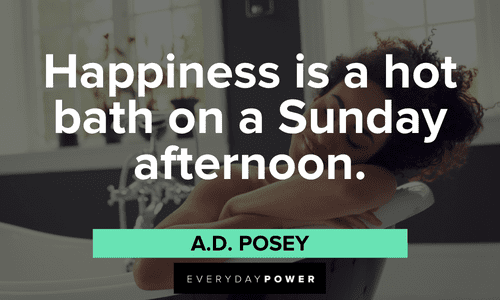 10. "If me and my friends are feeling decadent, we go for afternoon tea." – Sophie McShera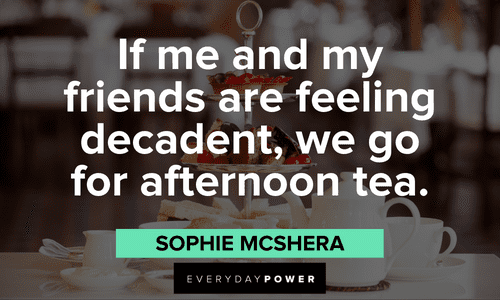 Philosophical good afternoon quotes
11. "If I had a free afternoon, I would play music, sit in my backyard, and drink coffee." – Aja Naomi King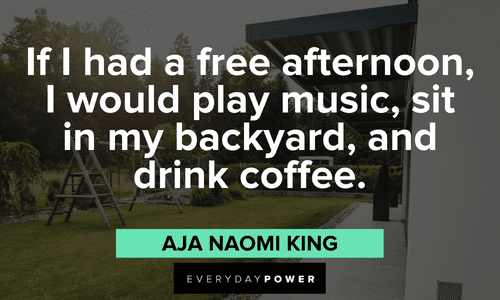 12. "Late afternoon on the West Coast ends with the sky doing all its brilliant stuff." – Joan Didion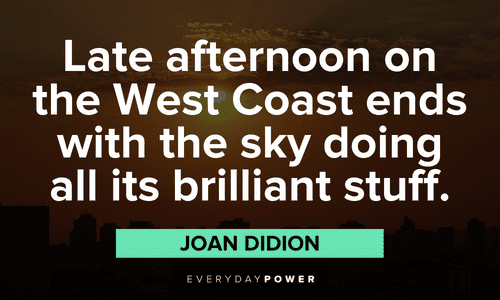 13. "Her legs swing complete afternoons away." –- Jill Eisenstadt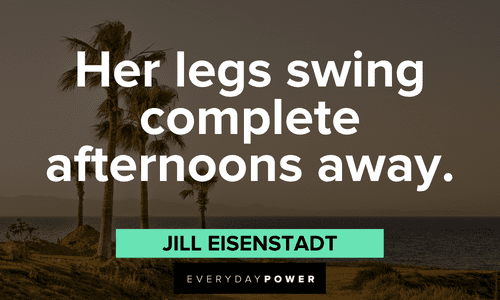 14. "The afternoon knows what the morning never suspected." — Robert Frost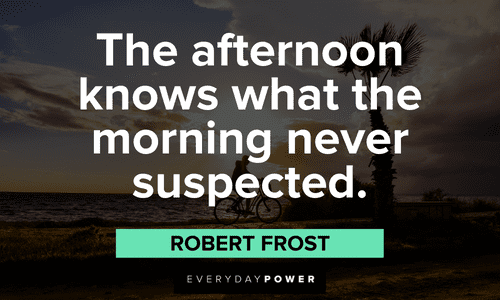 15. "The most dreamless and introspective time of day, a sort of midnight of the daytime" ― Amit Chaudhuri, Calcutta: Two Years in the City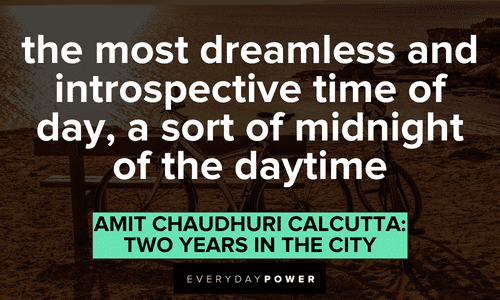 16. "You cannot plant an acorn in the morning, and expect that afternoon to sit in the shade of an oak." — Antoine de Saint-Exupéry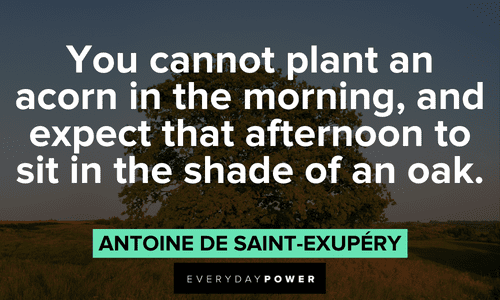 17. "It is the end of a fine bronze-tinted afternoon with purple shadows and febrile scraps of cloud." — Daniel Arsand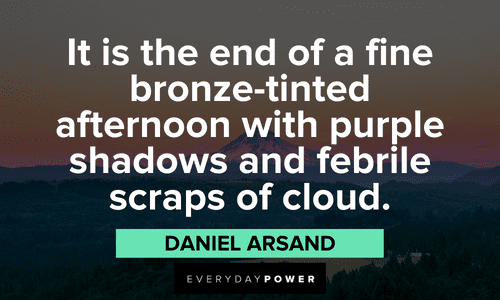 18. "Millions long for the immortality who don't' know what to do with themselves on a rainy Sunday afternoon." — Susan Ertz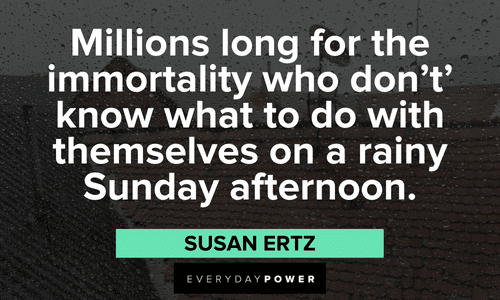 19. "We should live our lives as though Christ were coming this afternoon." – Jimmy Carter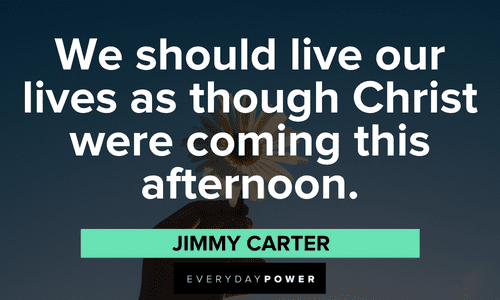 20. "And this is how we loved it: a fifth of vodka and an afternoon in the attic." — Ocean Vuong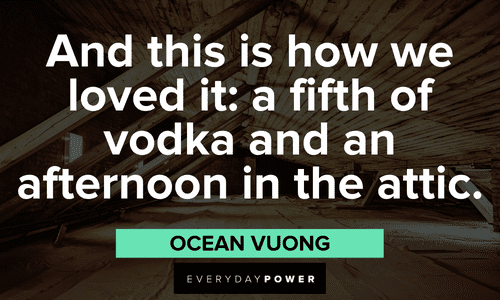 Good afternoon quotes about tea time and coffee
21. "Good afternoon,' I said cheerfully, with an especially saccharine smile for the High Lord." — Sarah J. Maas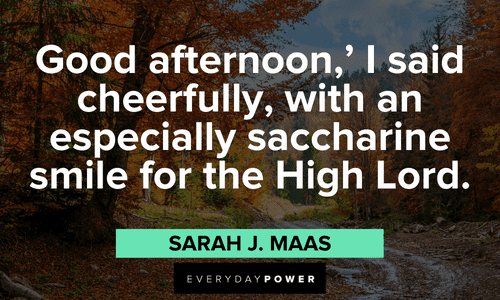 22. "This afternoon he will play guitar and sing 'I Taste A LiquorNever Brewed.'" — Hans Ostrom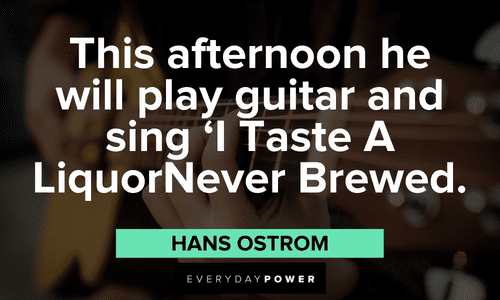 23. "I'm never any good in the morning. It is only after four in the afternoon that I get going." — Stephen Hawking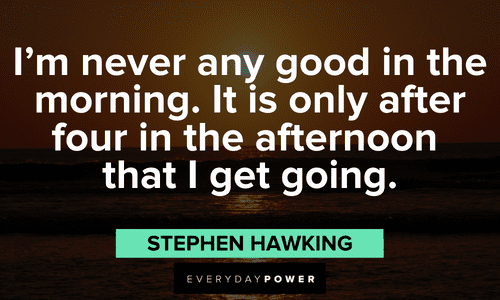 24. "Leave me a smile just warm enough to spend a million golden afternoons in." — Sanober Khan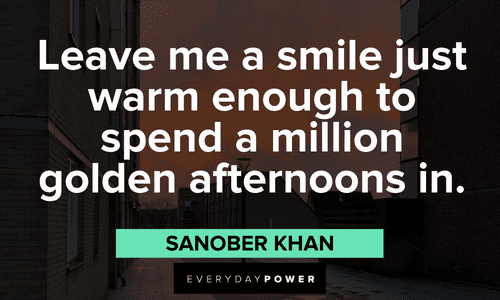 25. "I like the pause that tea allows." — Waris Ahluwalia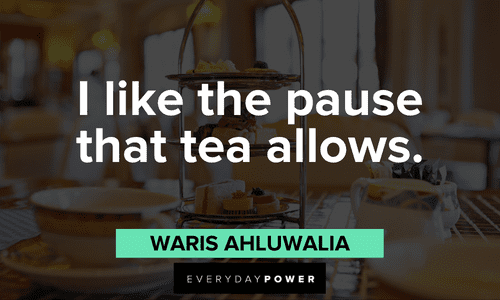 26. "Tea! Bless ordinary everyday afternoon tea!" — Agatha Christie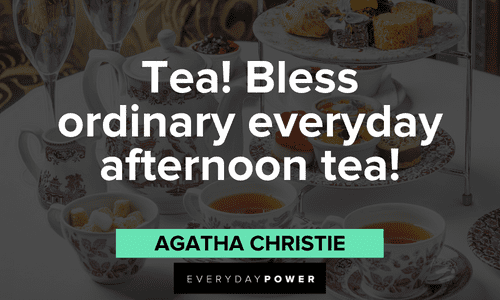 27. "Never drink black coffee at lunch; it will keep you awake all afternoon." — Jilly Cooper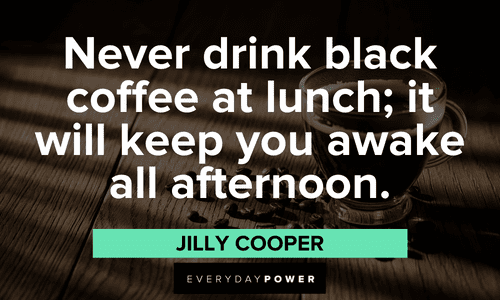 28. "Tea time is a chance to slow down, pull back and appreciate our surroundings." — Letitia Baldrige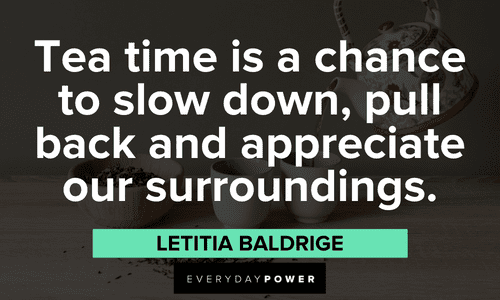 29. "Everyone's saved, we're in the grave. See you there for afternoon tea." — Jethro Tull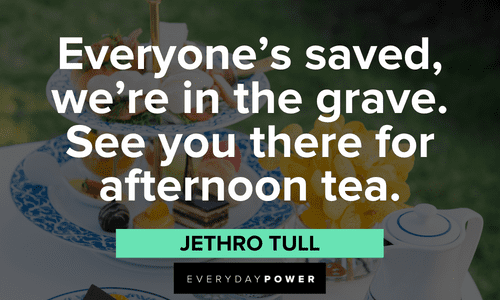 30. "What'll we do with ourselves this afternoon? And the day after that, and the next thirty years?" – F. Scott Fitzgerald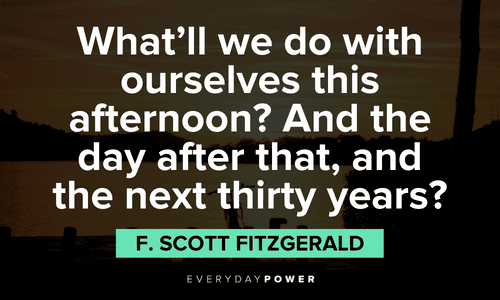 Funny good afternoon quotes
31. "Be bright like the afternoon sun and let everyone who sees you feel inspired by all the great things you do. You have one life here on earth. Make it count in whatever way you can." — Delna Rose
32. "Are you stuck again on an afternoon with nothing to do? Start with your dreams, decide where you want to be and create a plan to reach there. Every little step will lead you closer to your destiny." — John Ross
33. "Afternoons are hard. Mornings are pure evil from the pits of hell, which is why I don't do them anymore." — Rachel Caine
34. "My daily routine: Morning: Feeling tired, cranky and lazy. Afternoon: I could go for a nap. Night: I can't sleep." — Unknown
35. "Sleeplessness at night is not always a medical condition for some people. Sometimes it's the punishment from God for those who sleep during such a beautiful afternoon!" — Unknown
36. "I don't always say good afternoon to anyone, but when I say, I say it to mean that I'm ready for the afternoon party!" — Unknown
37. "What is it about a beautiful sunny afternoon, with the birds singing and the wind rustling through the leaves that makes you want to get drunk!" — Unknown
38. "Summer afternoon, summer afternoon; to me, those have always been the two most beautiful words in the English language." — Henry James
39. "As you climb the ladder of success, check occasionally to make sure it is leaning against the right wall. Good Afternoon and Good Day!" — Swati Khare
40. "I was enjoying this beautiful afternoon so much when I thought of you and said to myself, that idiot friend of mine must be sleeping. What a misfortune of you to miss such a beautiful afternoon!" — Unknown
Good Afternoon Quotes To Help You Feel Refreshed
41. "If you can spend a perfectly useless afternoon in a perfectly useless manner, you have learned how to live." – Lin Yutang
42. "I never drink coffee at lunch. I find it keeps me awake for the afternoon." – Ronald Reagan
43. "Good afternoon guys, just remember that no matter where you are right now focus and a positive mindset can lead you to where you want to be in life." – Allan Thicke
44. "The afternoon of a human life must also have a significance of its own, and cannot be merely a pitiful appendage to life's morning." — Carl Gustav Jung
45. "China tea, the scent of hyacinths, wood fires and bowls of violets â that is my mental picture of an agreeable February afternoon." — Constance Spry
46. "Bliss…as though you'd suddenly swallowed a bright piece of that afternoon sun and it burned in your bosom, sending out a little shower of sparks into every particle." — Katherine Mansfield
47. "Nobody looks at the moon in the afternoon, and this is the moment when it would most require our attention, since its existence is still in doubt." — Italo Calvino
48. "There comes a time late in the afternoon when the light is just so and my circadian rhythms are at exactly at a certain point, when the only solid thought in my mind is to run." — Alison Townsend
49. "What I most enjoyed about this afternoon tea sessions was it was a time when my grandfather would engage our inquisitive young minds in discussions about anything under the sun." — Jodi-Anne Williams-Rogers
50. "It is the still, yellow kind of afternoon when one is apt to get stuck in a dream if one sits very quiet." – Dodie Smith
Good Afternoon Quotes and Sayings To Add Some Fun 
51. "Sometimes I reminisce about the chances I missed on a dull afternoon. Then I remind myself that I am not here by accident and I can still have opportunities to own. I take up a winning attitude and win through the day." — Oregon Mass
52. "There is an hour in the afternoon when the plane is on the verge of saying something. It never says, or perhaps it says it infinitely, or perhaps we do not understand it, or we understand it and it is untranslatable as music." — Jorge Luis Borges
53. "If I was a dove i woud daily bring you peace. A sheep I would bring you miracles, an angel I would bring you love, but since I'm only human I can only wish you the best. Good afternoon." — Mundia Andy
54. "You could get a simple idea one afternoon that could completely change your life. Great innovators just needed one idea to change everything. Keep striving and you will reach success." — Doreen Bill
55. "I would just like to mention Robert Houdin who in the eighteen century invented the vanishing bird cage trick and the theater matinee – may he rot and perish. Good afternoon." — Orson Welles
56. "Leave all the afternoon for exercise and recreation, which are as necessary as reading. I would rather say it is more necessary because health is worth more than learning." — Thomas Jefferson
57. "Think what a better world it would be if we all, the whole world, had cookies and milk about three o'clock every afternoon and then lay down on our blankets for a nap." — Barbara Jordan
58. "To sit with a dog on a hillside on a glorious afternoon is to be back in Eden, where doing nothing was not boring – it was peace." — Milan Kundera
59. "Learning history is so easy but making history is so difficult. Make a history of yourself and make others learn it! Good Afternoon!" — Vrishab
60. "Well, there's nothing better than putting your feet up on a Sunday afternoon and grabbing a good book." — Chris Klein
Good Afternoon Quotes To Give You A Jovial Mood
61. "It took me seventeen years to get three thousand hits in baseball. I did it in one afternoon on the golf course." — Hank Aaron
62. "The afternoon is not only the middle of the day it is the time to complete our essential task and go ahead in life." — Shashikant Shinde
63. "Under certain circumstances there are few hours in life more agreeable than the hour dedicated to the ceremony known as afternoon tea." — Henry James
64. "The morning cup of coffee has an exhilaration about it with the cheering influence of the afternoon or evening cup of tea cannot be expected to reproduce." — Oliver Wendell Holmes
65. "Good afternoon baby / I sure missed you while I was gone / But you know I got to work honey / Hey, let's just do something later on." — Chris Rogers
66. "If I didn't finish my meat, I had to sit with it for most of the afternoon. No wonder I'm a vegetarian now." — Celia Imrie
67. "The afternoon tea tradition is something I hope to carry forward with my own children and perhaps my grandchildren someday." — Jodi-Anne Williams-Rogers
68. "There is nothing so wrong in this world that a sensible woman can't set it right in the course of an afternoon." — Giraudoux
69. "We entered Gettysburg in the afternoon, just in time to meet the enemy entering the town, and in good season to drive him back before he got a foothold." — John Buford
70. "The afternoon glow is brightening the bamboo, the fountains are bubbling with delight, the soughing of the pine is heard in our kettle." — Okakura Kakuzō
Good afternoon quotes for her that will make her melt
71. "Good afternoon to the most beautiful lady in my life." — Unknown
72. "Good afternoon my lovely queen." — Unknown
73. "Hey beautiful! Hope your day is as beautiful as you are. Good afternoon sweetheart." — Unknown
74. "I give you my heart, full of love and passion. Wishing you a beautiful afternoon." — Unknown
75. "My day is not whole without wishing you a wonderful afternoon. Good afternoon, sweetheart." — Unknown
76. "Don't rest until your afternoon is better, hope this good afternoon text message makes it much better. Good Afternoon!" — Unknown
77. "Darling, it's another wonderful afternoon, May your dreams and aspirations be fulfilled. I love you." — Unknown
78. "My afternoon is not complete without a thought of you and telling you how much you mean the world to me. Good afternoon, my love. Have a pleasant day ahead." — Unknown
79. "Good afternoon to the one who holds the keys to my heart! I hope you had a wonderful morning. Good afternoon sweetheart." — Unknown
80. "It is a wonderful afternoon, but it is more wonderful when I hear your beautiful voice. I love you, sweetheart. Have a good afternoon." — Unknown
Afternoons are a treasure
Some people hit their stride in the morning and are off running, but that isn't the case with everyone.
However, there are people like Stephen Hawking who said, "I'm never any good in the morning.
It is only after four in the afternoon that I get going."
It doesn't make a difference which type of person you are, as long as you can recognize your rhythm and put it to good use!
If you are a morning person then do your most important tasks then.
Then you can relax in the afternoon, maybe even with a cup of tea or coffee.
Try and enjoy all the times of the day and be grateful for the opportunities that they each offer.
Morning, noon, or night this is your life, and all parts of the day should be appreciated.
What's your biggest takeaway from these good afternoon quotes and sayings?
Share your favorite time of the day or ways to spend the afternoon with us in the comment section below.
September 26, 2022 5:00 AM EST