With Intercom, Ring wants to switch off classic intercoms for buildings
At IFA 2022 Ring presented its new solution designed specifically for apartments. Intercom is in the form of a box that connects to an intercom to receive alerts directly on a smartphone.
Connected doorbells are on the rise, but they are primarily aimed at people with a home. In an apartment it is not always possible to install such a device, and the Ring brand understood this. At IFA 2022 in Berlin, the American company presented a new solution specifically aimed at these users: intercom.
The new product complements the Ring line of devices, including Wired Video Doorbell and Video Doorbell 4. Ring Intercom is different and comes in the form of internal connected via wifi, to be installed on a compatible intercom. The box offers neither a camera nor a microphone and relies on the existing intercom to make the connection with the smartphone. "People living in apartments can now respond to their visitors and unlock the building entrance, all from the Ring app on their smartphone."explains Amazon, owner of Ring.
Ring thinks of the inhabitants of the buildings
The company therefore focuses on ease of installation and explains that he developed this product after user feedback. The device works with a rechargeable battery.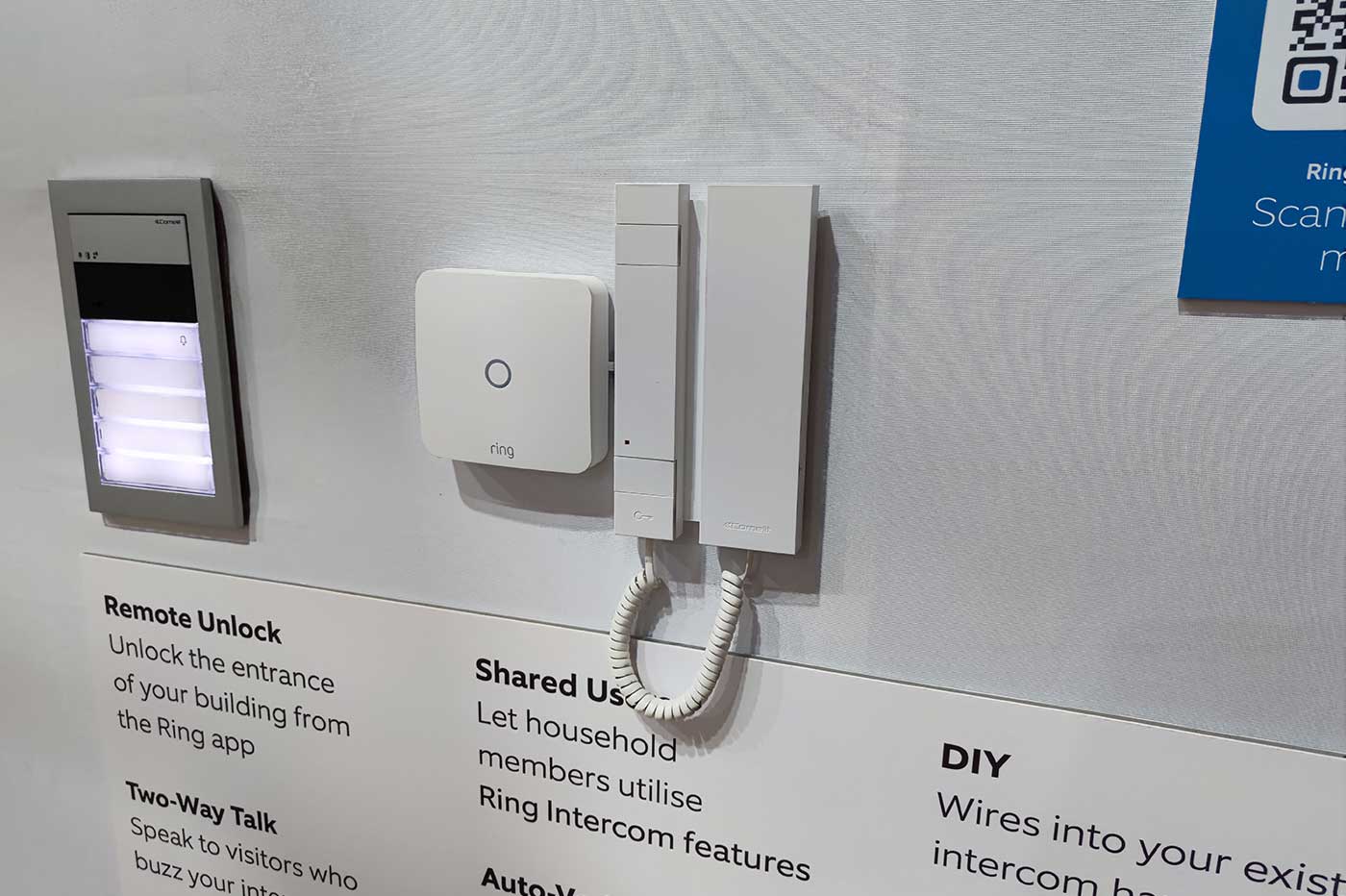 Ring Intercom is equipped with several features such as: remote unlockingthe two-way conversation or theshared user. While the former allows you to unlock the door remotely, the latter offers swapping with visitors ringing the doorbell. It is also possible to share access to the intercom with other family members, giving them the opportunity to interact with the system from their smartphone.
The other option is a "automatic verification" system. which Ring presents as an optional feature. When activated, it provides visitors with temporary keyless access "Reliable to trusted suppliers". Specifically, deliverers will be able to take advantage of this novelty to enter the building without having to ring the bell. Unsurprisingly, parent company Amazon will be the first to use the automatic verification option. Ring ensures that an option is added " after " supply virtual keys for returning visitors or trusted groups. This is managed by the dedicated application.
The brand does not yet provide details on how these "virtual keys" work, but guarantees that the system easily revocable at any time and should avoid sharing extra keys or badges.
Which intercoms are compatible?
Ring makes sure that its intercom: "Compatible with most audio intercom systems". To verify this, a compatibility check is available on the Ring or Amazon sites. It is also possible to go to this address to answer some questions. This questionnaire randomly confirms that only audio devices are compatible; it is not possible to see visitors from a smartphone.
The intercom is compatible with some Alexa devices and will do available in France in early 2023. Ring has not yet announced its award for France. We know instead that it will be offered in Germany at a price of 169.99 euros. Available from the end of the month at our neighbors across the Rhine, you will benefit from an introductory offer of 99.99 euros.
Bitdefender Plus Antivirus
By: Bitdefender