the full summary of Mark Zuckerberg's announcements
Mark Zuckerberg and his band multiplied the announcements during Meta Connect 2022. This annual conference was clearly focused on the metaverse. Here is all there is to remember from the Meta event dedicated to augmented and virtual reality.
It's been nearly a year since the company, then known as Facebook, changed its name. It should be called Meta, as a stubborn race for Mark Zuckerberg who wants to leave the cumbersome problems of Facebook behind. This new designation is also the symbol of ambitions of a society that aspires to enter a new era, that of the metaverse. This virtual world fascinates the bosses of Meta and much of Silicon Valley, who firmly believe in the success of this universe. The company remains trapped in the reality of our world for the moment e his projects in the abyss of the metaverse. It cannot be said that consumers are really attracted, while specialists are critical.
The metaverse, which is still in its infancy, is a promising concept, but that of Meta via Horizon Worlds has been criticized. Despite the large sums the company spends, the platform primarily attracts attention they are very simplistic graphicsS. Mark Zuckerberg listened to these criticisms and released a much more convincing new footage.
For this Meta Connect 2022 there is a lot at stake and the Facebook boss had to convince with strong announcements. There were several during the event.
Horizon World invites itself on the web … and on Instagram
Key element of Mark Zuckerberg's metaverse, Horizon Worlds is bound to undergo significant changes. Facebook no longer wants to reserve it for owners of virtual reality headsets. The company will make it accessible through other platforms, including the website And instagram. An important development for Meta that explains it "Accessing Horizon Worlds on the web will be the first way for many people around the world to have an experience in a virtual world". The platform is accessed via a browser on a computer, tablet or smartphone.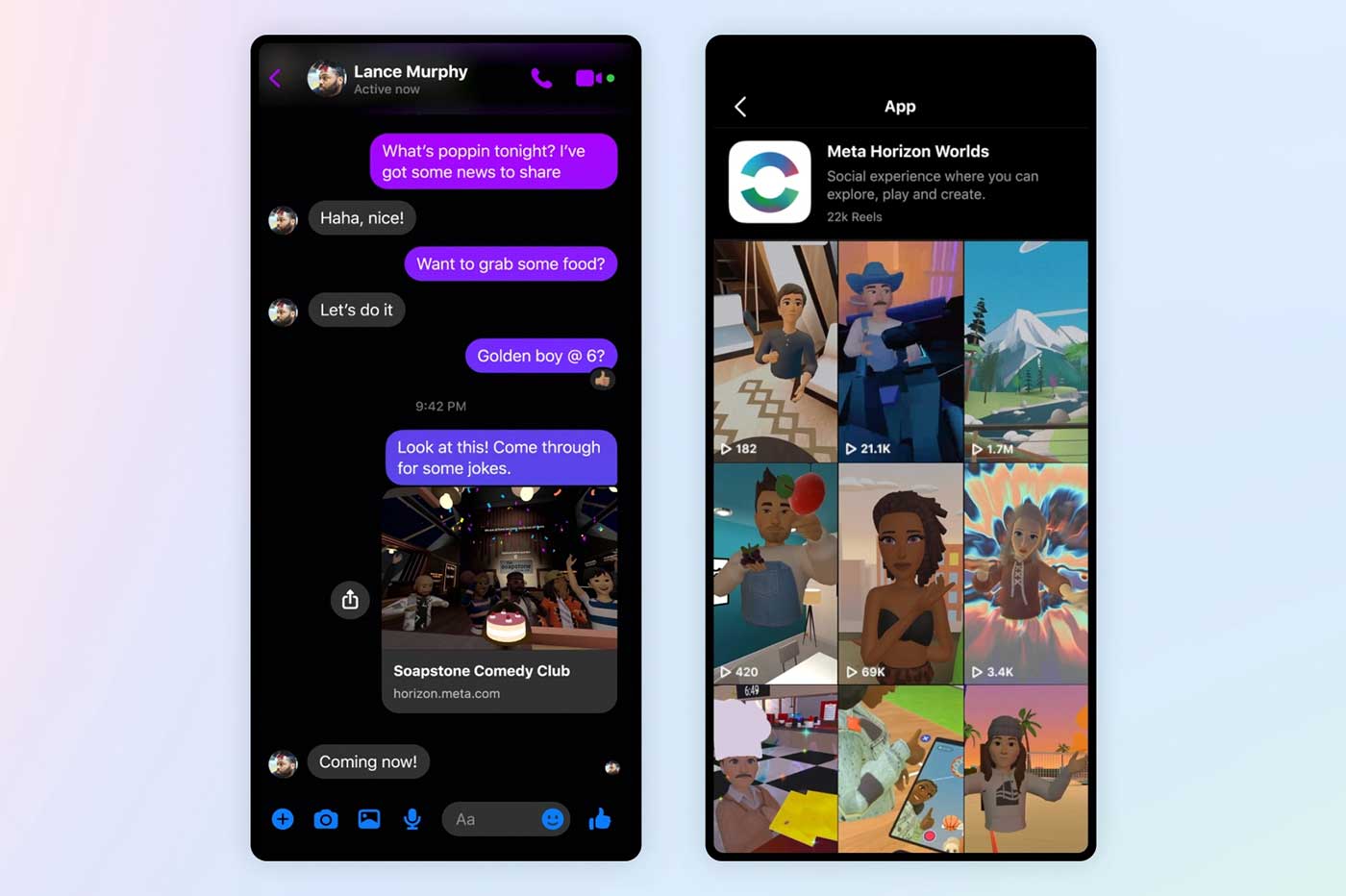 However, Meta is careful not to give details or mention a launch date. "We believe the metaverse will bridge the gap between headsets, phones, laptops and desktops for virtual reality and even devices that don't yet exist." explains the company in a statement.
One of the company's services, Instagram, can't be left behind, and Horizon Worlds content can be shared as roles. A way for Meta to build bridges between its "historical" social networks and her metaverse; but also to attract more Internet users to Horizon Worlds.
Legs for avatar in the Metaverse
During his lecture, the social media giant also confirmed that: avatars in the metaverse will soon have legs. The argument is serious and it is even "One of the most requested features", if we are to believe the company. Meta will first show this body part in Horizon Worlds before launching it in other experiences.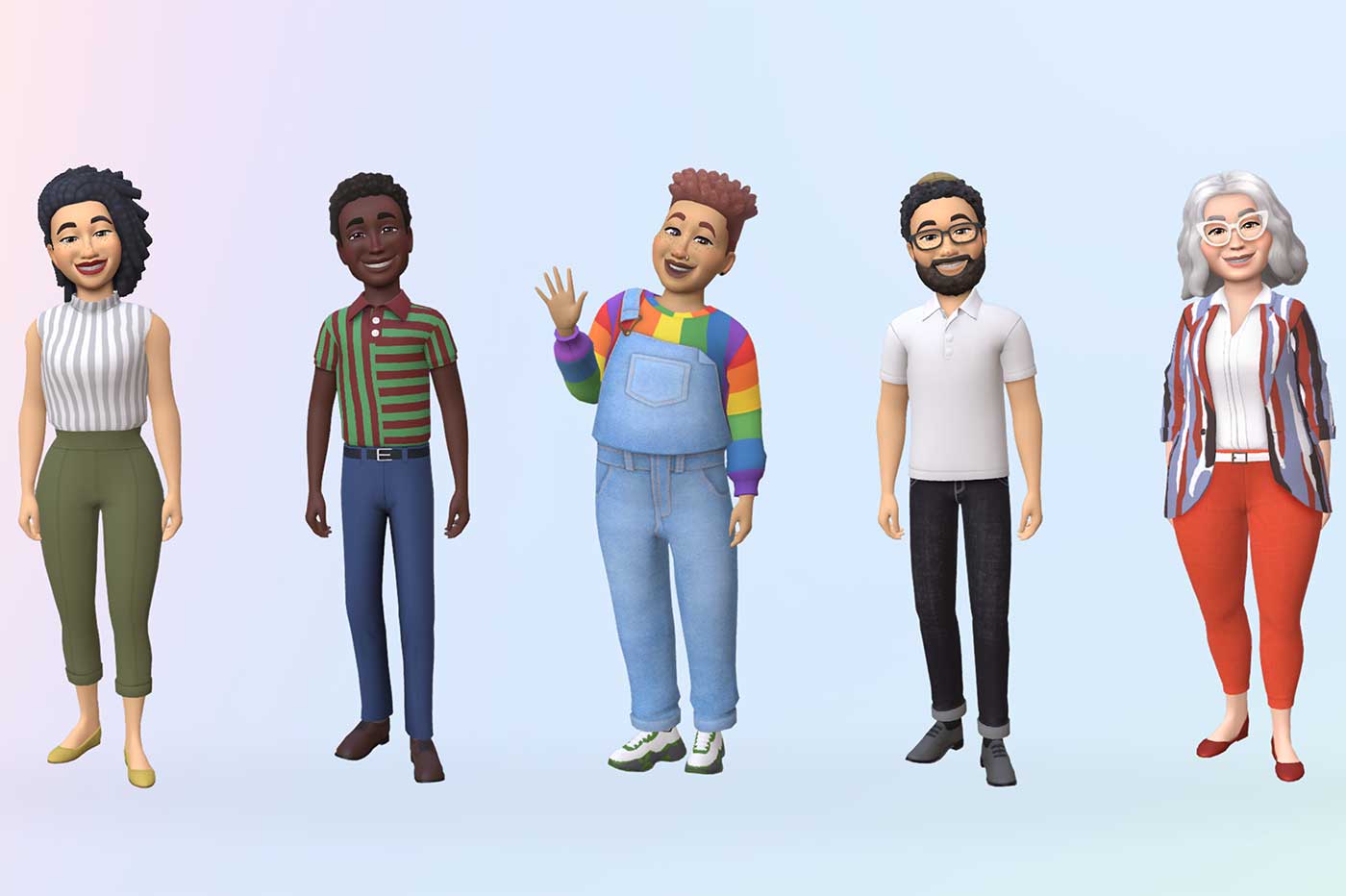 If it takes that long, it's because legs are difficult to integrate into metavers. "You might think that behind the scenes all you have to do is flip a switch, but it's … it took a lot of work To accomplish this […] If your legs are under a desk or even just behind your arms, the headset won't be able to see them properly and will have to rely on predictions. We spent a lot of time making sure Meta Quest 2 could get its legs in VR accurately and reliably. "explains the American group.
The Meta Quest Pro
It was probably the most anticipated announcement and many rumors had already circulated. Meta took advantage of his lecture a lift the veil on Meta Quest Pro. First representative of the new line of high-end helmets, he wants "Improving the possibilities of virtual reality". In fact, the company has high hopes on the long-known codename Project Cambria. His presentation did not reveal many surprises, but it is an opportunity to confirm the different sounds coming from the corridors.
In terms of technical features, Meta Quest Pro is built around the new platform Qualcomm Snapdragon XR2 +. It packs 12GB of RAM and 256GB of storage to deliver 50% performance over the Snapdragon XR2-equipped headphones, according to Meta. This chip is found in Quest 2, Vive Focus 3 or the recent Pico 4.
Another positive is the better heat management.
The new helmet is equipped with 10 high-resolution sensors, with so-called "pancake" lenses due to their more compact size. The manufacturer claims that this format allows you to reduce the depth of the optical module by 40%, providing clear and sharp images. There are also improvements in eye tracking and facial expressions.
Versatile, the helmet also improves the Color passing function for enhanced mixed reality experiences. The latter uses four outward facing cameras so that the wearer can see what is happening in front of him, in the real world. Offered in black and white on Quest 2, the image now changes in color.
Compatible with the Quest 2 range, which gives it access to many virtual reality games and experiences as soon as it is released.
Buy Meta Quest Pro
In the front we find two LCD screens using local dimming and quantum dot technology "To offer richer and more vibrant colors". The company that turns out to be able to independently control more than 500 LED blocks with this technology. This gives screens 75% more contrast than the Quest 2 and 37% more pixels per inch, again compared to the Quest 2.
finally, the Touch Pro controller have been redesigned. They equip themselves with their own sensors for more accurate tracking and full 360-degree range of motion. Meta also mentions the presence of a new TruTouch haptic system to provide a wider and more precise range of feedback and rechargeable batteries.
The Meta Quest Pro is available from 25 October and costs € 1,799.99. In addition to the helmet, the package includes Meta Quest Touch Pro controllers, partial light blocks and a charging station.
We tested Meta Quest Pro, the future of virtual reality looks great
Microsoft and Meta: Teams, Office, Windows and Xbox are coming to the metaverse
Another big chunk of Meta Connect 2022, announcing a merger between Meta and Microsoft. Satya Nadella, CEO of Redmond, wants to participate in the future envisioned by Mark Zuckerberg integrating the services of your company. Microsoft is targeting professionals and gamers more specifically with the release of a new version of teams in virtual reality.
"We are also exploring the possibility of supporting Meta avatars and Microsoft avatars so that we can collaborate on immersive experiences on Teams."says Meta. In addition, it will be possible "soon" to participate in the meetings of the Teams from Workrooms.
Long seen as competitors, they will also bring the two giants Windows 365 on MetaQuest. You will be able to access the Microsoft 365 app suite or interact with Sharapoint and other productivity apps.
The other big announcement concerns the world of video games, with the arrival of Xbox Cloud Gaming (beta) on the Quest Store.
Are you playing Xbox Game Pass in VR? It will be soon
games and sports
Here are two themes dear to Meta, announcing that: Marvel's Iron Man VR coming to Quest 2 on November 3rd. The company also confirms the upcoming release ofUnder the United States VR (November 10, 2022) and narrowed the shooting window for The Walking Dead: Saints & Sinners – Chapter 2: Retaliation. Finally, it indicates that the Skydance Interactive teams are working on the survival game colossuscoming in 2023 on Meta Quest and other platforms.
For sports, the company will offer a set of fitness accessories called Meta Quest Active Pack 2. The headphones will be released on October 25 and will cost € 79.99. New accessories will be released next year and Meta remembers launching the complementary Meta Quest application and the Health application on iOS. Both of them help to track users' fitness.