These hilarious Talladega Nights quotes will make you feel like a winner.
From the duo that brought you Anchorman and Step Brothers, Will Ferrell and Adam McKay are known for writing ridiculous characters who spit out quotable one-liners.
It's no different for their film, Talladega Nights.
Tell us your favorite Talladega Nights quote in the comment section below.
What are the benefits of reading these Talladega Nights quotes?
This classic comedy shows us the Ballad of Ricky Bobby, A NASCAR star who needs to learn a bit of humility.
These quotes will:
Remind you that no matter how good you are, there is always room to grow
Make you laugh
Offer some life lessons and give you perspective
Laughing is good for you, so go ahead and give this movie a shot.
Talladega Nights facts and background
Will Ferrell and John C. Reilly provide hysterical performances as NASCAR winning and NASCAR second place (which, if we're honest, is the same thing as last) drivers. 
Farrell and McKay came up with the idea of "Will Ferrell as a NASCAR driver" at a NASCAR race in Fontana, California.
Released in August 2006, the film ranked no. 1 at the box office in its first week and grossed $163 million worldwide.
It has generally received favorable reviews, with an approval rating of 71% on Rotten Tomatoes and an average score of 66% on Metacritic.
These winning Talladega Nights quotes are sure to make you laugh.
And if you need even more laughter, be sure also to check out our collection of Dave Chappelle quotes and these hilarious quotes from the movie Elf.
If you love this quote collection, read out our most popular quote article about short inspirational quotes for daily motivation. 
If you need more inspirational quotes, check out our motivational quotes category page.
Talladega Nights quotes on winning
1. "If you ain't first, you're last." — Ricky Bobby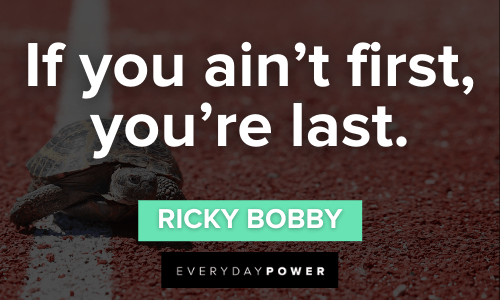 2. "You've gotta cross over the anger bridge and come back to the friendship shore." — Cal Naughton Jr.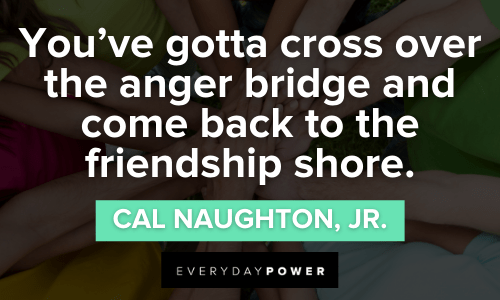 3. "I wet my bed until I was nineteen. There's no shame in that." — Cal Naughton, Jr.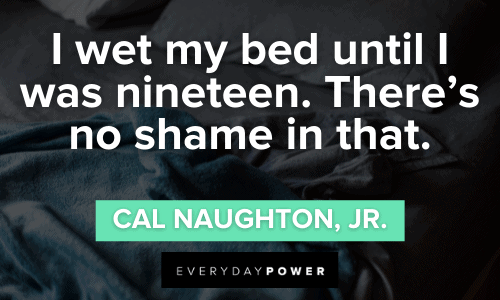 4. "Like the frightened baby chipmunk, you are scared by anything that is different." — Jean Girard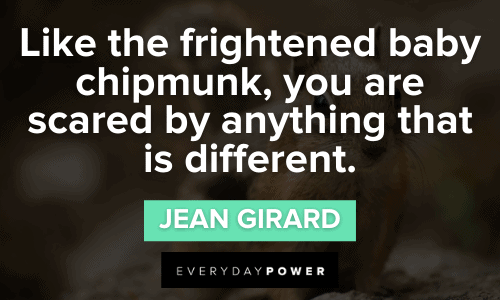 5. "Ricky, remember: The field mouse is fast, but the owl sees at night." — Chip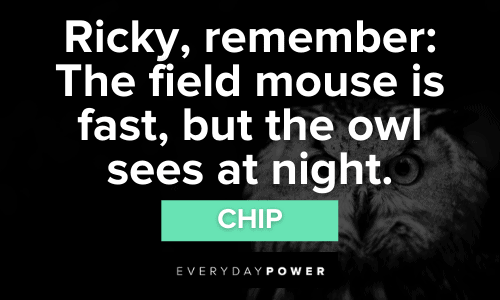 Talladega Nights quotes for all the fans
6. "No one lives forever, no one. But with advances in modern science and my high-level income, it's not crazy to think I can live to be 245, maybe 300." — Ricky Bobby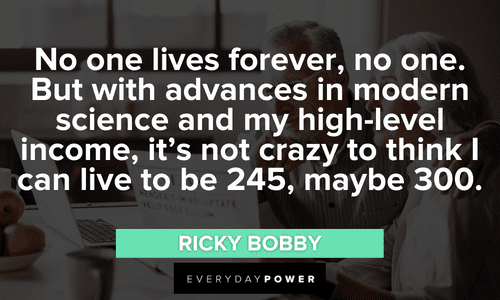 7. "I came here to tell you one thing: come race time tomorrow, I'm coming for you." – Ricky Bobby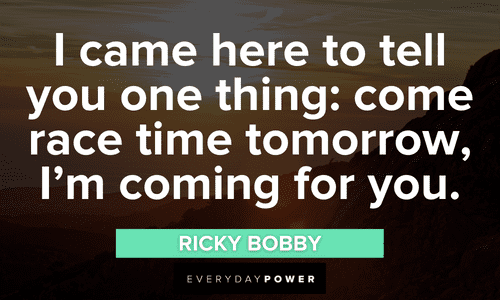 8. "Here's the deal—I'm the best there is. Plain and simple. I wake up in the morning and I piss excellence." — Ricky Bobby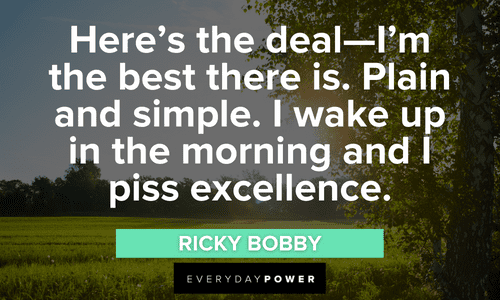 9. "You gotta learn to drive with the fear, and there ain't nothing more God damn frightening than driving with a live cougar in the car." — Reese Bobby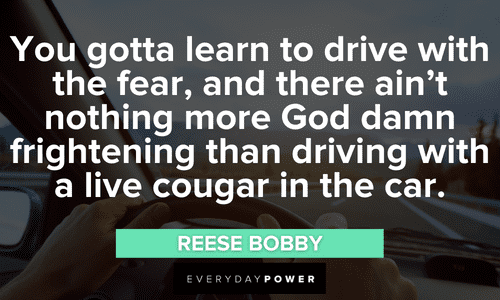 10. "But before I can do that I must be beaten by a driver who is truly better than me." – Jean Girard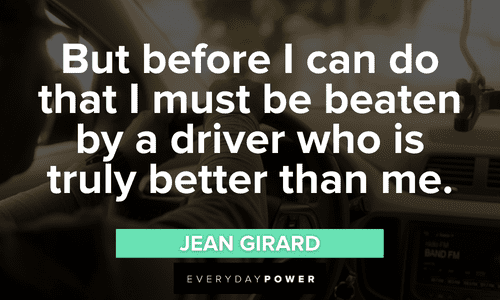 If you're enjoying these quotes, make sure to read our collection of Step Brothers quotes from the hit comedy.
11. "May God be with you, Monsieur Bobby. Because although today I am friendly. Tomorrow will be war!" – Jean Girard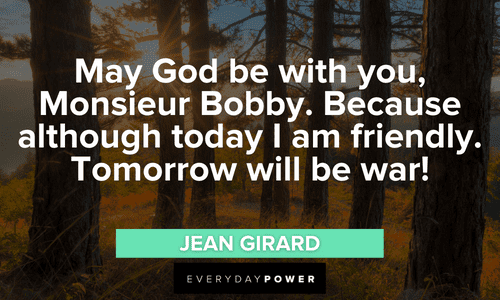 Talladega Nights quotes that will make you laugh
12. "We go together like cocaine and waffles." — Cal Naughton Jr.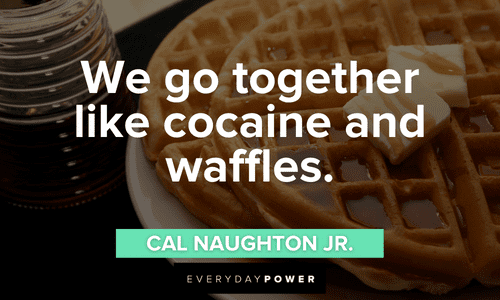 13. "Are we about to get it on? Because I'm as hard as a diamond in an ice storm right now." — Ricky Bobby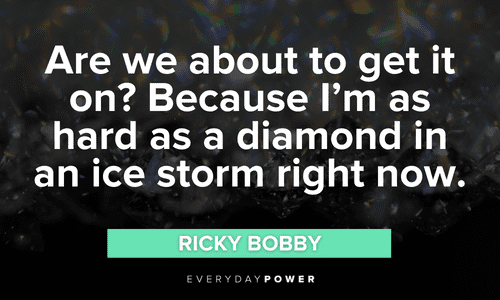 14. "There's nothing more frightening than driving with a live goddamn cougar next to you."
— Reese Bobby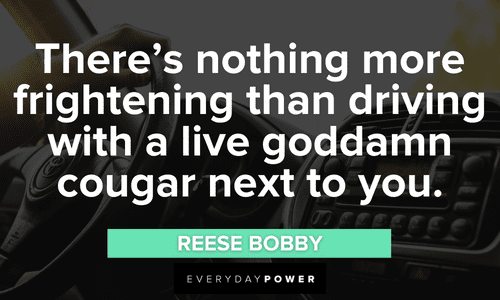 15. "I like to picture my Jesus in a tuxedo T-shirt. 'Cause it says like, I wanna be formal but I'm here to party too. I like to party, so I like my Jesus to party." — Cal Naughton, Jr.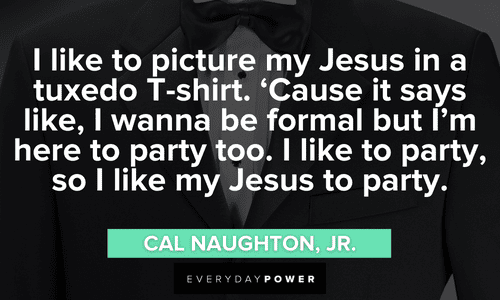 16. "You better shut the hell up or I'll come over there and rip a hole in that tent!" – Texas Ranger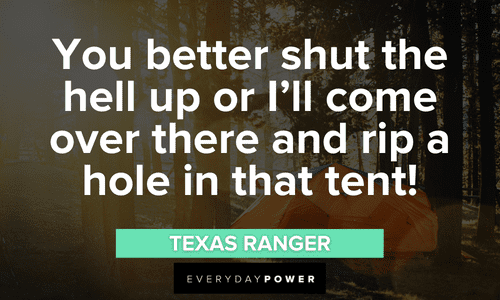 17. "Well, let me give you a saying from Colonel Sanders. I am too drunk to taste this chicken." — Ricky Bobby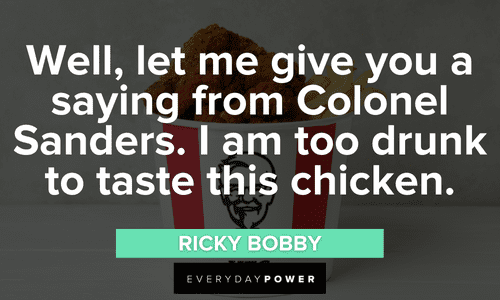 18. "I like to think of Jesus as an Ice Dancer, dressed in an all-white jumpsuit, and doing an interpretive dance of my life." — Cal Naughton, Jr.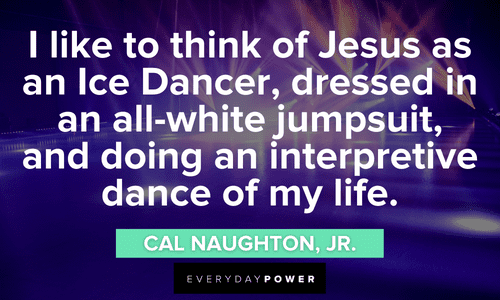 19. "Daddy, you made that grace your b*tch." — Walker Bobby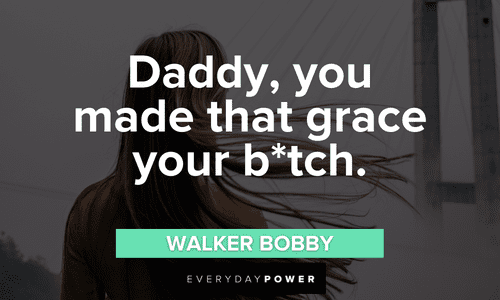 20. "Old man, I'm gonna come at you like a spider monkey!" — Texas Ranger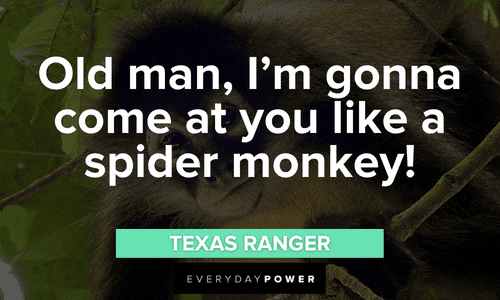 If you're a Will Farrell fan, be sure also to read these funny quotes from Ron Burgundy.
Talladega Nights quotes that will turn you into a champion
21. "Did that blow your mind? Because that just happened!" – Ricky Bobby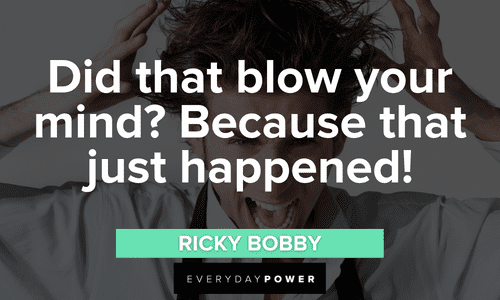 22. "I don't know what to do with my hands." – Ricky Bobby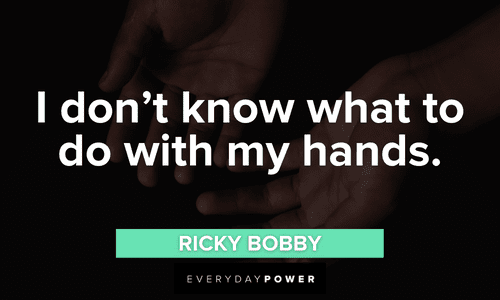 23. "I'm all jacked up on mountain dew!" – Texas Ranger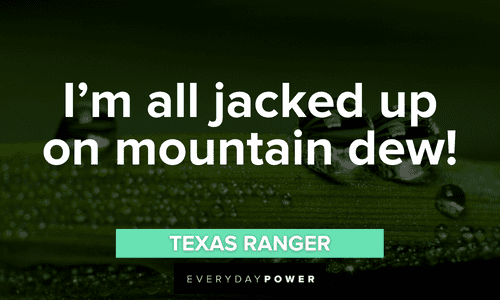 24. "Aaaaah, Ricky Bobby! Now we shall dance. And yes, it will be a slow jam." – Jean Girard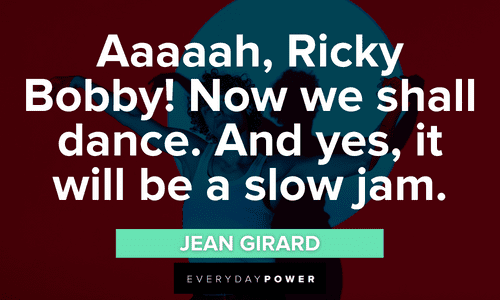 25. "This sticker is dangerous and inconvenient, but I do love Fig Newtons." – Ricky Bobby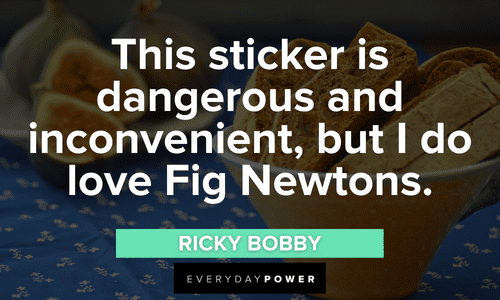 Which hysterical quote from Talladega Nights is your favorite?
If you're a fan of Will Ferrell, Talladega Nights is probably near the top of your favorite movie list.
The film bursts with outrageous one-liners, bizarre characters, and hilarious antics. 
So, whether Talladega Nights is a film you've seen once or a hundred times, we hope these quotes made you laugh.
Keep these Talladega Nights quotes in mind the next time you need to feel like a winner. 
Which of these hilarious Talladega Nights quotes is your favorite?
Let us know in the comment section below.
October 21, 2022 6:13 AM EST