These uplifting lonely quotes will help you cope with the feeling of loneliness and isolation.
These are feelings we can all relate to.
Let us know which one resonated with you the most in the comment section below.
What are the benefits of reading through these lonely quotes?
Each of us has been there for one reason or another.
Nobody wants to be alone.
These lonely quotes will:
Offer you some perspective
Help you become more self-aware
Remind you that you are not alone out there, and there are people who care
Explain the difference between intentional solitude and loneliness
Being human, we are wired to be social, and these quotes about loneliness are all about what happens when we feel that connection is missing in our lives.
Keep reading and find the perfect lonely quote to reframe your thoughts or share with someone who might feel all alone.
Check out our most popular quote article, a list of short inspirational quotes for daily inspiration. 
Our inspirational quotes category page has all of our motivational quotes for all the different areas of life.
Lonely Quotes When You Feel Like No One Gets You
1. "The soul that sees beauty may sometimes walk alone." — Johann Wolfgang Von Goethe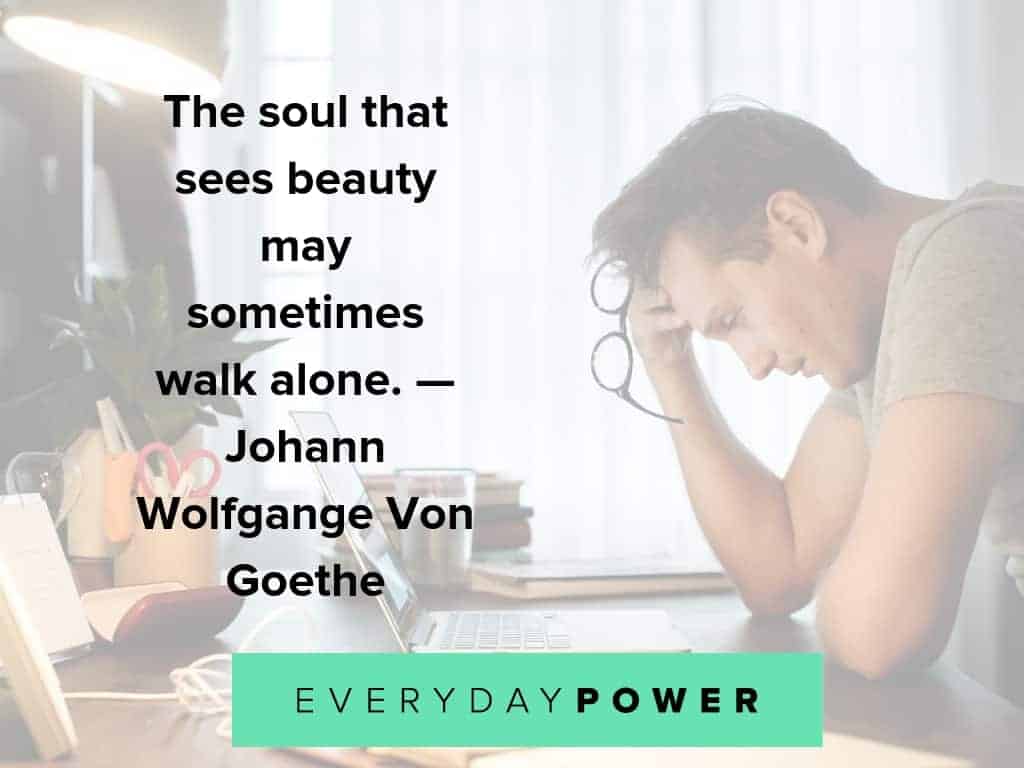 2. "A season of loneliness and isolation is when the caterpillar gets its wings. Remember that next time you feel alone." — Mandy Hale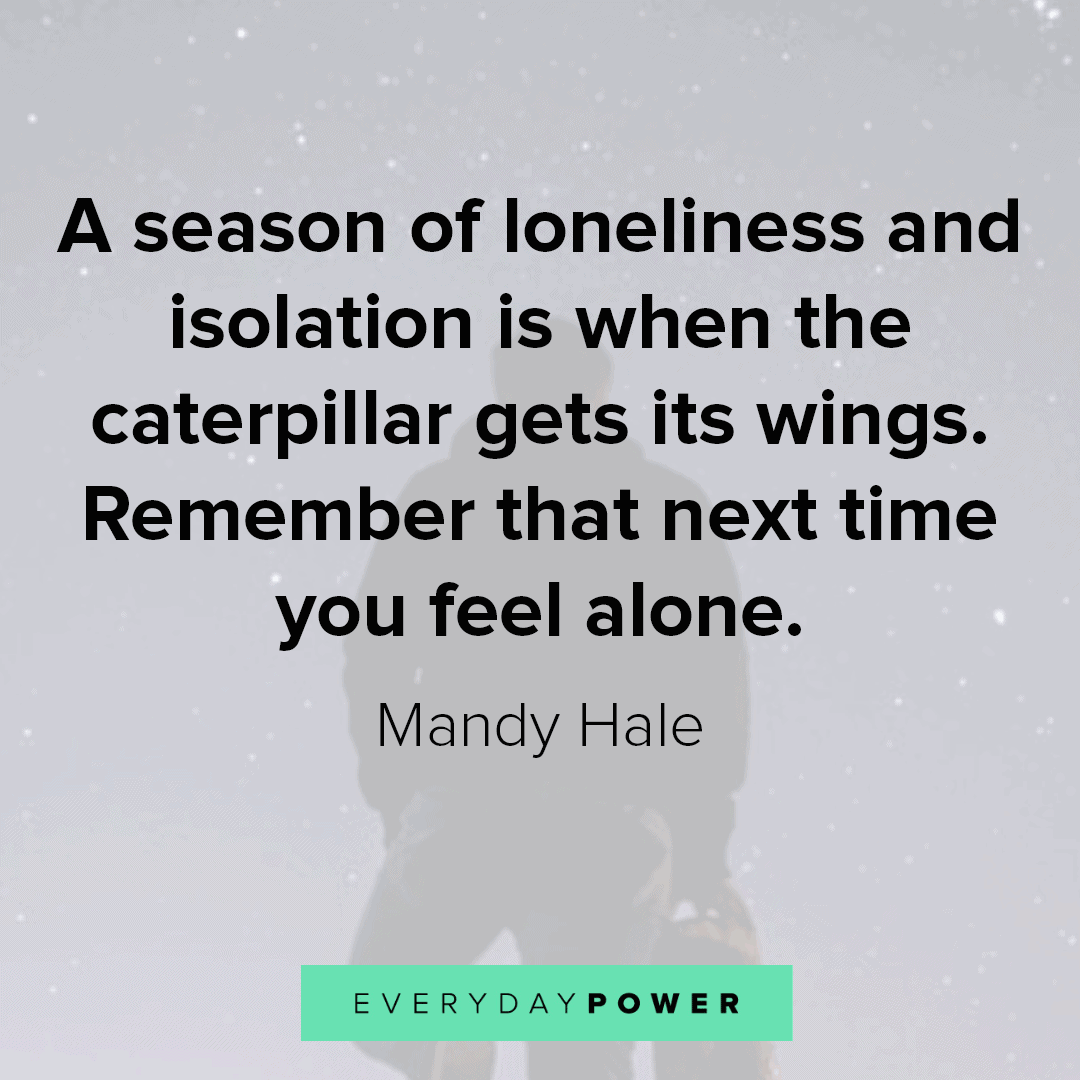 3. "The greatest thing in the world is to know how to belong to oneself." — Michel de Montaigne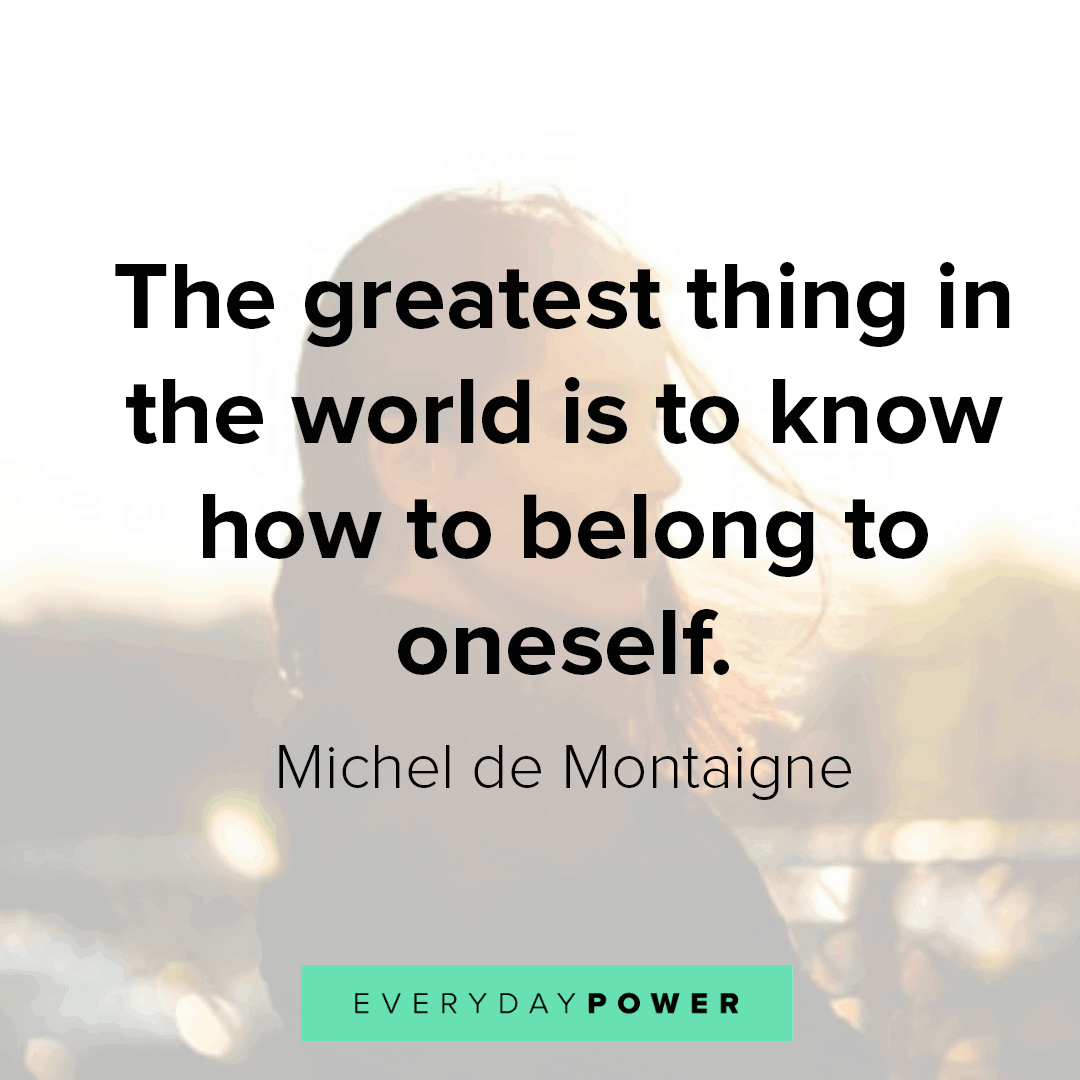 4. "People think being alone makes you lonely, but I don't think that's true. Being surrounded by the wrong people is the loneliest thing in the world." ― Kim Culbertson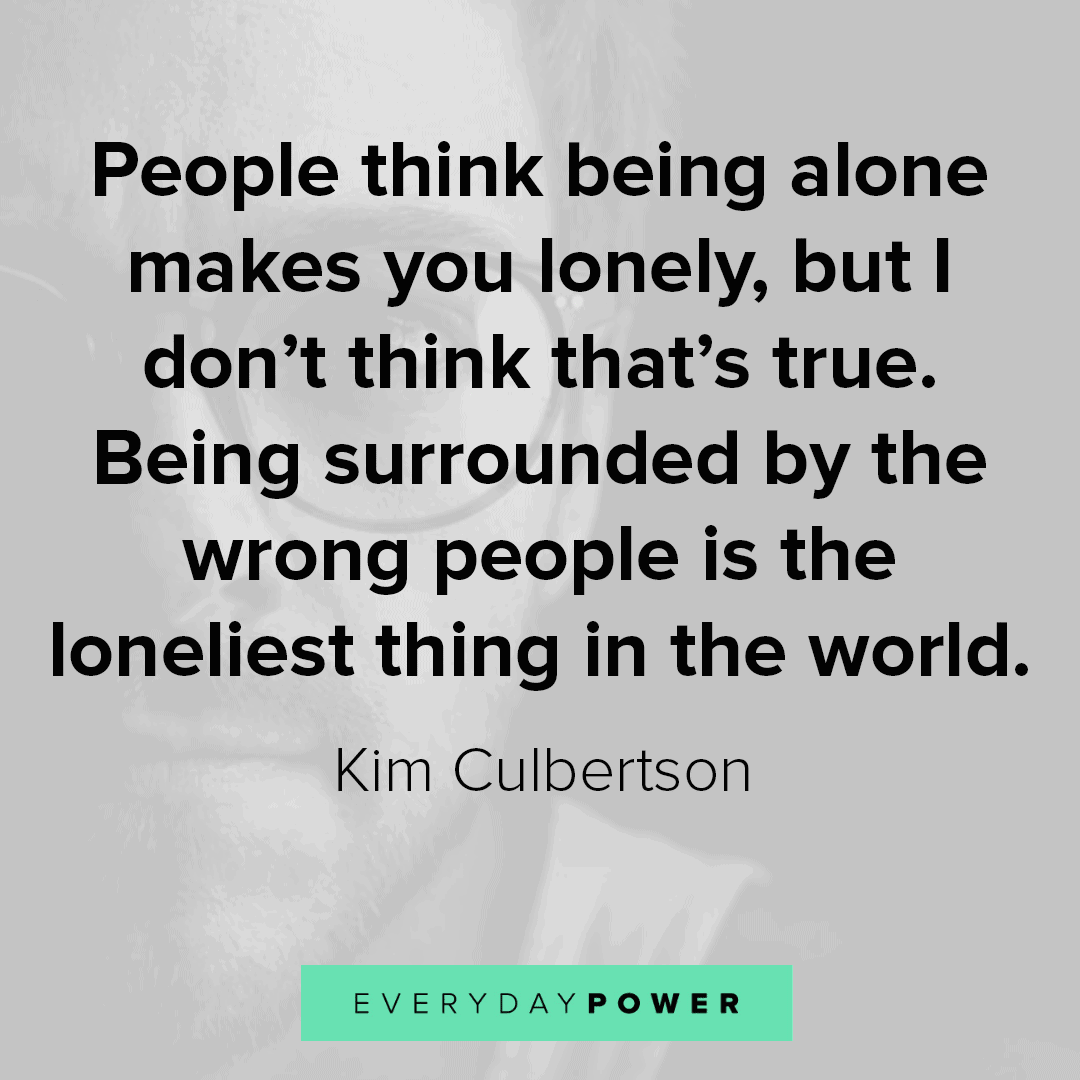 5. "I used to think the worst thing in life was to end up all alone. It's not. The worst thing in life is to end up with people that make you feel all alone." – Robin William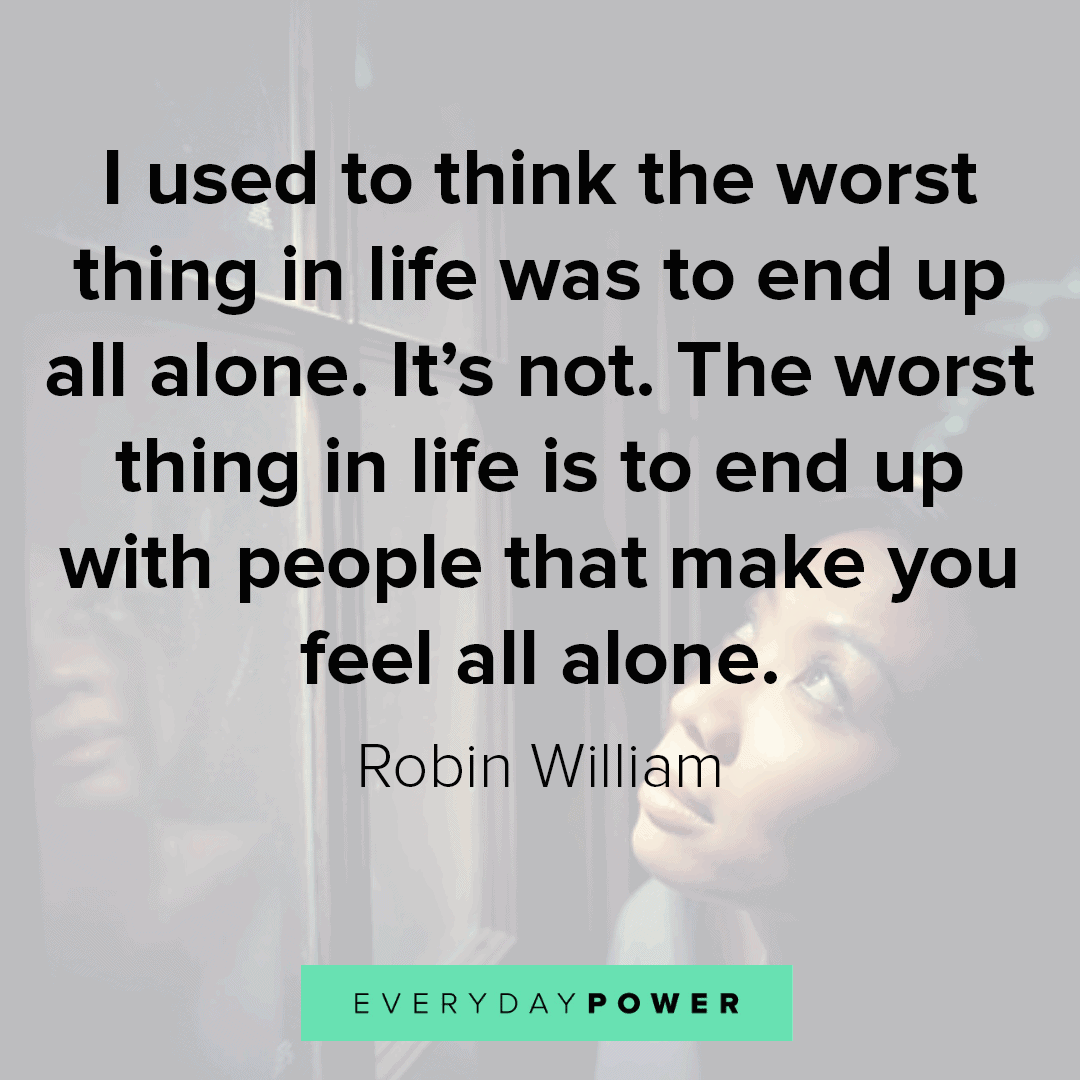 6. "Loneliness adds beauty to life. It puts a special burn on sunsets and makes night air smell better." – Henry Rollins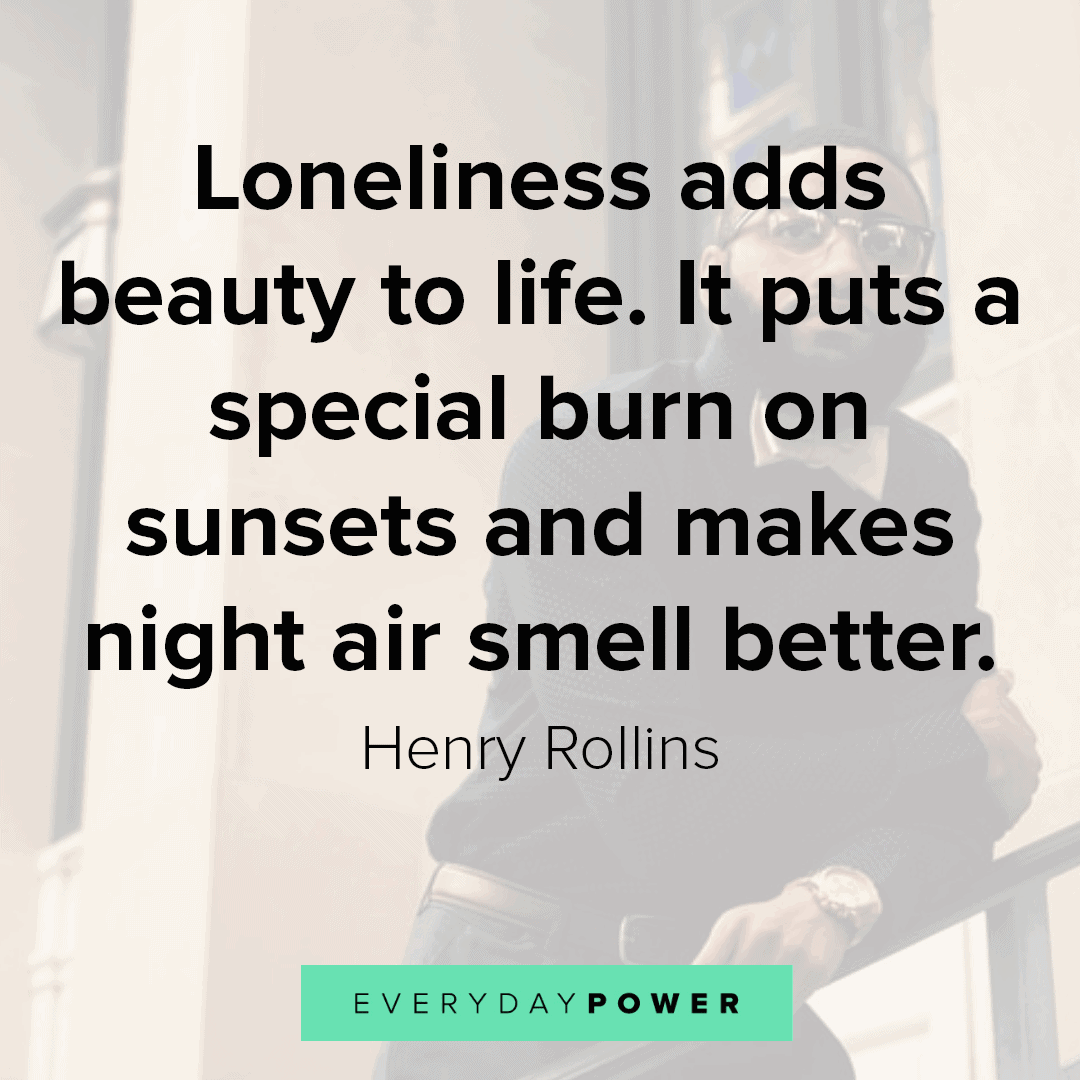 7. "Sometimes you need to take a break from everyone and spend time alone to experience, appreciate, and love yourself." – Robert Tew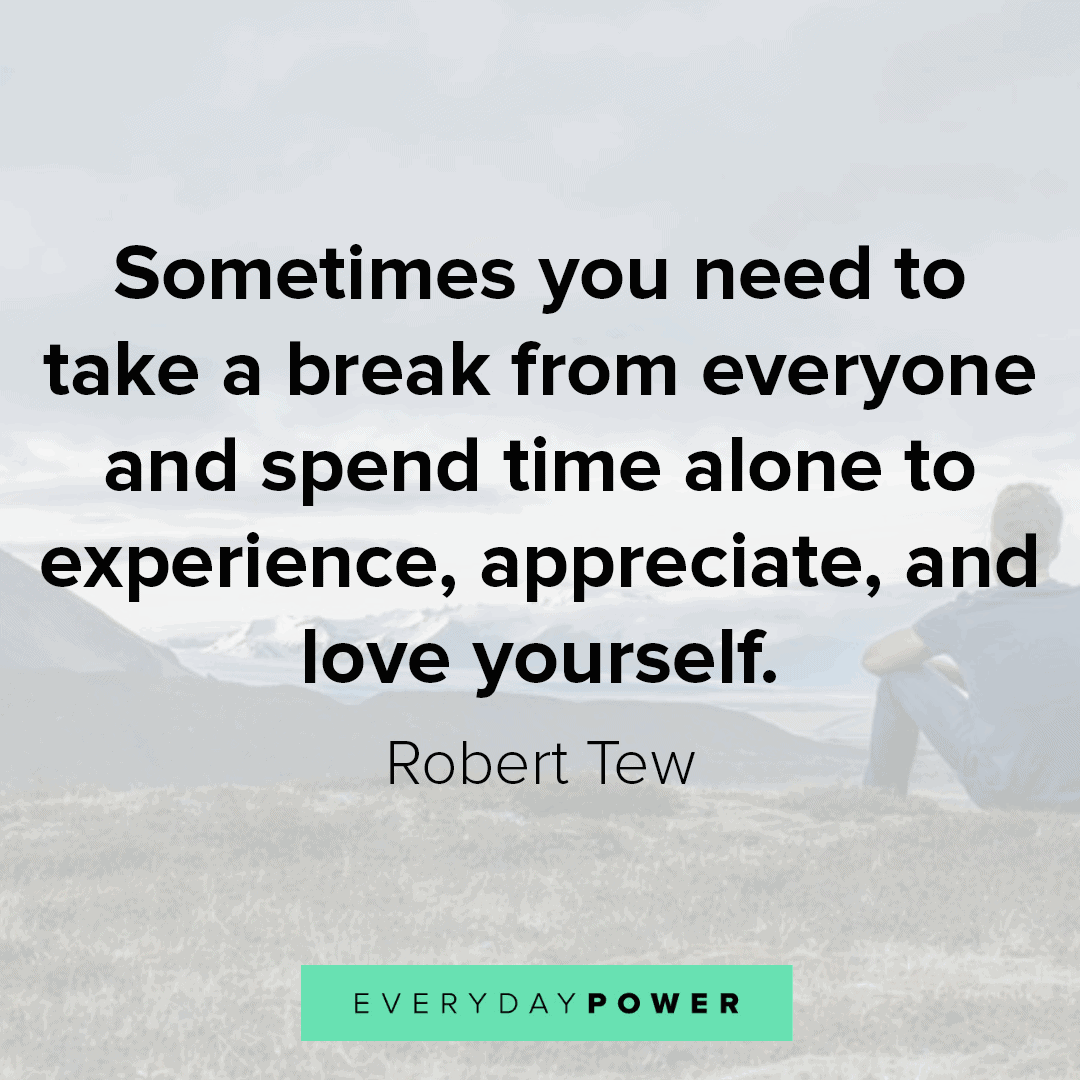 8. "Nothing can bring you peace but yourself." – Ralph Waldo Emerson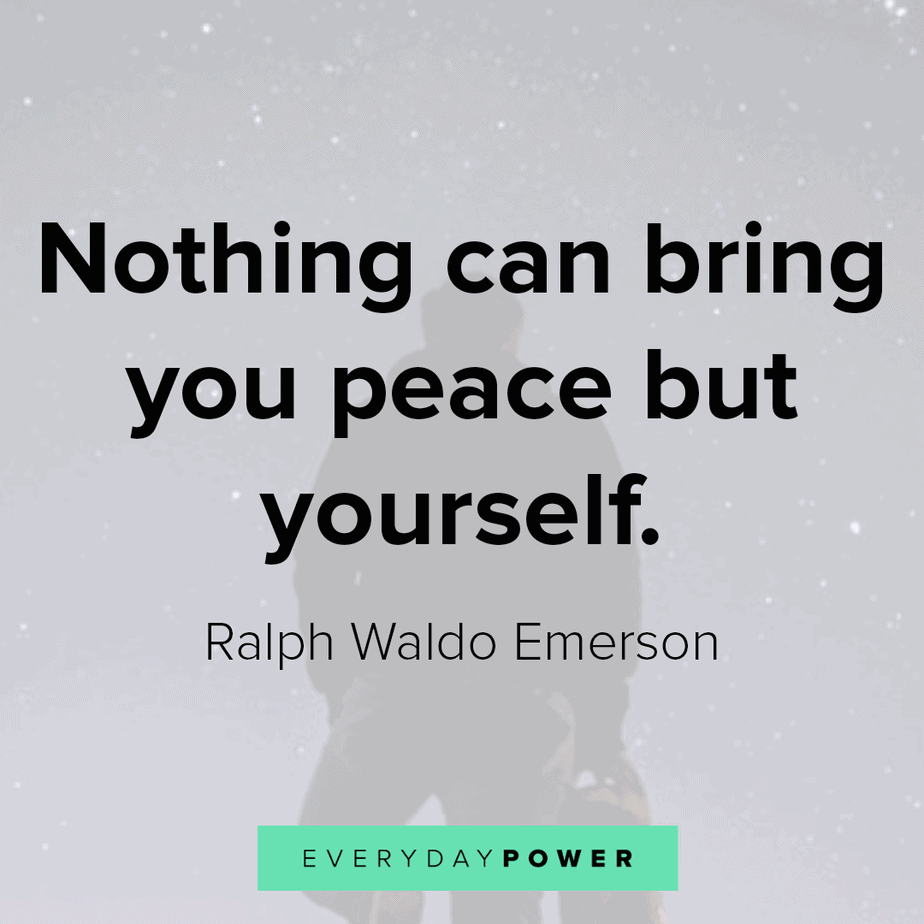 9. "Inside myself is a place where I live all alone and that's where you renew your springs that never dry up." —Pearl Buck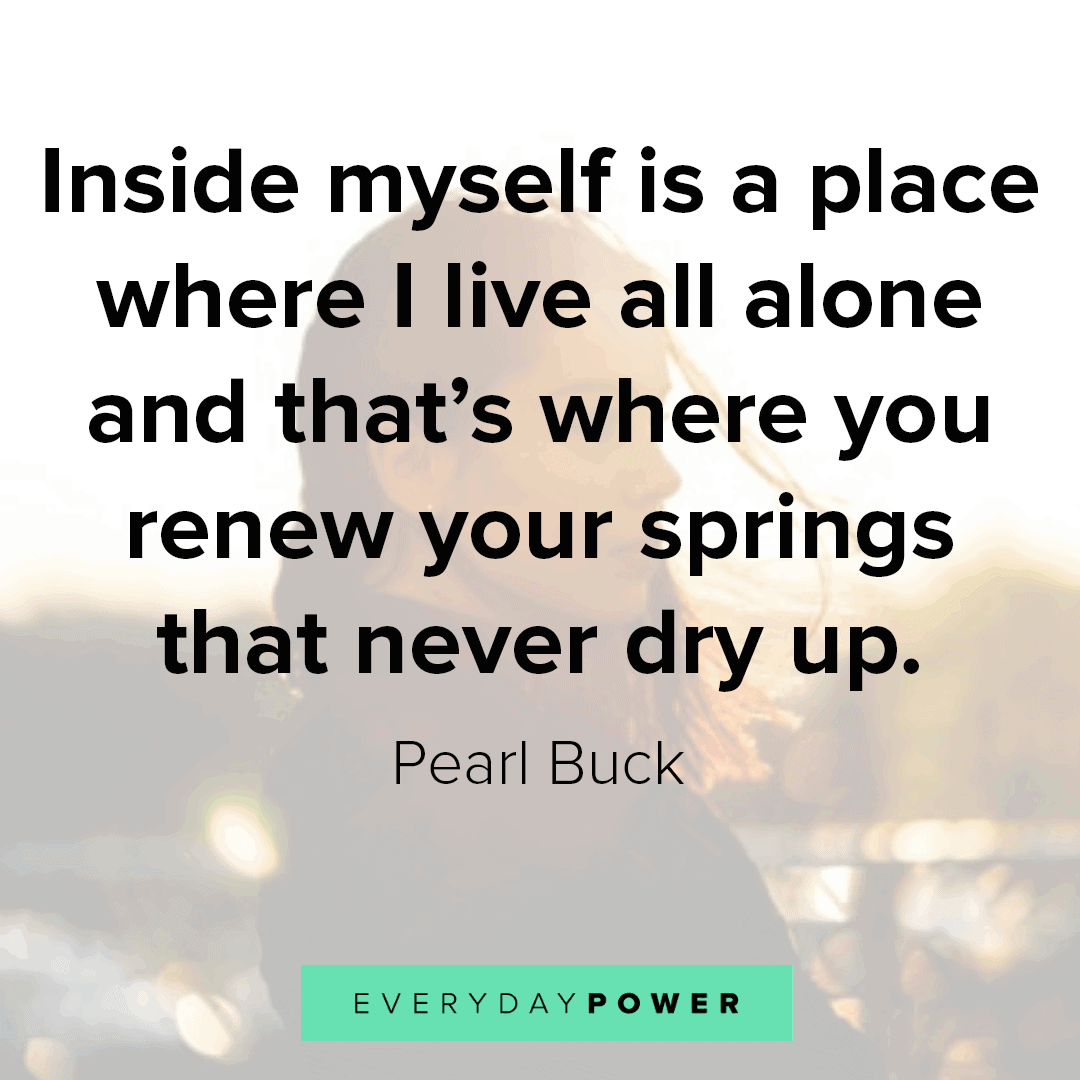 However, the fact is that you can't always be around people. There are times when you need to sit all by yourself and reflect on your life or just enjoy your alone time.
Being alone does not necessarily mean that you should be lonely. Being alone gives you the chance to discover yourself. It allows you to learn things about yourself and know yourself better.
Being alone can also be good for your mental health because it can allow you to be more relaxed. It is good to be with the people you love and who love you back, but being alone is good for you too.
Below you will find our collection of inspirational, wise, and uplifting lonely quotes and lonely sayings, collected over the years from a variety of sources. Enjoy!
Also check out these insightful silence quotes on the importance of reflection.
Loneliness quotes that prove it's okay to be alone
10. "A man can be himself only so long as he is alone; and if he does not love solitude, he will not love freedom; for it is only when he is alone that he is really free." – Arthur Schopenhauer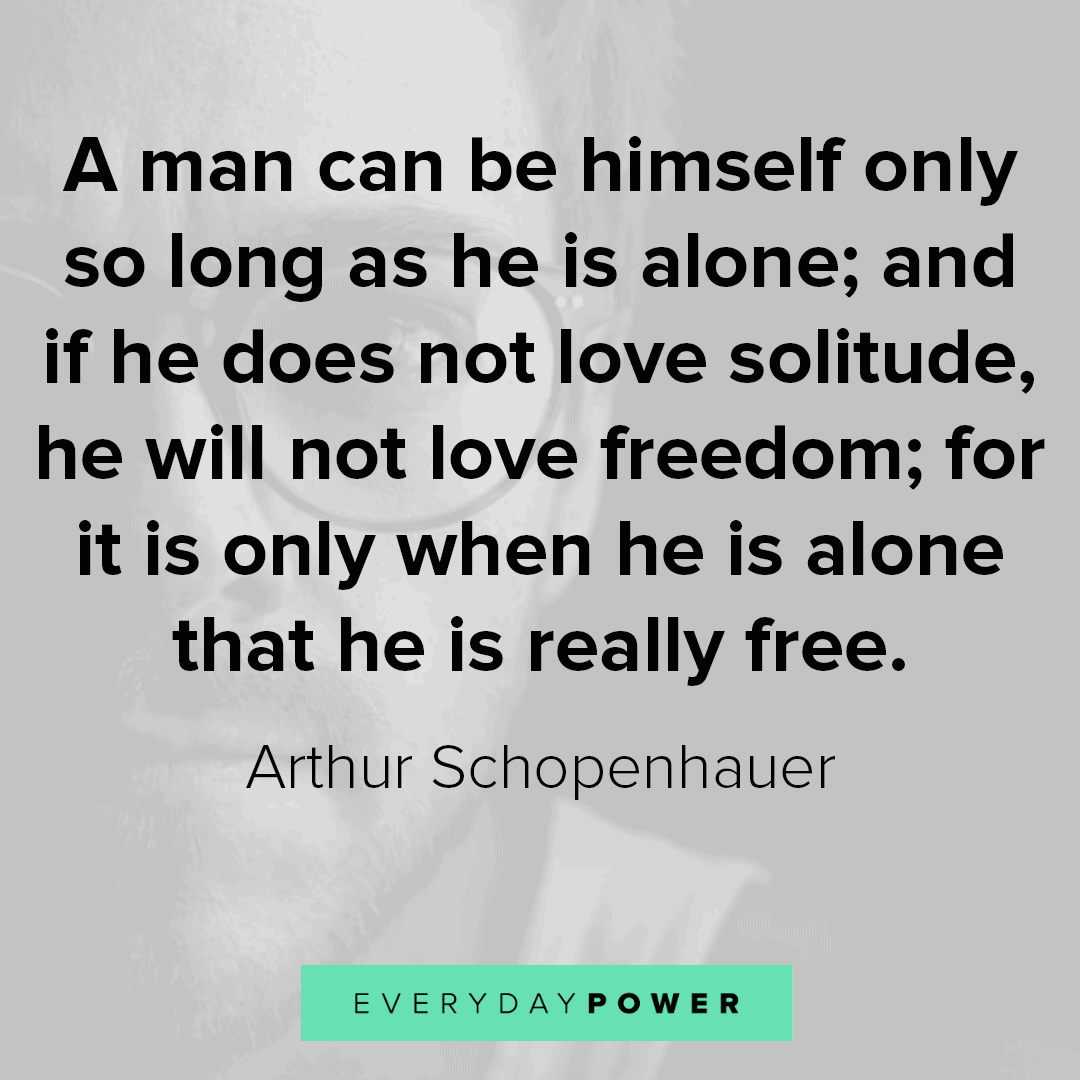 11. "It is better to be lonely than allow people who are not going anywhere keep you from your destiny." – Joel Osteen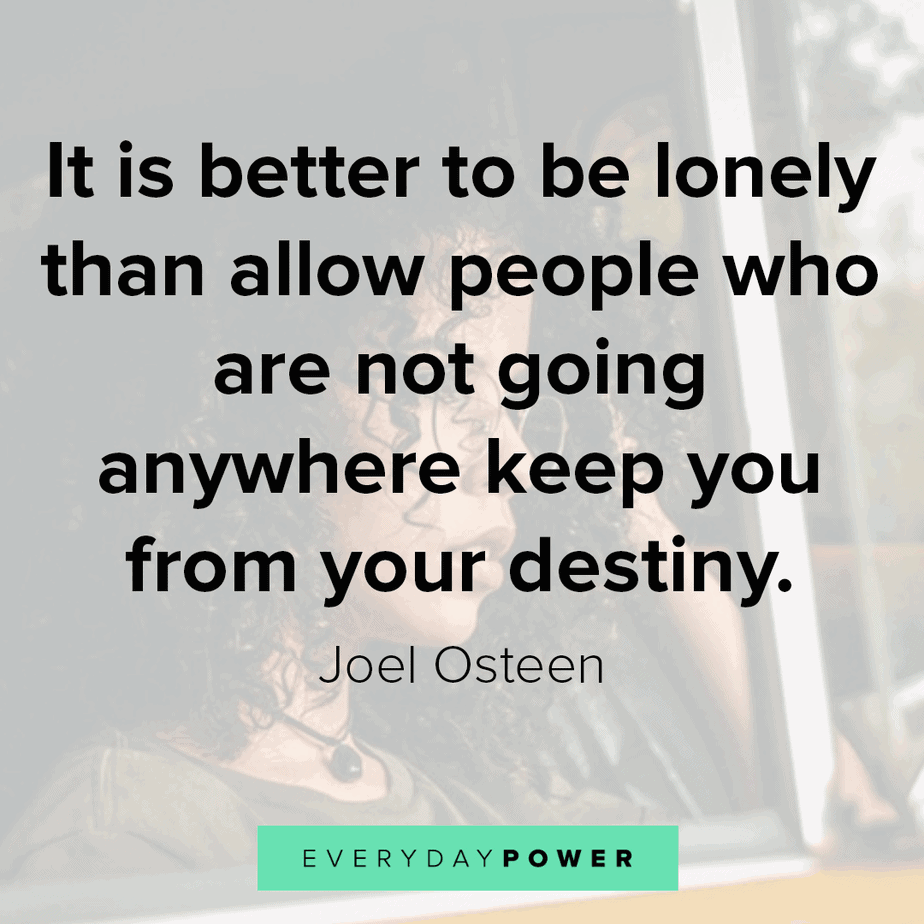 12. "Loneliness is not lack of company, loneliness is lack of purpose." – Guillermo Maldonado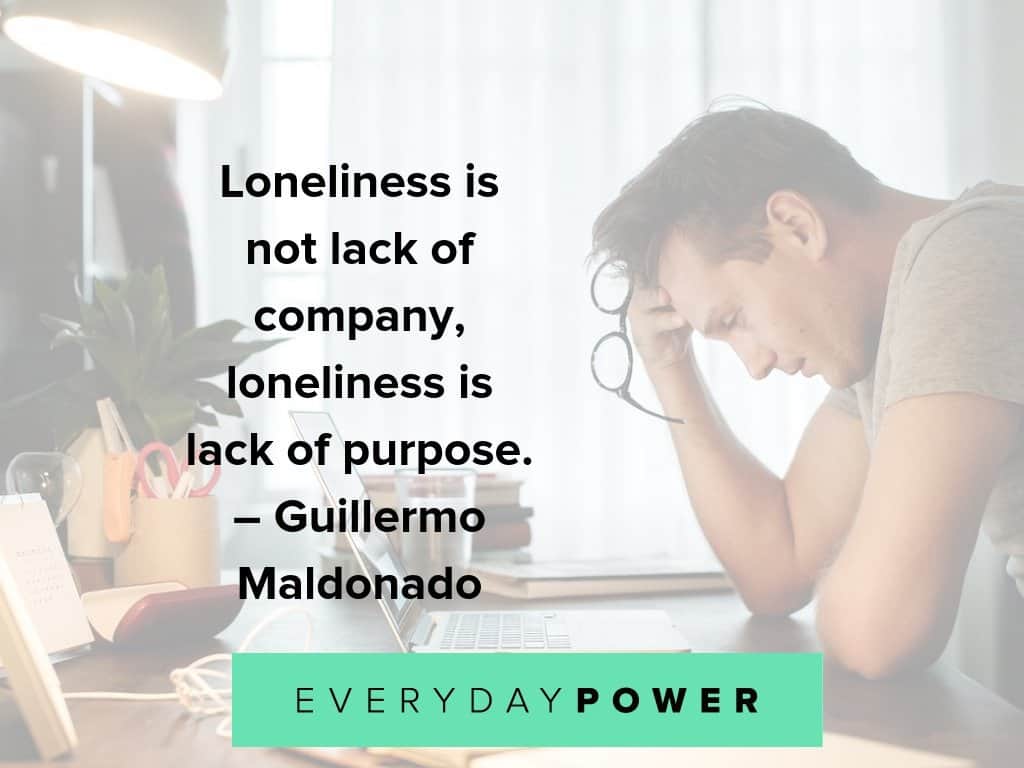 13. "In solitude the mind gains strength and learns to lean upon itself." – Laurence Sterne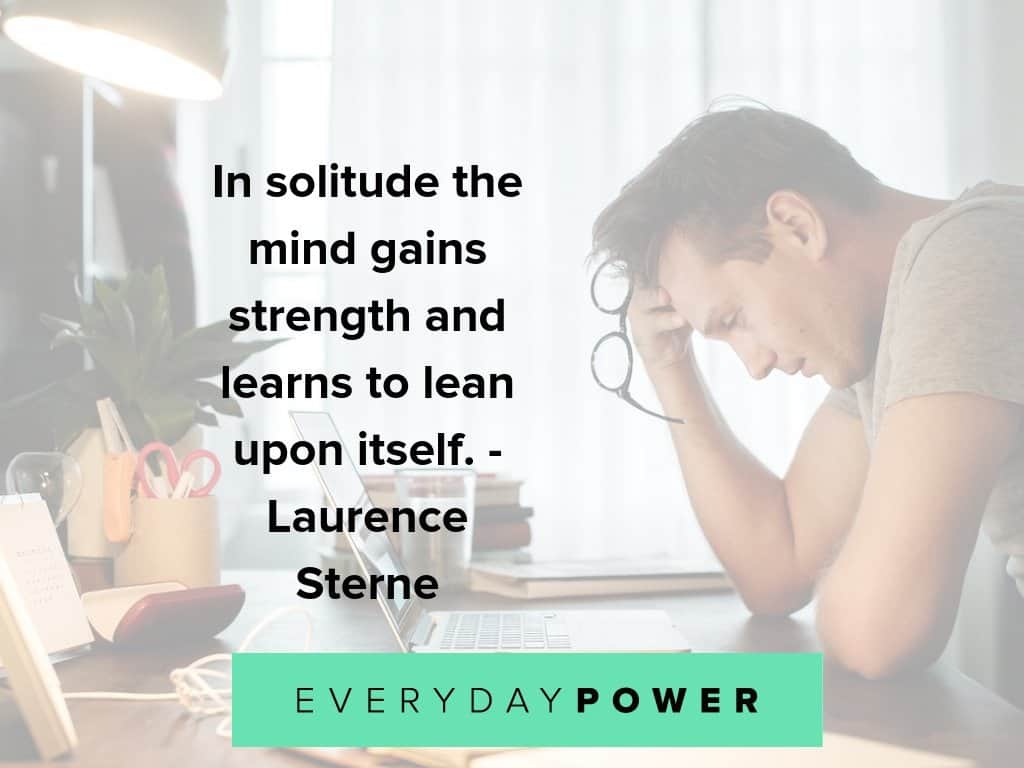 14. "The strongest man in the world is he who stands most alone." –Henrik Ibsen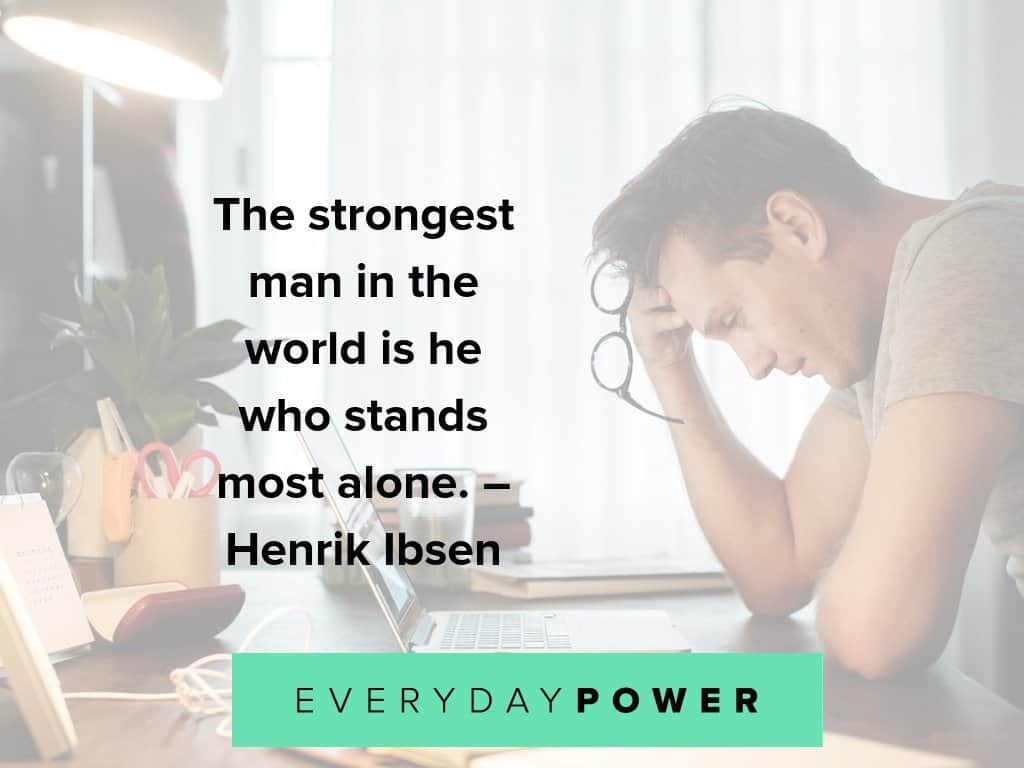 15. "If you smile when you are alone then you really mean it." –Andy Rooney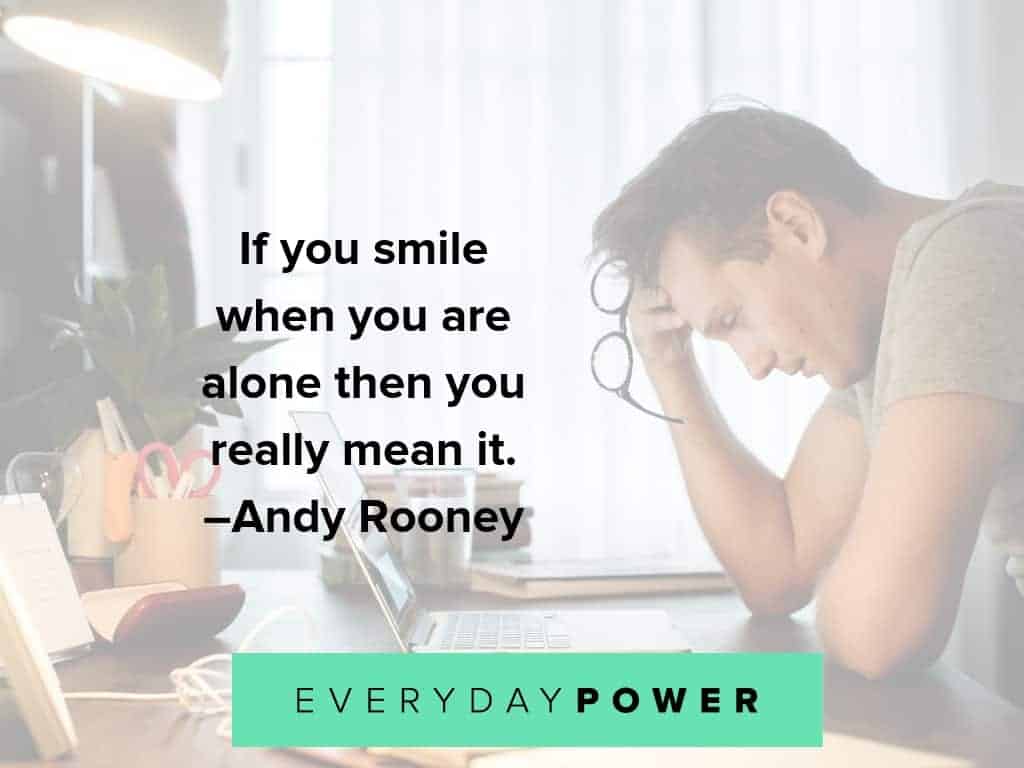 16. "As I get older I'm more and more comfortable being alone." – Sienna Miller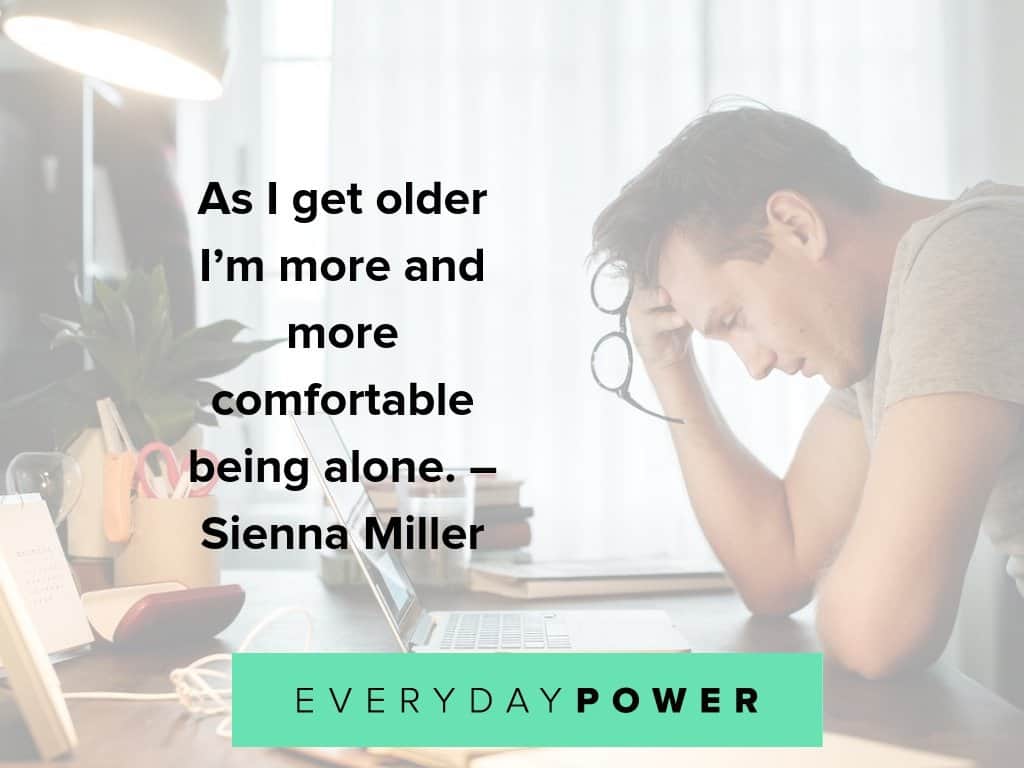 If you're enjoying these quotes, you'll love our collection of getting older quotes that will make you embrace the beauty in aging.
Inspirational lonely quotes to help you become stronger
17. "Some people can't stand being alone. I love solitude and silence. But when I come out of it, I'm a regular talking machine. It's all or nothing for me." – Celine Dion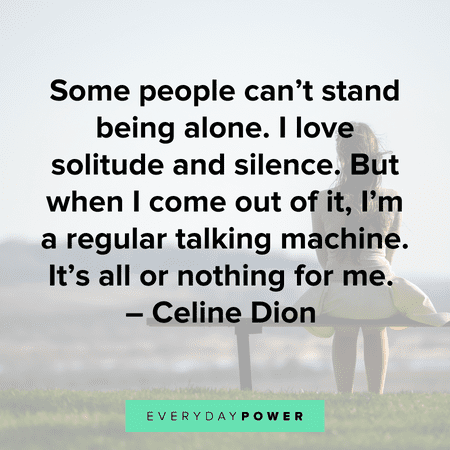 If you're enjoying these quotes, make sure to check out our collection of solitude quotes to bring you peace.
18. "The best part about being alone is that you really don't have to answer to anybody. You do what you want." – Justin Timberlake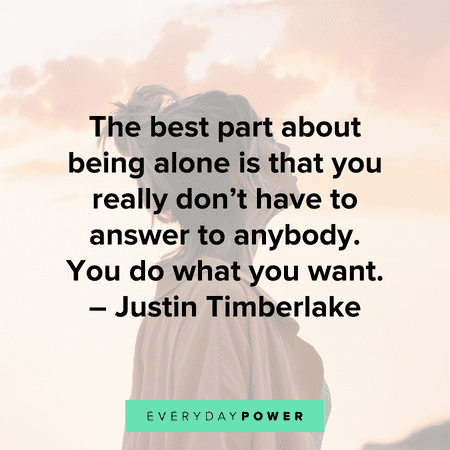 19. "Being alone & actually sitting with our own thoughts can lead to such growth and realizations that are rare in our everyday busy lives." – Kourtney Kardashian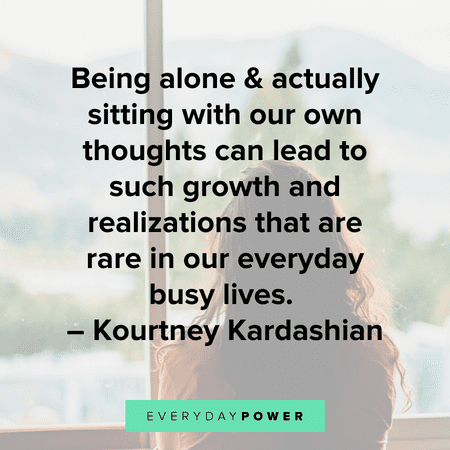 20. "I like being alone. I have control over my own shit. Therefore, in order to win me over, your presence has to feel better than my solitude. You're not competing with another person, you're competing with my comfort zones." – Horacio Jones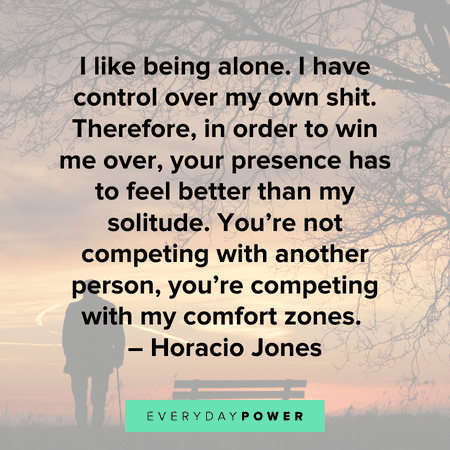 21. "There are worse things than feeling alone. Things like being with someone and still feeling alone."- M.W Poetry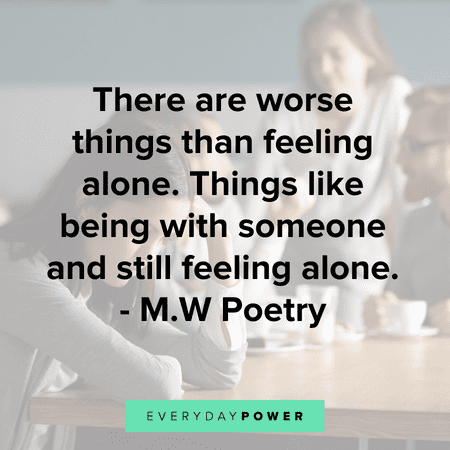 22. "Remember: the time you feel lonely is the time you most need to be by yourself. Life's cruelest irony." ― Douglas Coupland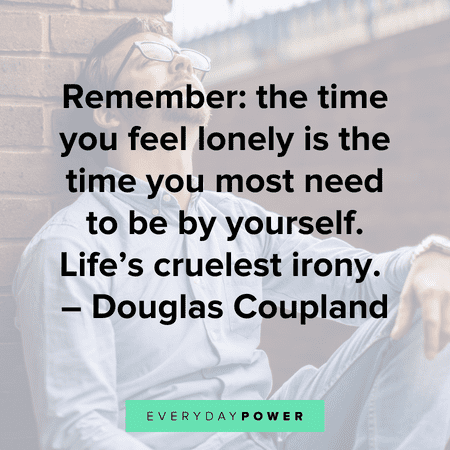 23. "Music was my refuge. I could crawl into the space between the notes and curl my back to loneliness." ― Maya Angelou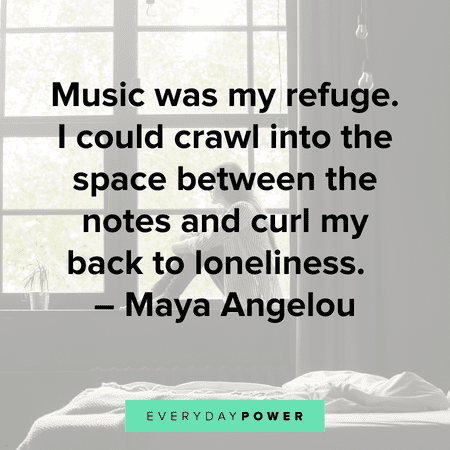 24. "All great and precious things are lonely." ― John Steinbeck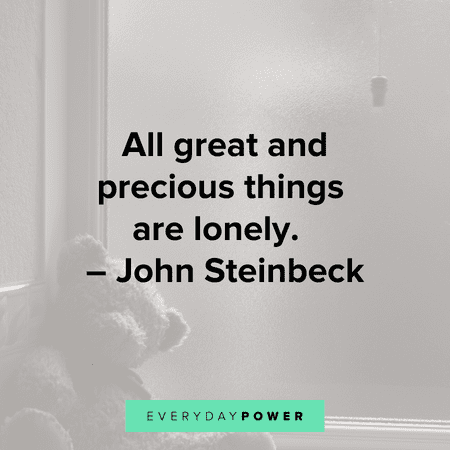 25. "When I get lonely these days, I think: So Be lonely, Liz. Learn your way around loneliness. Make a map of it. Sit with it, for once in your life." ― Elizabeth Gilbert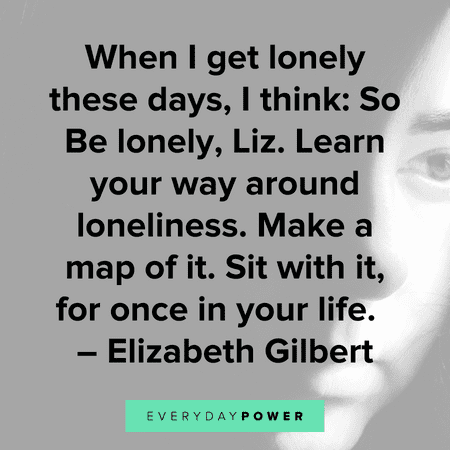 26. "Loneliness is the human condition. Cultivate it. The way it tunnels into you allows your soul room to grow. Never expect to outgrow loneliness." ― Janet Fitch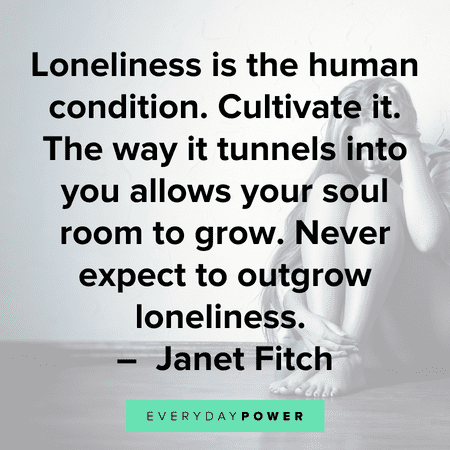 27. "If you are afraid of being lonely don't try to be right." –Jules Renard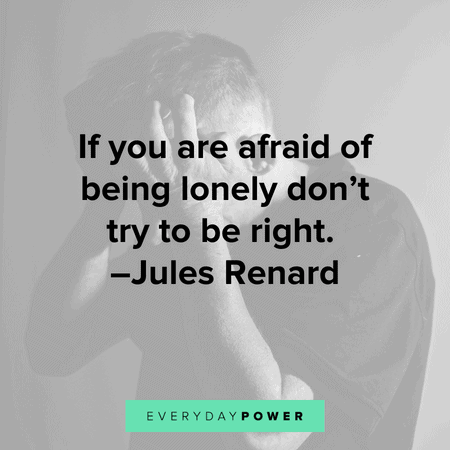 28. "Sometimes you have to stand alone. Just to make sure you still can."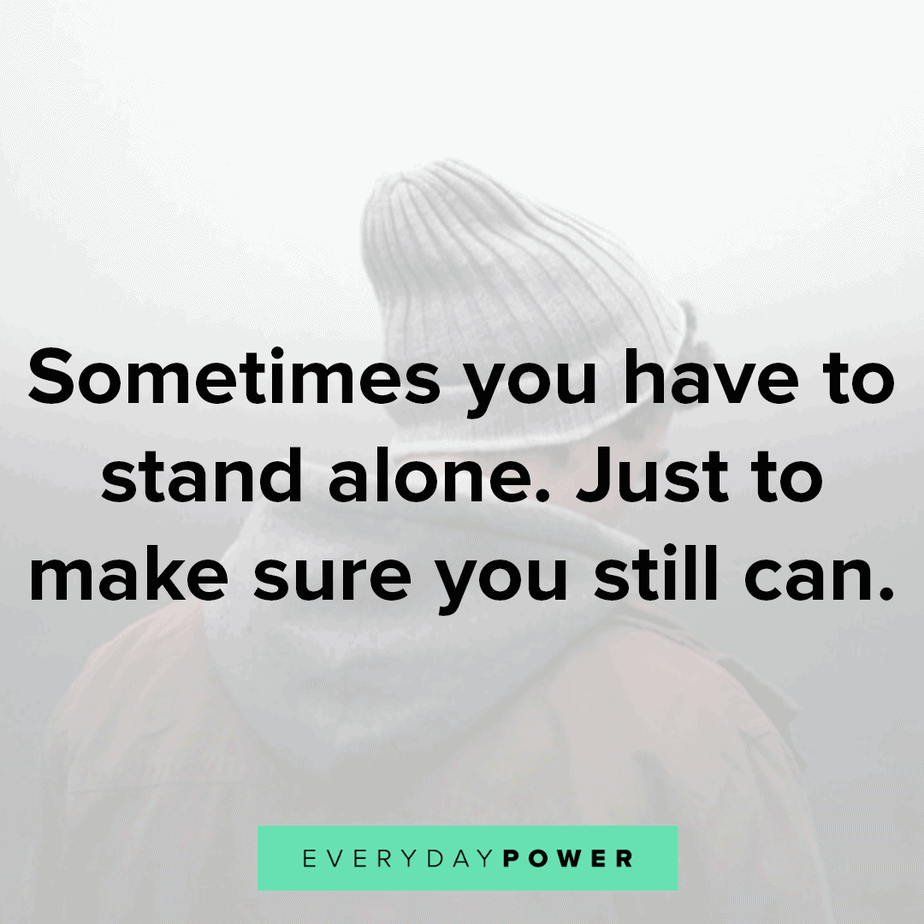 29. "Sometimes, you just need a break. In a beautiful place. Alone. To figure everything out."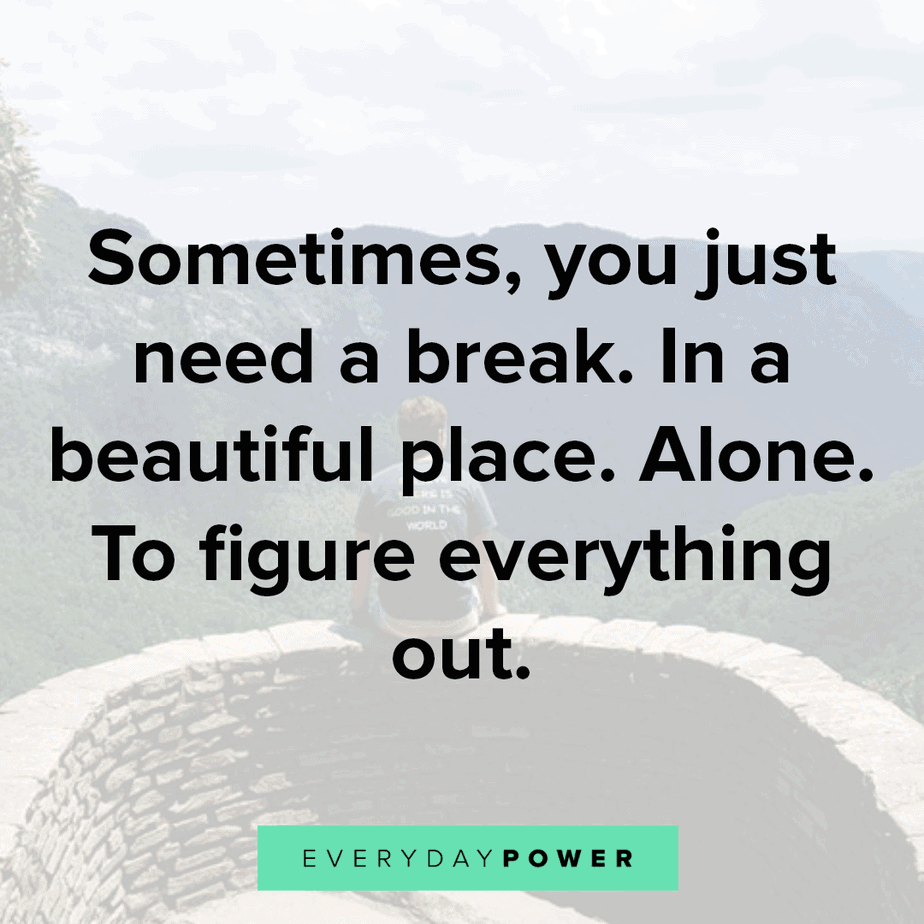 30. "Sometimes you need to be alone. Not to be lonely, but to enjoy your free time being yourself."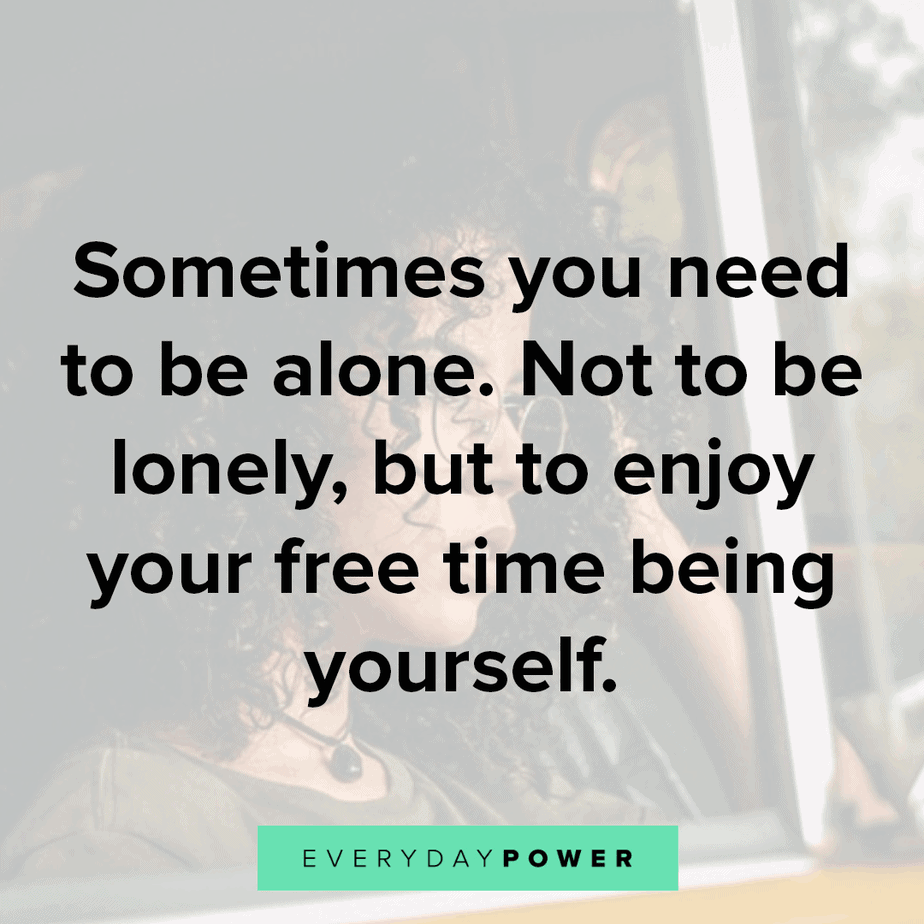 Quotes about loneliness to guide and support
31. "If one's different one's bound to be lonely. –Aldous Huxley
32. "I'm not much but I'm all I have." –Philip K. Dick
33. "It's easy to stand in the crowd but it takes courage to stand alone." – Mahatma Gandhi
34. "What a lovely surprise to finally discover how unlonely being alone can be." –Ellen Burstyn
35. "Sometimes I think that my own company is more suitable for me than if I were around others. Because of the person that I am." –Kyle Labe
36. "I'm not much but I'm all I have." ― Philip K Dick
37. "A broken relationship can make you feel more lonely than when you were single." – PictureQuotes.com
38. "Find company within yourself and you'll never spend a day alone. Find love within yourself and you'll never have a lonely day." –Connor Chalfant
39. "There's nothing abnormal about loneliness." –Paula Stokes
Don't forget to also read these I miss you quotes to fill that loneliness in your heart.
Lonely quotes to help you be yourself
40. "If you want to miss your crown follow the crowd. If you want to wear the crown, go alone and be yourself. –Israelmore Ayivor
41. "I'm fascinated with myself and love hearing the sound of my own voice. I'd like to hear what I have to say. A lot of people don't like being alone because they truly don't like themselves but I love me." –Gene Simmons
42. "My inspirations are the woman, friendship, and loneliness."–Enrique Iglesias
If you're enjoying these quotes, make sure to read our collection of short quotes that can make a big difference in your life.
43. "Tore up my heart and shut it down. Nothing to do, nowhere to be. A simple little kind of free. Nothing to do, no one but me, and that's all I need. I'm perfectly lonely." –John Mayer
44. "If you are alone, you belong entirely to yourself. If you are accompanied by even one companion, you belong only half to yourself or even less in proportion to the thoughtlessness of his conduct, and if you have more than one companion, you will fall more deeply into the same plight." – Leonardo da Vinci
45. "All men's misfortunes spring from their hatred of being alone." –Jean de La Bruyère
46. "You're only lonely if you're not there for you." – Phil McGraw
47. "To live alone is the fate of all great souls." – Arthur Schopenhauer
48. "Life is ever easy for those who dream." – DandelionQuotes.com
49. "Never search for your happiness in others, it will make you feel alone. Search it in yourself, you will feel happy even when you are left alone." – Awesomequotesforyou.com
50. "It is far better to be alone than to be in bad company." – George Washington
If you're enjoying these quotes, check out our George Washington quotes from America's first president.
Inspirational and uplifting lonely quotes
51. "I want to be with those who know secret things or else alone." ― Rainer Maria Rilke
52. "If you go deeper and deeper into your own heart, you'll be living in a world with less fear, isolation and loneliness." – Sharon Salzberg
53. "The only time we waste is the time we spend thinking we are alone." ― Mitch Albom
54. "Loneliness is proof that your innate search for connection is intact." – Martha Beck
55. "It's weird to feel like you miss someone you're not even sure you know." ― David Foster Wallace
56. "When we cannot bear to be alone, it means we do not properly value the only companion we will have from birth to death – ourselves." – Eda J. LeShan
57. "The loneliness you feel with another person, the wrong person, is the loneliest of all." ― Deb Caletti
58. "When everything is lonely I can be my best friend." – Conor Oberst
59. "My loneliness was born when men praised my talkative faults and blamed my silent virtues." ― Khalil Gibran
60. "Dreams have only one owner at a time. That's why dreamers are lonely." – Erma Bombeck
Quotes about loneliness to make you stronger
61. "I had been alone more than I could have been had I gone by myself."― Sylvia Plath
If you're enjoying these quotes, read our collection of Sylvia Plath quotes from the iconic poet.
62. "I am lonely, sometimes, but I dare say it's good for me…"― Louisa May Alcott
63. "The worst thing about loneliness is that it brings one face to face with oneself."― Mary Balogh
64. "You'll end up living a lonely life if you're waiting around for perfect."― Samantha Young
65. "It's only natural to feel lonely after the enjoyable moments pass. But as you experience new joys those feelings of sorrow will start to fade."― Mizu Sahara
66. "I've noticed that loneliness gets stronger when we try to face it down, but gets weaker when we simply ignore it."― Paulo Coelho
67. "You do not have to be alone. The world never inflicts loneliness upon us. That is something we choose or reject by ourselves."― Darren Shan
68. "Sometimes being surrounded by everyone is the loneliest, because you'll realize you have no one to turn to."― Soraya
69. "Throwing herself into learning helped Miri ignore the painful chill of solitude around her."― Shannon Hale
70. "What makes loneliness an anguish is not that I have no one to share my burden, but this: I have only my own burden to bear."― Dag Hammarskjöld
71. "You never walk alone. Even the devil is the lord of flies."― Gilles Deleuze
If you're enjoying these quotes, read our collection of Lord of the Flies quotes that will remind you of why we need structure and rules.
72. "Solitude is where one discovers one is not alone."― Marty Rubin
73. "She understood how a world jammed with phones, email, and faxes could still leave you feeling utterly alone."― Jodi Picoult
74. "People run away to be alone,' he said. Some people had to be alone."― William Trevo
75. "Loneliness is painful. But suffering is not wrong in and of itself. It's part of the human experience, and in a way brings us closer to all people."― Juliette Fay
Lonely quotes to remind you that you're never alone
76. "I'll never forget how the depression and loneliness felt good and bad at the same time. Still does." – Henry Rollins
If you're enjoying these quotes, you'll love our collection of powerful depression quotes that will provide perspective.
77. "There is a loneliness in this world so great that you can see it in the slow movement of the hands of a clock." – Charles Bukowski
78. "We need solitude, because when we're alone, we're free from obligations, we don't need to put on a show, and we can hear our own thoughts." – Tamim Ansary
79. "Loneliness can be conquered only by those who can bear solitude." – Paul Tillich
80. "We need quiet time to examine our lives openly and honestly – spending quiet time alone gives your mind an opportunity to renew itself and create order."– Susan L. Taylor
81. "A happy life must be to a great extent a quiet life, for it is only in an atmosphere of quiet that true joy can live."– Bertrand Russell
82. "You are never alone. You are eternally connected with everyone." – Amit Ray
83. "Solitude is the beginning of all freedom."– William Orville Douglas
84. "If one is lucky, a solitary fantasy can totally transform one million realities." – Maya Angelou
85. "We're born alone, we live alone, we die alone. Only through our love and friendship can we create the illusion for the moment that we're not alone."– Orson Welles
If you're enjoying these quotes, make sure to read our selection of friendship quotes celebrating life-long relationships.
Inspirational lonely and loneliness quotes
86. "No one is ever alone and silence does not equate defeat." – Joan Ambu
87. "Solitude is independence." – Herman Hesse
88. "Sometimes you need to sit lonely on the floor in a quiet room in order to hear your own voice and not let it drown in the noise of others." – Charlotte Eriksson
89. "Solitude is strength; to depend on the presence of the crowd is weakness. The man who needs a mob to nerve him is much more alone than he imagines."– Paul Brunton
90. "Pray that your loneliness may spur into finding something to live for, great enough to die for." – Dag Hammarskjold
91. "Make the time to be alone. Your best ideas live within solitude." – Robin Sharma
92. "Don't fear solitude: If you are never alone, you cannot know yourself. But don't get too attached to it – it may become an addiction." – Paulo Coelho
93. "Sometimes it's better to be alone no one can hurt you that way."– Tinku Razoria
94. "I tell you loneliness is the thing to master. Courage and fear love death are only parts of it and can easily be ruled afterwards. If I make myself master my own loneliness there will be peace or safety: and perhaps these are the same." – Martha Gellhorn
95. "I used to think that the worst thing in life was to end up all alone. It's not. The worst thing in life is ending up with people who make you feel alone."– Robin Williams
Don't forget to also read our collection of quotes about losing a loved one to help you express the feelings behind loss.
Lonely quotes to help you feel better
96. "What a lovely surprise to finally discover how unlonely being alone can be." – Ellen Burstyn
97. "Lonely was much better than alone." –Toni Morrison
98. "I live in that solitude which is painful in youth, but delicious in the years of maturity" – Albert Einstein
99. "I'm all alone but I'm not lonely." – Haruki Murakami
100. "Loneliness is and always has been the central and inevitable experience of every man." – Thomas Wolfe
101. "The surest sign of age is loneliness." – Annie Dillard
102. "Loneliness is my least favorite thing about life. The thing that I'm most worried about is just being alone without anybody to care for or someone who will care for me." – Anne Hathaway
103. "All man's miseries derive from not being able to sit quietly in a room alone." ― Blaise Pascal
104. "Loneliness becomes an acid that eats away at you." – Haruki Murakami
105. "I'm learning a lot about myself being alone and doing what I'm doing." – Chantal Kreviazuk
Lonely quotes to enlighten
106. "Being alone has a power that very few people can handle." – Steven Aitchison
107. "Even in the loneliest moments I have been there for myself." – Sanober Khan
108. "One of the greatest regrets in life is being what others would want you to be, rather than being yourself." ― Shannon L. Alder
109. "People run away to be alone he said. Some people had to be alone." –William Trevor
110. "Yes there is joy fulfillment and companionship—but the loneliness of the soul in its appalling self-consciousness is horrible and overpowering." –Sylvia Plath
111. "I love to be alone. I never found the companion that was so companionable as solitude." ― Henry David Thoreau
112. "The pain of being alone is completely out of this world isn't it? I don't know why but I understand your feelings so much it actually hurts." –Masashi Kishimoto
113. "Don't feel alone, because there is always someone out there who loves you more than you can imagine." ― Anurag Prakash Ray
114. "I don't want to be alone, I want to be left alone." – Audrey Hepburn
115. "We are all so much together, but we are all dying of loneliness." – Albert Schweitzer
Lonely quotes to brighten your day
116. "Laugh and the world laughs with you, snore and you sleep alone." ― Anthony Burgess
117. "Being alone does not mean being unhappy. The world is full of plenty of interesting and enjoyable things to do and people who can enrich your life." – Michael Josephson
118. "It's far better to be unhappy alone than unhappy with someone — so far." – Marilyn Monroe
119. "There is a certain strength in being alone." – Heather Duffy Stone
120. "I don't see how you can respect yourself if you must look in the hearts and minds of others for your happiness." – Hunter S. Thompson
121. "It is only when we silent the blaring sounds of our daily existence that we can finally hear the whispers of truth that life reveals to us." – K.T. Jong
122. "There are two kinds of loneliness:
one you feel you are all alone;
the other you feel in a crowded room,
when you realize you are the only person who knows what it's like to be you." – Atticus
If you're enjoying these quotes, check out our Atticus quotes from the New York Times best-selling poet.
123. "Until you get comfortable with being alone, you'll never know if you're choosing someone out of love or loneliness." – Mandy Hale
124. "If you wanted to do something absolutely honest, something true, it always turned out to be a thing that had to be done alone." – Richard Yates
125. "For fear you will be alone, you do so many things that aren't you at all." – Richard Brautigan
Insightful lonely quotes
126. "In all our searching, the only thing we've found that makes the emptiness bearable is each other."― Carl Sagan
127. "Loneliness is like being the only person left alive in the
universe, except that everyone else is still here."― Simon Van Booy
128. "To be alone with yourself is to be alone. To be in the company of others is to be alone together. The only time you are not alone is when you forget yourself and reach out in love."― Vera Nazarian
129. "There were people everywhere but no one was mine, and I was no one's."― Gregory Maguire
130. "Loneliness is a state of feeling that can be changed.
People may still feel lonely even among the crowd."― Toba Beta
131. "Anyone who knows how scary it is to be alone, can't help loving others." ~Rin Sohma"― Natsuki Takaya
132. "Loneliness is the prison of the human spirit. When we are lonely, we pace back and forth in small, shut-in worlds."― John Joseph Powell
133. "The worst kind of loneliness in the world is the isolation that comes from being misunderstood. It can make people lose their grasp on reality."― Shyza Chaudhry
134. "The sun loved me again when it saw that the stars would not abandon me."― Jenim Dibie
135. "Loneliness Ends With Love."― Al Lerner
If you're enjoying these quotes, make sure to read our collection of sad love quotes to help you deal with difficult emotions.
Lonely quotes to inspire and teach
136. "There were people everywhere on the city street, but the stranger could not have been more alone if it were empty."― Markus Zusak
137. "We've got a bond in common, you and I. We are both alone in the world."― Daphne du Maurier
138. "Half of the time I don't know what they're talking about; their jokes seem to relate to a past that everyone but me has shared. I'm a foreigner in the world and I don't understand the language."― Jean Webster
139. "Eventually, we all end up alone."― Ally Carter
140. "It had filled my time – given me quiet, steadfast company with those characters, who did not exist and never would, but somehow made me feel less … alone."― Sarah J. Maas
141. "He says he's lonely, horribly lonely because of this love he feels for her. She says she's lonely too. She doesn't say why."― Marguerite Duras
142. "There are people who like to be alone without feeling lonely at all."― Toba Beta
143. "I learned that day that there is no more lonely state than being in a lonely marriage."― Julie Metz
144. "I don't know why I still feel this pit in my stomach whenever I get a moment to think. I know what the pit is, too; I feel lonely. But I'm not alone, I keep telling myself."― Pittacus Lore
145. "Forgiving, that's what she is, and lonely. A person can forgive a lot if they need the company."― Ali Land
Lonely quotes to enlighten you
146. "I often stood in front of the mirror alone, wondering how ugly a person could get."― Charles Bukowski
If you're enjoying these quotes, make sure to read our collection of Charles Bukowski quotes to help you see life from a brand new perspective.
147. "When you are lonely for a while don't get restless, if you had born alone, you are going to die alone then for sometime you can certainly live alone."― Amit Kalantri
148. "It's never loneliness that nibbles away at a person's insides, but not having room inside themselves to be comfortably alone."― Rachel Sontag
149. "You can't feel lonely if there's no one else around." – Yamaguchi Kenji
150. "I felt like a kid standing in the world's greatest video arcade without any quarters, unable to do anything but walk around and watch the other kids play."― Ernest Cline
151. "The Internet is for lonely people. People should live."― Charlton Heston
152. "I did not know I was lonely, she thought, until I was no longer alone."― Katherine Arden
153. "Hanging with people who make you feel unappreciated, for the mere sake of appearing to be popular, is the loneliest place to be."― Ellen J. Barrier
154. "Always remember that you were once alone, and the crowd you see in your life today are just as unnecessary as when you were alone."― Michael Bassey Johnson
155. "All these people moving through life, all around me, and no one, not a single person, knows what I'm going through."― Lee Thompson
Lonely quotes to make you feel better
156. "Walking with a friend in the dark is better than walking alone in the light." –Helen Keller
157. "Loneliness is about the scariest thing out there." –Joss Whedon
158. "The loneliest moment in someone's life is when they are watching their whole world fall apart and all they can do is stare blankly." –F. Scott Fitzgerald
159. "All I ever wanted was to reach out and touch another human being not just with my hands but with my heart." – Tahereh Mafi
160. "This world that I live in is empty and cold. The loneliness cuts me and tortures my soul."
–Waylon Jennings
161. "I realize for the first time how very lonely I've been in the arena. How comforting the presence of another human being can be." –Suzanne Collins
162. "Pray that your loneliness may spur you into finding something to live for great enough to die for." –Dag Hammarskjold
163. "If a man cannot understand the beauty of life it is probably because life never understood the beauty in him." –Criss Jami
164. "Life is full of misery loneliness and suffering—and it's all over much too soon." –Woody Allen
165. "My imagination makes me human and makes me a fool; it gives me all the world and exiles me from it." –Ursula K. Le Guin
Lonely quotes to inspire you
166. "When we truly realize that we are all alone is when we need others the most." –Ronald Anthony Cross
167. "If you're lonely when you're alone you're in bad company." – Jean-Paul Sartre
168. "Loneliness is never more cruel than when it is felt in close propinquity with someone who has ceased to communicate." –Germaine Greer
169. "We live as we dream–alone…. "–Joseph Conrad
170. "In order to be open to creativity, one must have the capacity for constructive use of solitude. One must overcome the fear of being alone." – Rollo May
171. "Some nights are made for torture or reflection or the savoring of loneliness." –Poppy Z. Brite
172. "Let me tell you this: if you meet a loner no matter what they tell you it's not because they enjoy solitude. It's because they have tried to blend into the world before and people continue to disappoint them." –Jodi Picoult
173. "Loneliness is the poverty of self; solitude is richness of self." –May Sarton
174. "The most terrible poverty is loneliness and the feeling of being unloved." –Mother Theresa
175. "Depression on my left Loneliness on my right. They don't need to show me their badges. I know these guys very well." – Elizabeth Gilbert
176. "And if you couldn't be loved, the next best thing was to be let alone." ― L.M. Montgomery
177. "The best way to get approval is not to need it." – Hugh MacLeod
180. "The trouble is not really in being alone, it's being lonely. One can be lonely in the midst of a crowd, don't you think?"― Christine Feehan
181. "It is good to be solitary, for solitude is difficult; that something is difficult must be a reason the more for us to do it." – Rainer Maria Rilke
182. "The only way to survive is to admit you are on your own, learn to make your own decisions, and trust your judgement." – Robert Greene
183. "There are some places in life where you can only go alone. Embrace the beauty of your solo journey."― Mandy Hale
184. "When a man is one of a kind, he will be lonely wherever he is."― Louis L'Amour
185. "If I could always read I should never feel the want of company."― George Gordon Byron
186. "If we are alone, we become more alone. Life is strange."― Paulo Coelho
187. "I have been a stranger here in my own land: All my life."― Sophocles
Lonely quotes about what loneliness feels like
188. "Solitude is pleasant. Loneliness is not." — Anna Neagle
189. "What loneliness is more lonely than distrust?" — George Eliot
190. "No one ever discovers the depths of his own loneliness." — Georges Bernanos
191. "Cinema can fill in the empty spaces of your life and your loneliness." — Pedro Almodovar
192. "We are all born alone and die alone. The loneliness is definitely part of the journey of life." — Jenova Chen
193. "Loneliness expresses the pain of being alone and solitude expresses the glory of being alone." — Paul Tillich
194. "Times may have changed, but there are some things that are always with us – loneliness is one of them." — Laurie Graham
195. "Maybe true love isn't out there for me, but I can sublimate my loneliness with the notion that true love is out there for someone." — Roxane Gay
196. "Look for yourself, and you will find in the long run only hatred, loneliness, despair, rage, ruin, and decay. But look for Christ, and you will find Him, and with Him everything else thrown in." — C. S. Lewis
197. "I don't fear death so much as I fear its prologues: loneliness, decrepitude, pain, debilitation, depression, senility. After a few years of those, I imagine death presents like a holiday at the beach." — Mary Roach
More lonely quotes and sayings
198. "Sometimes being surrounded by everyone is the loneliest, because you'll realize you have no one to turn to." —Soraya
199. "We're happy, free, confused, and lonely at the same time." —Taylor Swift
200. "You're not alone. I'm awake and I've been thinking of you." —Kygo
201. "I walk a lonely road, the only one that I have ever known." —Green Day
202. "Lonely, I'm so lonely, I have nobody to call my own." —Akon
203. "Don't wanna be all by myself anymore." —Celine Dion
204. "I'm not the girl you're taking home. I keep dancing on my own." —Robyn
205. "There is nothing more lonely or terrifying than feeling unheard." —House of Cards
206. "Can anybody hear me or am I talking to myself?" —Simple Plan
207. "I think loneliness probably kills more people than cancer." —A Simple Favor
Lonely quotes about what loneliness feels like
208. "If you are afraid of loneliness, do not marry." — Anton Chekhov
209. "Nothing makes us more vulnerable than loneliness, except greed." — Thomas Harris
210. "The eternal quest of the individual human being is to shatter his loneliness." — Norman Cousins
211. "The end comes when we no longer talk with ourselves. It is the end of genuine thinking and the beginning of the final loneliness." — Edward Gibbon
212. "Negative emotions like loneliness, envy, and guilt have an important role to play in a happy life; they're big, flashing signs that something needs to change." — Gretchen Rubin
213. "Too much self-centered attitude, you see, brings, you see, isolation. Result: loneliness, fear, anger. The extreme self-centered attitude is the source of suffering." — Dalai Lama
214. "Everything we do is for the purpose of altering consciousness. We form friendships so that we can feel certain emotions, like love, and avoid others, like loneliness." — Sam Harris
215. "Everybody has something that chews them up and, for me, that thing was always loneliness. The cinema has the power to make you not feel lonely, even when you are." — Tom Hanks
216. "Who knows what true loneliness is – not the conventional word but the naked terror? To the lonely themselves it wears a mask. The most miserable outcast hugs some memory or some illusion." — Joseph Conrad
217. "Loneliness is different than isolation and solitude. Loneliness is a subjective feeling where the connections we need are greater than the connections we have." — Vivek Murthy
More Quotes that say it is Okay to be Alone
218. "There's a special quality to the loneliness of dusk, a melancholy more brooding even than the night's."– Ed Gorman
219. "I think it's good for a person to spend time alone. It gives them an opportunity to discover who they are and to figure out why they are always alone."– Amy Sedaris
220. "We live in such a lonely world because most days we wake up and decide to marry no one but ourselves."– Christopher Poindexter
221. "Be a loner. That gives you time to wonder, to search for the truth. Have holy curiosity. Make your life worth living."– Albert Einstein
222. "Loneliness might be taking you towards an otherwise unreachable experience of reality." – Olivia Laing
223. "There is something immaculate about loneliness which only lonely people can understand."– Munia Khan
224. "It would do the world good if every man would compel himself occasionally to be absolutely alone. Most of the world's progress has come out of such loneliness."– Bruce Barton
225. "By all means use sometimes to be alone. Salute thyself; see what thy soul doth wear." – George Herbert
226. "It takes nothing to join the crowd. It takes everything to stand alone." – Hans F. Hansen
227. "I think it's very healthy to spend time alone. You need to know how to be alone and not be defined by another person."– Oscar Wilde
Lonely quotes on why we need to walk the path of solitude
228. "The individual has always had to struggle to keep from being overwhelmed by the tribe. If you try it, you will be lonely often, and sometimes frightened. But no price is too high to pay for the privilege of owning yourself." – Friedrich Nietzsche
229. "A life without a lonely place, that is, without a quiet center, becomes destructive." – Henri Nouwen
230. "Cycling can be lonely, but in a good way. It gives you a moment to breathe and think, and get away from what you're working on." – David Byrne
231. "One thing that somebody told me is that leadership is a lonely role – some people can do it, and some people can't." – Kyrie Irving
232. "Being prime minister is a lonely job… you cannot lead from the crowd." – Margaret Thatcher
233. "I've also seen that great men are often lonely. This is understandable because they have built such high standards for themselves that they often feel alone. But that same loneliness is part of their ability to create." – Yousuf Karsh
234. "The thing that makes you exceptional, if you are at all, is inevitably that which must also make you lonely." – Lorraine Hansberry
235. "No one saves us but ourselves. No one can and no one may. We ourselves must walk the path." – Gautama Buddha
236. "The first great thing is to find yourself and for that you need solitude and contemplation – at least sometimes." – Fridtjof Nansen
237. "We can never be afraid to stand up for what is right, no matter what others may say. And sometimes, if that means taking a lonely road, if what we are standing for is true, then perhaps moonlight or sunshine will light our way and make it less lonely." – Pramila Jayapal
Heart-touching lonely quotes
238. "To find yourself, think for yourself." – Socrates
239. "Some steps need to be taken alone. It's the only way to really figure out where you need to go and who you need to be." – Mandy Hale
240. "Loneliness is a sign you are in desperate need of yourself." – Rupi Kaur
241. "Your life will get better when you realize it's better to be alone than to chase people who don't really care about you." – Thema Davis
242. "Loneliness is cured by contact with yourself." – Sven Schnieders
243. "Learn to be alone and to like it. There is nothing more empowering or freeing than learning to like your own company." – Mandy Hale
244. "Loneliness is a tax we have to pay to atone for a certain complexity of mind." – Alain de Botton
245. "Truth is, I'm generally happiest when it's just me. It's okay to be madly in love with yourself." – Richelle E. Goodrich
246. "Being alone has nothing to do with how many people are around." – Richard Yates
247. "I restore myself when I'm alone." – Marilyn Monroe
Lonely Quotes To Remember When You Feel Alone
248. "A little loneliness goes a long way in creating a richer, deeper, more vibrant, and colorful you." – Mandy Hal
249. "A lonely day is God's way of saying that he wants to spend some quality time with you." –
Criss Jami
250. "Solitude gives birth to the original in us, to beauty unfamiliar and perilous – to poetry. But also, it gives birth to the opposite: to the perverse, the illicit, the absurd." – Thomas Mann
251. "Accept your own aloneness and stick to it, all your life. And then accept the times when the gap is filled in, when they come. But they've got to come. You can't force them." – D.H. Lawrence
252. "You cannot be lonely if you like the person you're alone with." – Wayne W. Dyer
253. "I'd be quite happy if I spent from Saturday night until Monday morning alone in my apartment. That's how I refuel." – Audrey Hepburn
254. "I am stronger than depression and I am braver than loneliness and nothing will ever exhaust me." – Elizabeth Gilbert
255. "Many people suffer from the fear of finding oneself alone, and so they don't find themselves at all." – Rollo May
256. "My imagination functions much better when I don't have to speak to people." – Patricia Highsmith
257. "When you're surrounded by all these people, it can be lonelier than when you're by yourself." – Fiona Apple
Which of these lonely quotes resonated with you best?
It's okay to be alone since loneliness has the power to make you stronger.
Remember, some of the greatest inventions and innovations were made by scientists when they were alone.
Hopefully, the above quotes will help you get the inspiration you need when you feel like you are all alone and that no one gets you.
Did you enjoy this "lonely" quotes collection?
Which of the quotes was your favorite?
Let us know in the comment section below.
October 21, 2022 5:00 AM EST