Searching for motivational Juice WRLD quotes and lyrics?
The quotes and lyrics showcased below will inspire you as we reminisce over the late chart-topping rapper and singer Juice WRLD.
Tell us about your favorite Juice WRLD song in the comment section below.
What are the benefits of reading Juice WRLD quotes?
Born Jarad Anthony Higgins in Chicago, Illinois, Juice WRLD rose to the top of the charts in mid-2018 with his hit single "Lucid Dreams."
This song of the summer peaked at number 2 on the Billboard Hot 100 charts.
This success did not come easy for Juice WRLD.
Juice WRLD had a troubled childhood growing up in the South Suburbs.
His parents divorced when he was only three years old, and he had a history of drug abuse that began at an early age.
He had agreed to attend drug rehabilitation weeks prior to his death.
Let these quotes:
Remind you that anything is possible
Help you learn more about how a loved one suffering from addiction might feel
Inspire you to pursue you dreams
If someone you love is struggling with drug addiction, these Juice WRLD quotes and lyrics might offer you some perspective.
Juice WRLD facts and background information
Soon after the emergence of his breakout track, Juice WRLD released his first album, Goodbye & Good Riddance, which is certified platinum. 
The multi-talented artist released a variety of well-received musical projects during his career, including a collaborative mixtape with Atlanta-rapper Future, Wrld on Drugs, and a second studio album in early 2019, Death Race for Love. 
On December 8th, 2019, Juice WRLD suffered from a seizure shortly after arriving at Chicago's International Airport.
He later died after arriving at a nearby hospital. 
During his provoking rap career, Juice WRLD used his Everyday Power to create impactful music and shed light on many issues.
The rapper wasn't afraid to show emotion and produced genre-bending, eclectic music that showed millions of people around the world they weren't alone. 
Below is a selection of Juice WRLD quotes and lyrics to remember the late artist by. 
Read through them, and once you're done, be sure to also check out our list of inspirational Lizzo quotes that will encourage you to love yourself more.
If you enjoy this article, check out our most popular quote article, a list of short inspirational quotes for daily motivation.
 Browse our entire collection of inspirational quotes for more motivating ideas and concepts.
Juice WRLD quotes and lyrics about relationships
1. "You found another one, but I am the better one. I won't let you forget me." – Juice WRLD, "Lucid Dreams"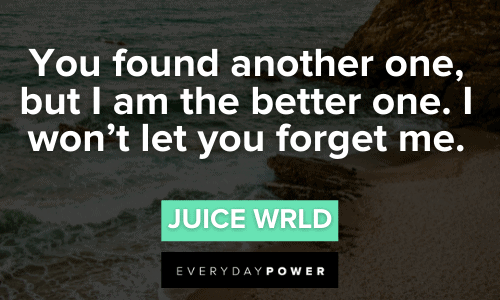 2. "Telling you right now, all you'll find is a lost soul, rich and blind." – Juice WRLD, "Rich and Blind"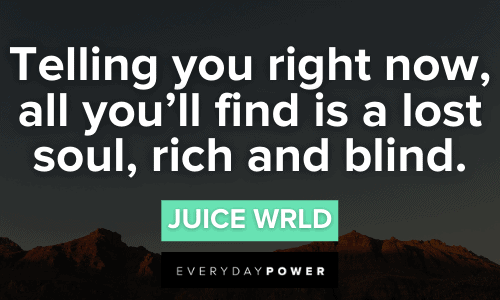 3. "I've been through the wringer, tryna put a diamond ring on her finger." – Juice WRLD, "Candles"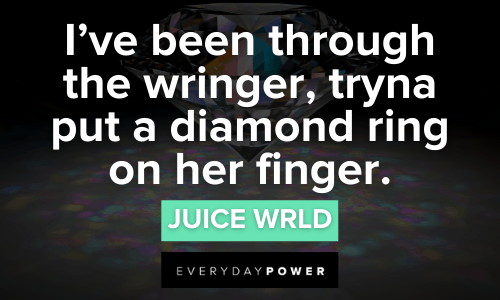 4. "You done woke me up from my eternal slumber, I'm the lightning you're the thunder." – Juice WRLD, "Flaws and Sins"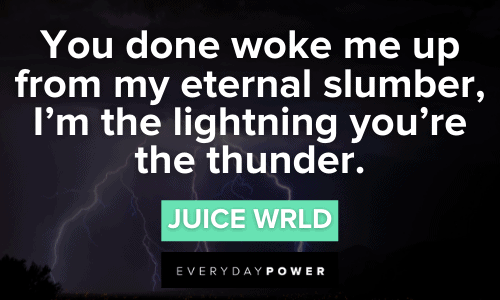 Juice WRLD quotes about mental health
5. "Exhale depression as the wind blows. These are the laws of living in vogue." – Juice WRLD, "Empty"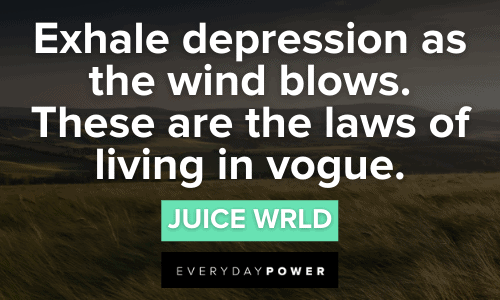 If you're enjoying these quotes, you'll love our collection of powerful depression quotes that will provide perspective.
6. "Everybody stay positive no matter how negative life gets." – Juice WRLD, Nardwuar interview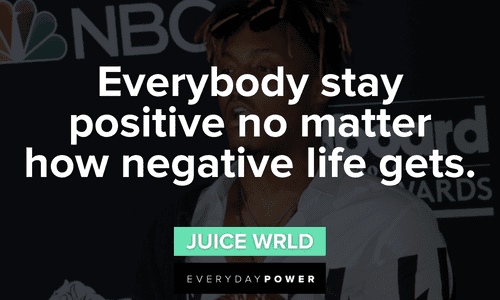 7. "It's funny how the blessed ones had the most curses." – Juice WRLD, "Rich and Blind"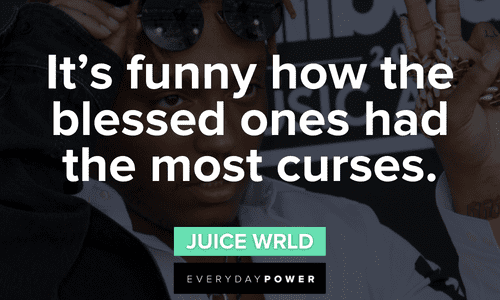 8. "I chase thrills, you still crashin' Hot Wheels." – Juice WRLD, "Maze"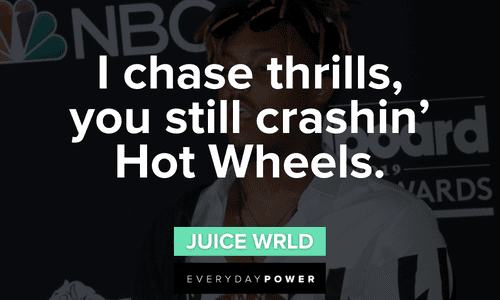 9. "We're perfectly imperfect children. Rose from the dust, all of us are on a mission." – Juice WRLD, "Empty"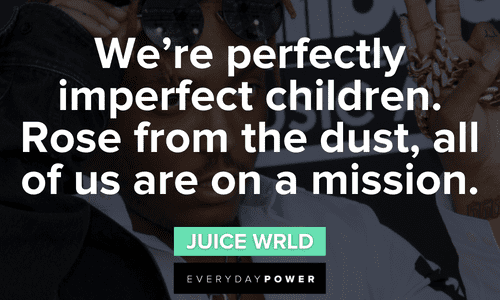 10. "What's the 27 club? We ain't making it past 21." – Juice WRLD, "Legends"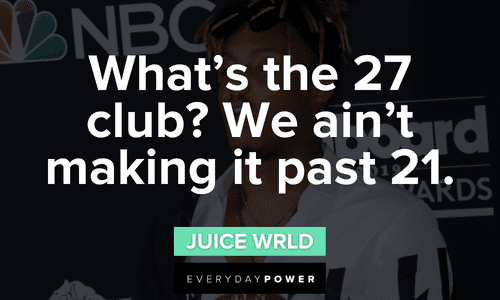 Juice WRLD quotes and lyrics about success
11. "It's good to put money back into communities." – Juice WRLD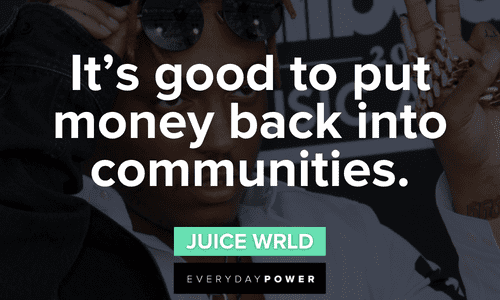 12. "I'm running to the money all the time so I can never be late." – Juice WRLD, "HeMotions"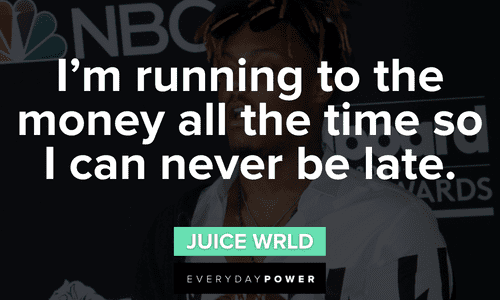 13. "If you ain't payin' a hundred thousand, get them features out my face." – Juice WRLD, "Big"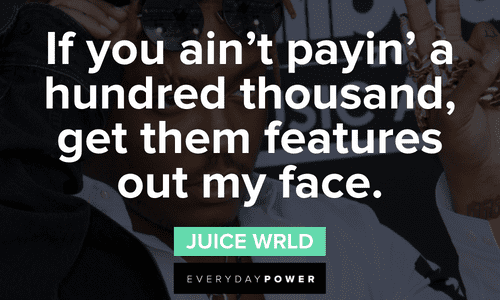 14. "I just walked into the building. Look like a million, but I'm worth more than a million." – Juice WRLD, "Feeling"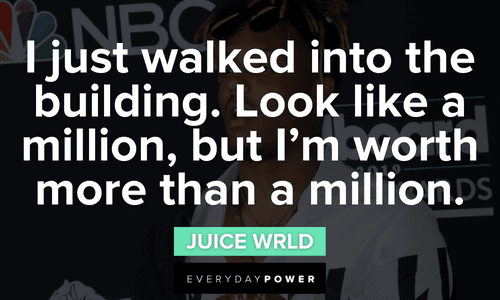 Also, check out our list of the best song quotes from the biggest hits.
Juice WRLD quotes and lyrics about his love of music and impact
15. "Words have a lot of power." – Juice WRLD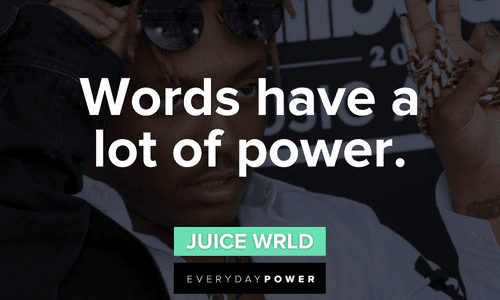 16. "I'm a music head and always will be." – Juice WRLD, NME interview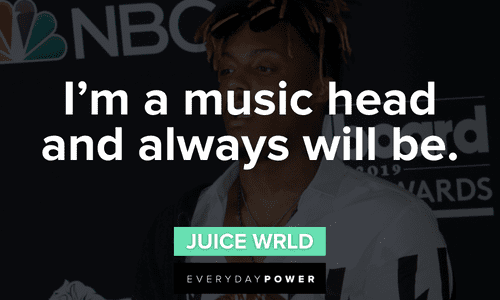 17. "Music is the best way that I can communicate with other people." – Juice WRLD, Billboard interview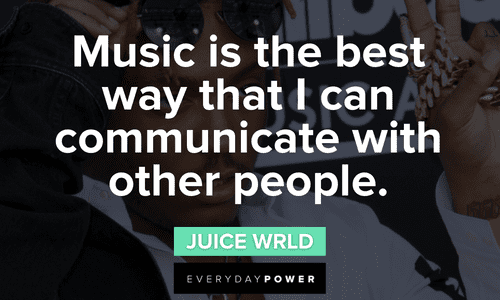 18. "I freestyle everything." – Juice WRLD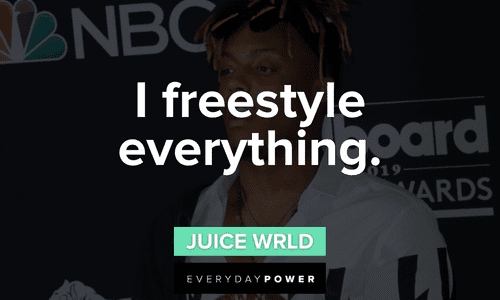 19. "I feel like I inspire more people than I think I do. I just need to remember that." – Juice WRLD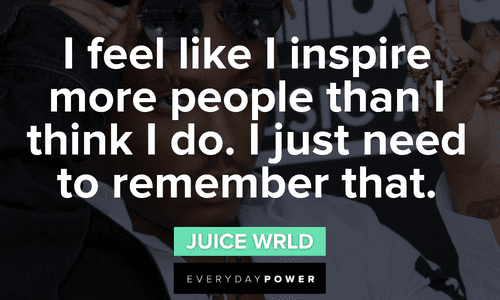 20. "I wanna be more than a millionaire. I wanna change the world." – Juice WRLD, XXL interview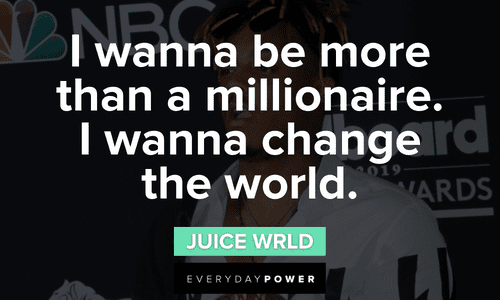 If you're enjoying this article, be sure to also check out these Tupac quotes on life, love, and being real.
Insightful Juice WRLD quotes and lyrics
21. "I don't know if it's because my heart hurts or if I am insecure." – Juice WRLD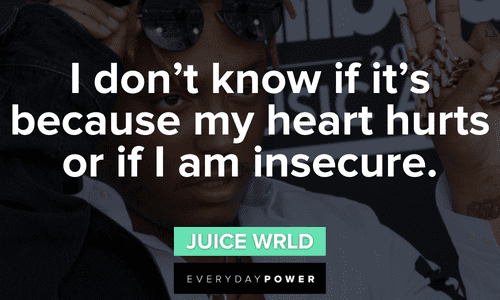 22. "Nobody on this earth is perfect. Everybody has their flaws; everybody has their dark secrets and vices." – Juice WRLD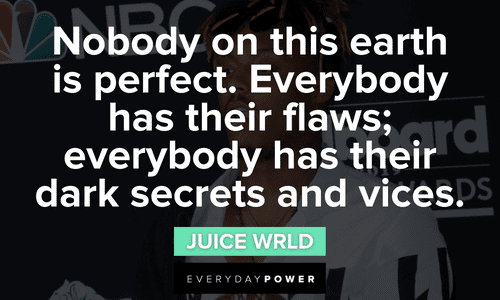 23. "Ain't nothing like the feeling of uncertainty, the eeriness of silence." – Juice WRLD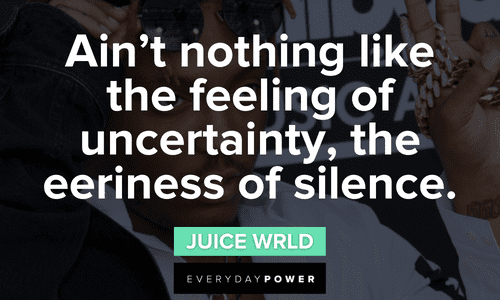 24. "I have these Lucid Dreams where I can't move a thing." – Juice WRLD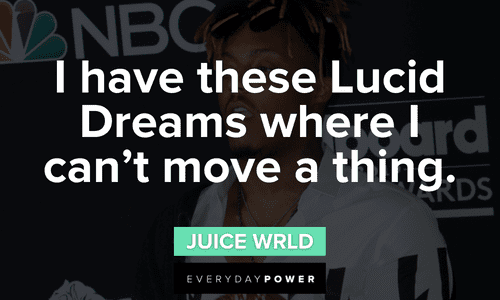 25. "One thing my dad told me was, never let your woman know when you're are insecure." – Juice WRLD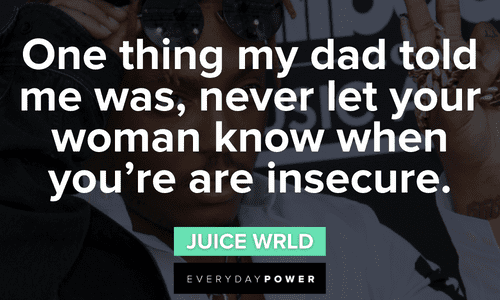 How has Juice WRLD's music impacted your life?
In just a short period, rapper and singer Juice WRLD connected with millions of people across the world and influenced many to embrace their true selves.
His impact will last far beyond his time on Earth.
We hope that the Juice WRLD quotes and lyrics above inspire you to chase your dreams and be true to exactly who you were meant to be, just as he was. 
What's your favorite Juice WRLD quote or lyric showcased?
Is there a quote or lyric that we've missed?
Let us know in the comments section what your thoughts are. 
October 21, 2022 6:18 AM EST