Funny Shrek Quotes to Let Out Your Inner Ogre
These Shrek quotes will entertain and inspire you to find happiness within.
The first Shrek movie came out in 2001 and delighted audiences of all ages!
Tell us your favorite Shrek quote in the comment section.
What are the benefits of reading these Shrek quotes?
The fanciful fairy tale story and a myriad of characters captivated children.
The adult humor weaved through the film seamlessly and kept the parents engaged.
It was such a hit that it launched a franchise of ogre films.
Mike Meyers, as the voice of Shrek, stole the heart of millions while:
Reminding us all to be our authentic selves and that true beauty is found within
Proving you don't have to be what everyone expects to be the perfect person for the job
Showing that we can find true love in unexpected people and places
Shrek is filled with lots of memorable characters, but Donkey, voiced by Eddie Murphy, is undoubtedly the show stopper.
Throughout the movie, he has a lot of hilarious one-liners, mostly about not having any friends! Poor Donkey!
Shrek was written by Ted Elliott, Terry Rossio, Joe Stillman, and Roger S. H. Schulman and was directed by Andrew Adamson and Vicky Jenson.
It is loosely based on the 1990 picture book of the same name by William Steig.
The film has received many positive reviews, with praise for its animation, voice performances, soundtrack, writing, and humor.
It grossed over $487 million worldwide and finished its theatrical run as the fourth highest-grossing film of 2001.
Shrek has won many accolades, including an Academy Award for Best Animated Feature and the British Academy of Film and Television Arts (BAFTA) for Best Adapted Screenplay.
The United States Library of Congress selected the film for preservation in the National Film Registry.
Also, check out these Winnie the Pooh quotes everyone can relate to.
Shrek Quotes about friendship
1. "Wow. Let's do that again." –Donkey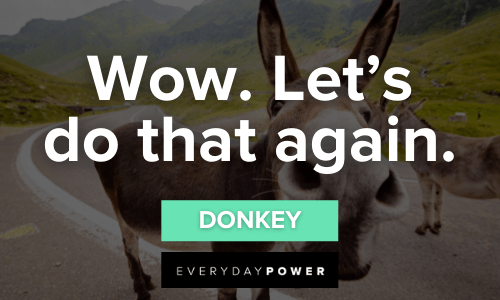 2. "Wow, only a true friend would be that truly honest." – Donkey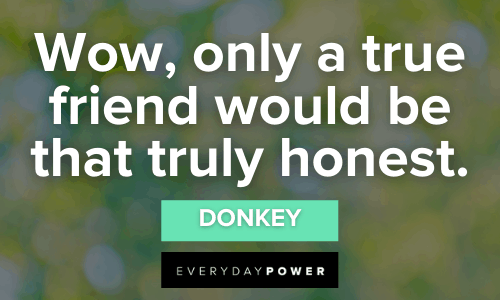 3. "No! I'm an ogre! You know, "Grab your torch and pitchforks!" Doesn't that bother you?" – Shrek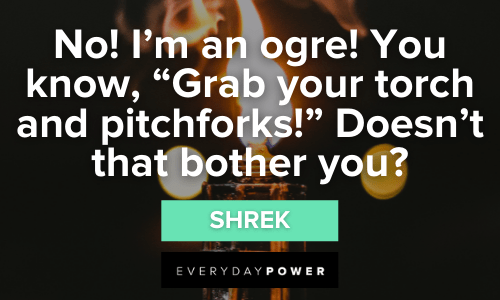 4. "Well it's no wonder you don't have any friends." – Shrek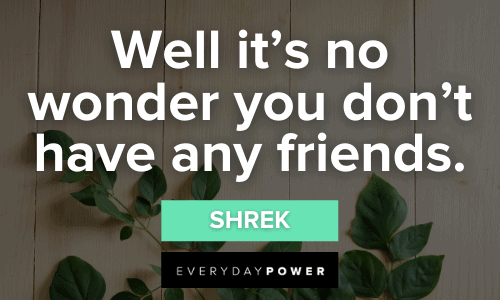 5. "Because that's what friends do, they FORGIVE EACH OTHER." – Donkey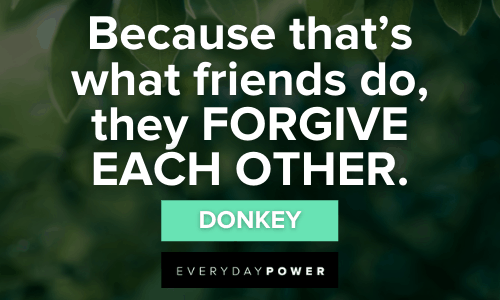 6. "This'll be fun. We'll stay up late, swapping manly stories, and in the morning… I'm making waffles." – Donkey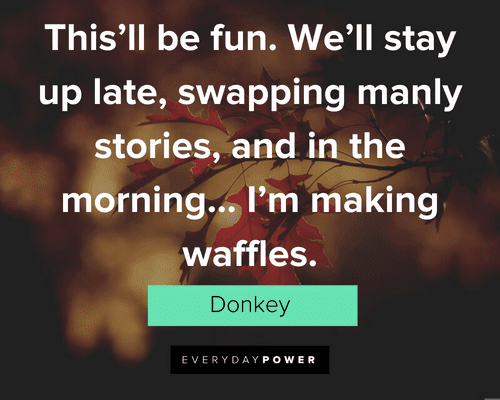 7. "Please. I don't wanna go back there. You don't know what it's like to be considered a freak… Well, maybe you do, but that's why we gotta stick together. You gotta let me stay!" – Donkey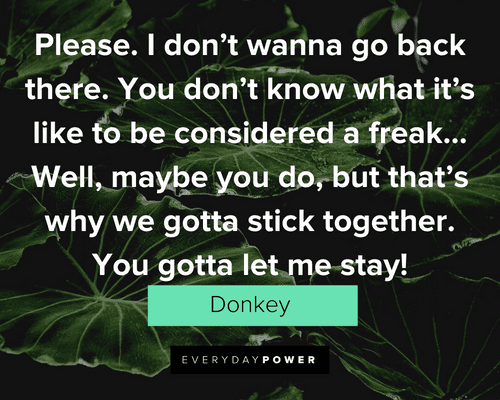 Memorable Shrek quotes
8. "I'm not a puppet. I'm a real boy." – Pinocchio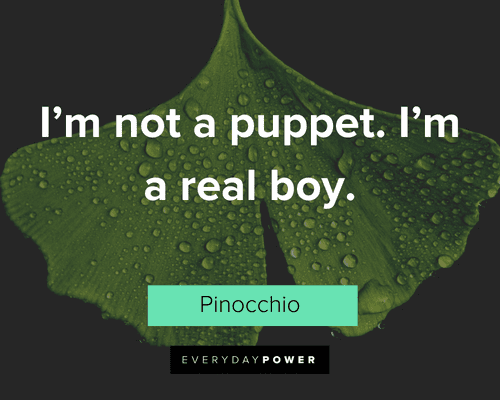 9. "Ogres are like onions." – Shrek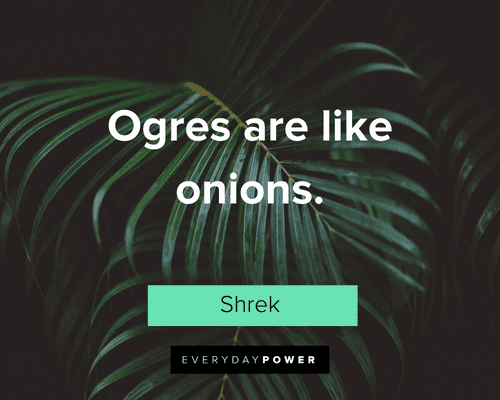 10. "Man, you gotta warn somebody before you crack one like that. My mouth was open and everything." – Donkey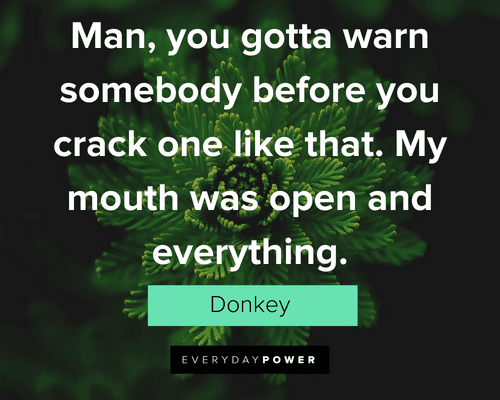 11. "And then one time I ate some rotten berries. Man, there were some strong gases eeking outta my butt that day." – Donkey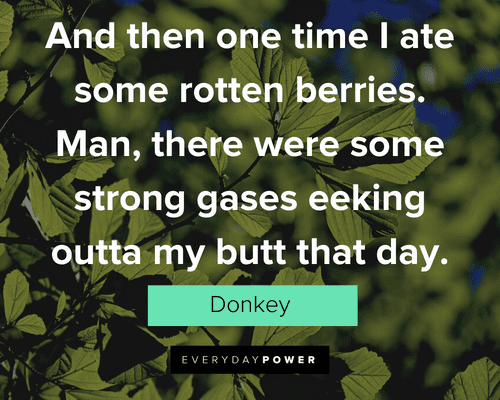 12. "Donkey, if that was me, you'd be dead. That's brimstone… we must be getting close." – Shrek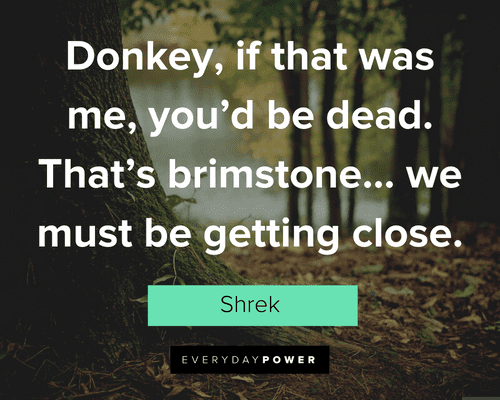 13. "Someday, I Will Repay You. Unless, Of Course, I Can't Find You Or If I Forget." — Shrek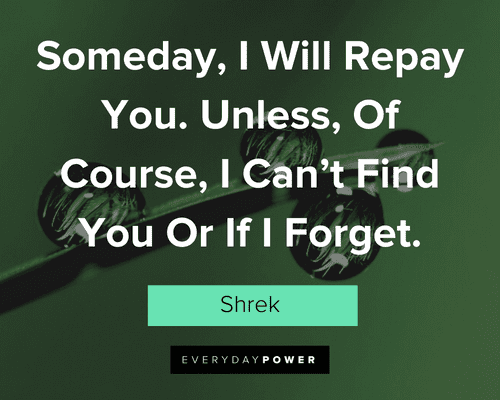 Don't forget to also read these Uncle Iroh quotes celebrating his endless wisdom.
Shrek quotes that made the adults laugh
14. "Five shillings for the possessed toy. Take it away." – Captain of Guards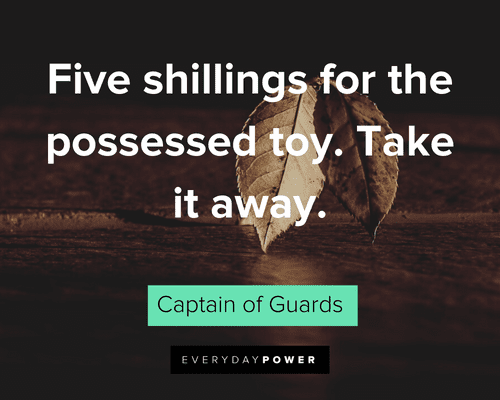 15. "You might have seen a housefly, maybe even a superfly, but I bet you ain't never seen a donkey fly." – Donkey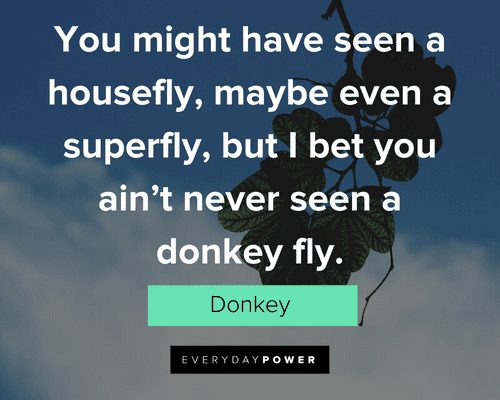 16. "Whoa. Look at that. Who'd wanna live in a place like that?" – Donkey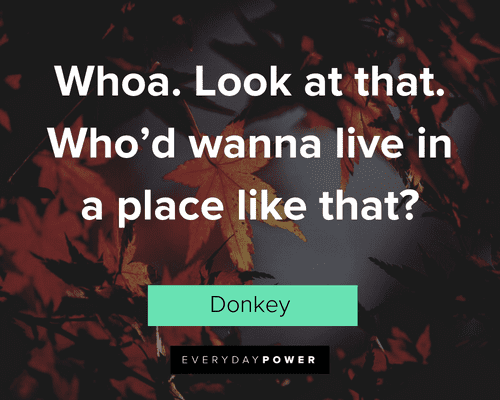 17. "Huh, celebrity marriages. They never last, do they?" – Donkey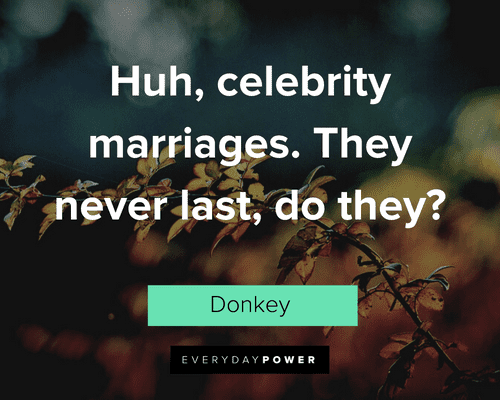 18. "I'm going to be a father, how did this happen?" — Shrek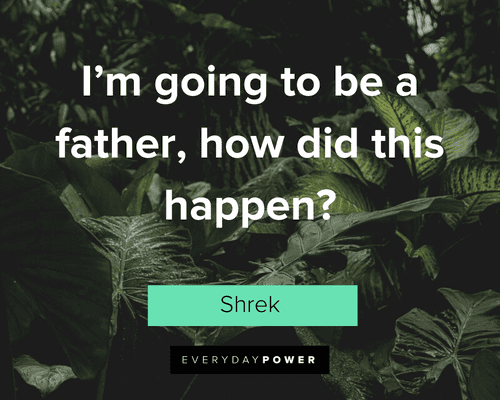 19. "Although she lives with seven other men, she's not easy." – Magic Mirror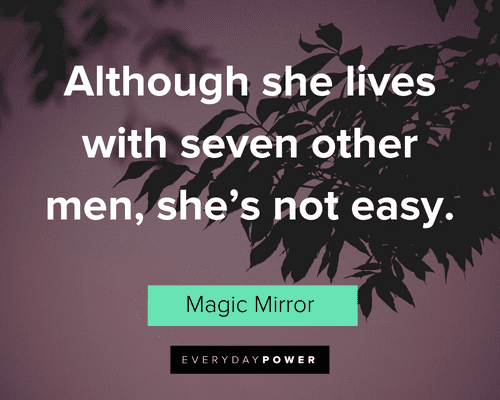 20. "Do you think he's maybe compensating for something?" – Shrek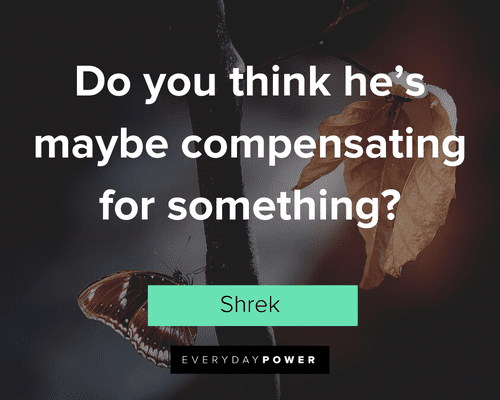 21. "I just know, before this is over, I'm gonna need a whole lot of serious therapy. Look at my eye twitchin'." – Donkey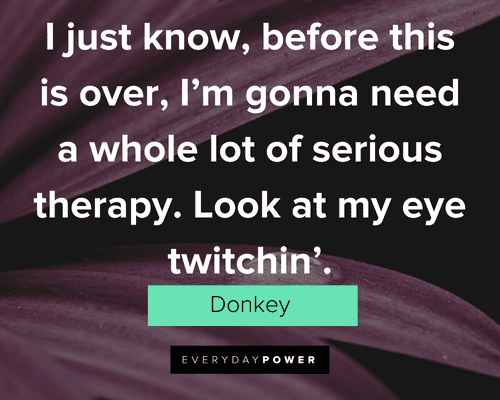 22. "Some of you may die, but its a sacrifice I'm willing to make." – Lord Farquaad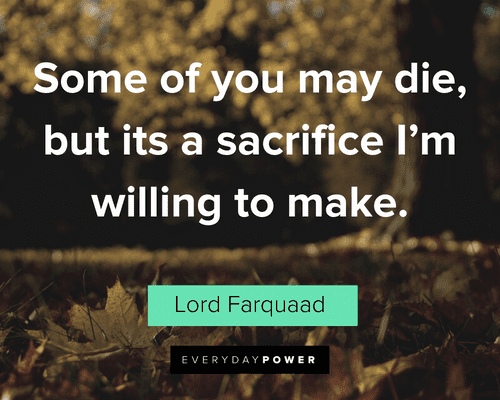 23. "What kind of a knight are you?" – Princess Fiona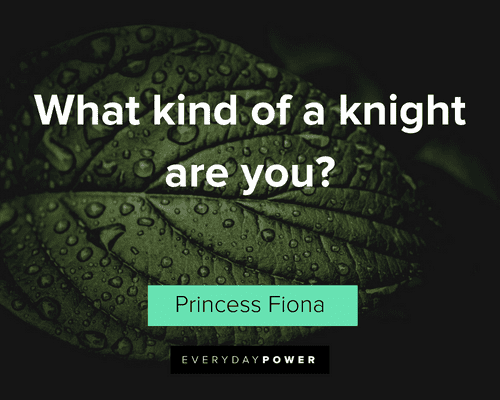 24. "Eat me." – Gingerbread Man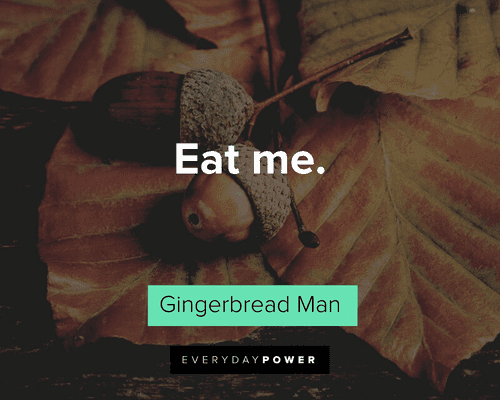 25. "C'mon, princess, you're not that ugly. All right, you are ugly. But you're only like this at night. Shrek's ugly 24/7." – Donkey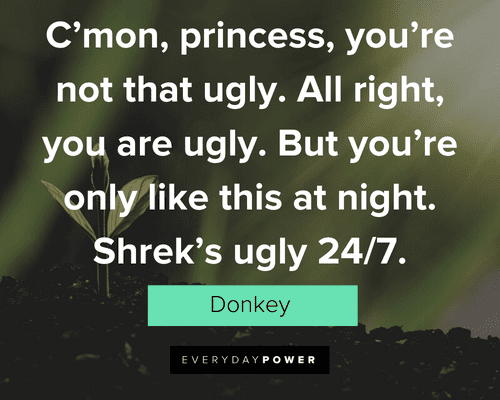 Which of these Shrek quotes is your favorite?
There are currently four Shrek movies in the franchise, with the 5th one scheduled for late 2019 or early 2020.
I did a little research, and it doesn't appear to be canceled but is clearly taking longer than expected.
It has been so long since I have seen the first four, and since I am basically quarantined in the house with the kids for a while, now might be the perfect time for a refresher.
Which of the films is your favorite?
Do you have a favorite character?
My least favorite character is, of course, Farquaad, but for a reason, you might have missed!
Remember the scene where the three little bears are caged?
Shortly after that, there is a scene where Papa Bear and Baby Bear are crying, and Mama Bear is missing.
Later in the movie, we get to see the inside of Farquaad's room…complete with a purple bow-wearing bear rug!  
Which of these Shrek quotes and lines is your favorite?
Share any other Shrek Easter Eggs in the comment section below!
September 26, 2022 5:00 AM EST