Bad Bitch Quotes to Inspire Confidence Within
These 'bad bitch' quotes will help you deal with self-doubt or a lack of inspiration.
The bad bitch quotes below are the perfect source of inspiration to whip your self-confidence back into shape. 
Be sure to share your favorite 'bad bitch' quote with us in the comment section below.
What are the benefits of reading these bad bitch quotes?
The word "bitch" comes with an endless amount of negative connotations.
Merriam-Webster defines "bitch," as "something extremely difficult, objectionable, or unpleasant."
But, as the phrase "bad bitch" rises in popularity, the definition of "bitch" has been revamped.
Today, I believe a "bitch" is:
A positive and fierce person
Goal-oriented
Not someone who is swayed by the negativity of others
Confident and successful 
These bad bitch quotes will help you understand the new way the phrase is used, while encouraging you to tap into your own bad bitch.
Below I have compiled quotes from some of my favorite bad bitches throughout history, including Eleanor Roosevelt, Tina Fey, and Cardi B.
If you like this article, we suggest you explore our most popular quotes article, a list of short inspirational quotes for daily encouragement. 
Check out more inspirational quotes on our motivational quotes category page.
Bad bitch quotes about self-confidence
1. "I think us bad bitches is a gift from God." – Cardi B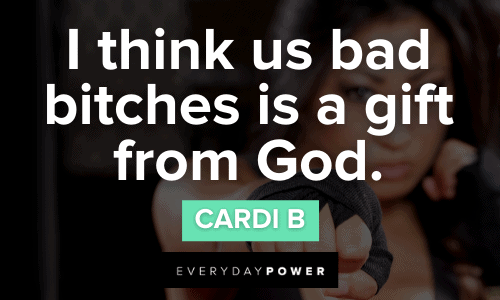 2. "The most beautiful thing you can wear is confidence." – Blake Lively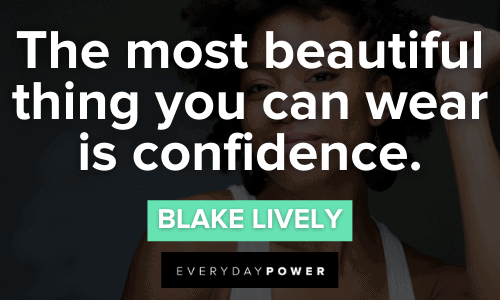 3. "No one can make you feel inferior without your consent." – Eleanor Roosevelt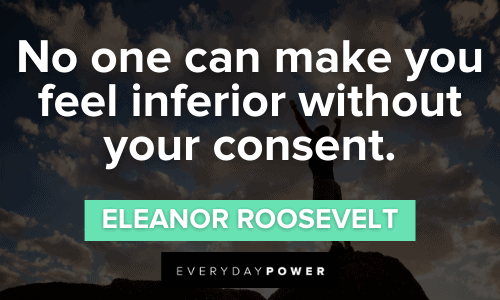 4. "Talk to yourself like you would to someone you love." – Brene Brown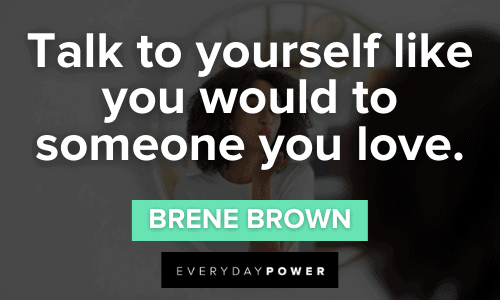 5. "Believing in yourself and having confidence gives you outer strength." – Nikki Bella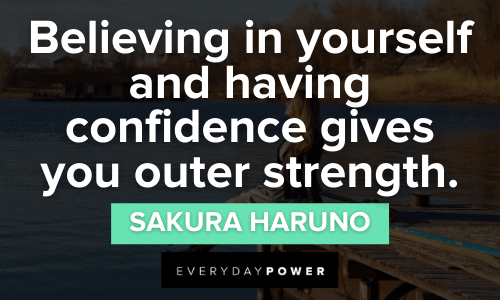 6. "It is best to act with confidence, no matter how little right you have to it." – Lillian Hellman
7. "I'm my own competition; I'm competing with myself." – Cardi B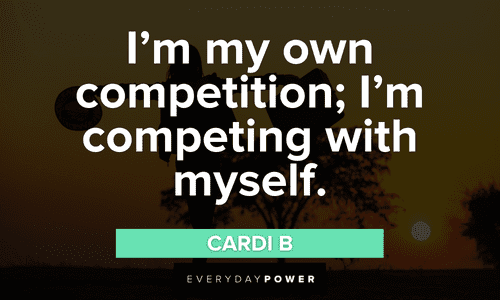 8. "Bitches get stuff done." – Tina Fey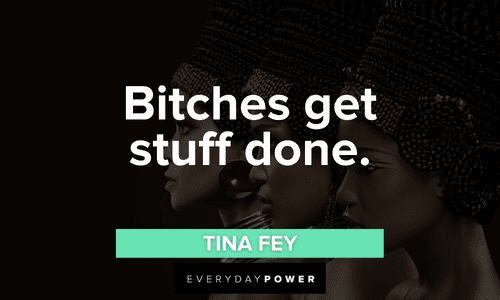 9. "Life's too short to bullshit." – Naomi Campbell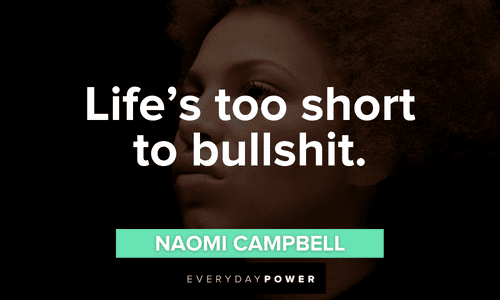 10. "Good girls go to heaven, bad girls go everywhere." – Mae West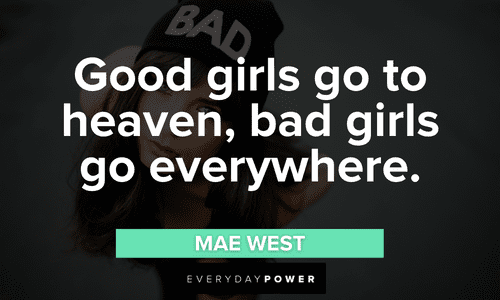 11. "The future belongs to those who believe in the beauty of their dreams." – Eleanor Roosevelt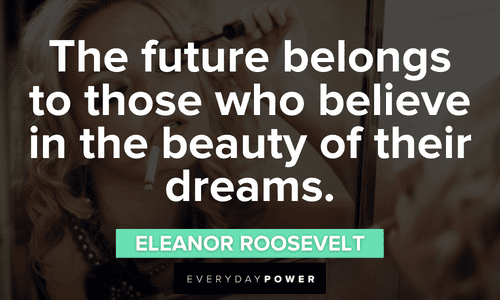 12. "I do not know the word 'quit.' Either I never did, or I have abolished it." – Susan Butcher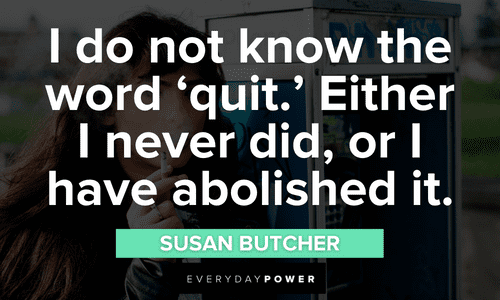 13. "Success breeds confidence." – Beryl Markham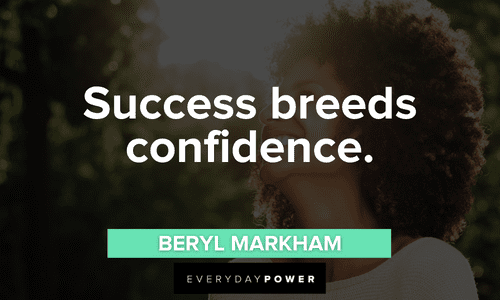 14. "You can't move mountains by whispering at them." – Pink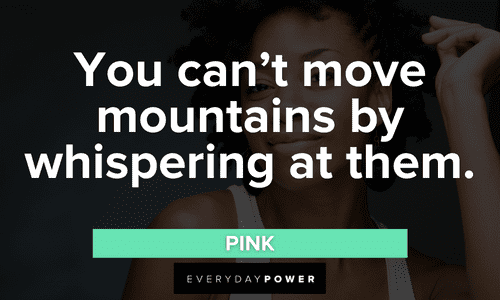 15. "People think that all the doors are opened in front of me, but it was me who pushed them open." – Coco Chanel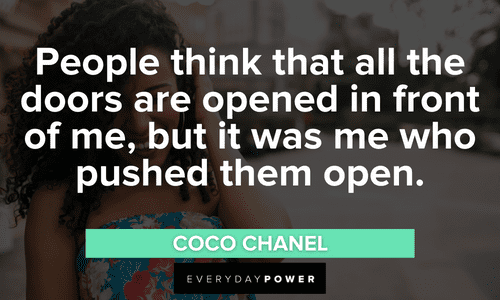 16. "There's power in looking silly and not caring that you do." – Amy Poehler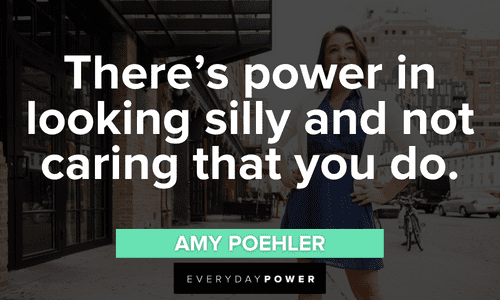 17. "I think the best way to have confidence is not to allow everyone else's insecurities to be your own." – Jessie J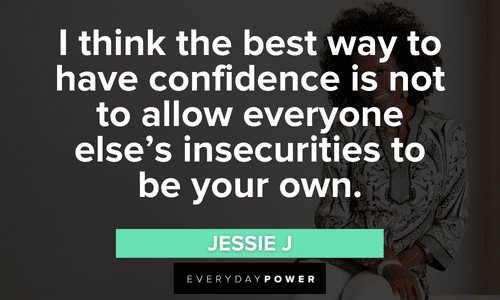 If you're enjoying these quotes, you'll love our collection of insecurity quotes to help you gain confidence.
Bad bitch quotes about being a savage
18. "Didn't they tell you that I was a savage? Fuck your white horse and a carriage." – Rihanna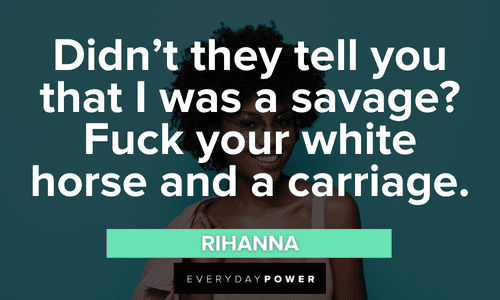 19. "I am lucky that whatever fear I have inside me, my desire to win is always stronger." – Serena Williams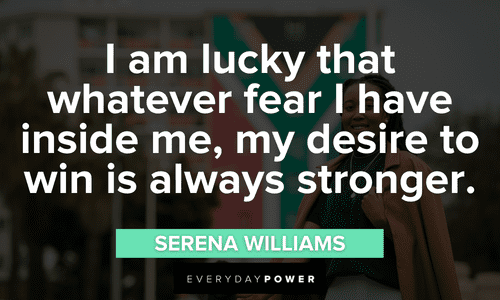 20. "I use the negativity to fuel the transformation into a better me." — Beyoncé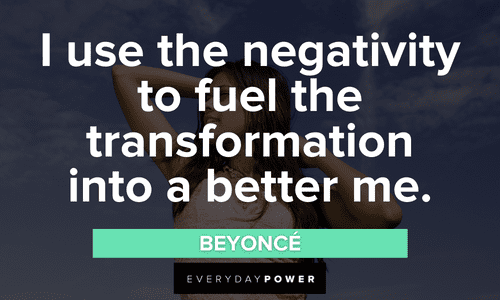 21. "You're not gonna tell me who I am. I'm gonna tell you who I am." – Nicki Minaj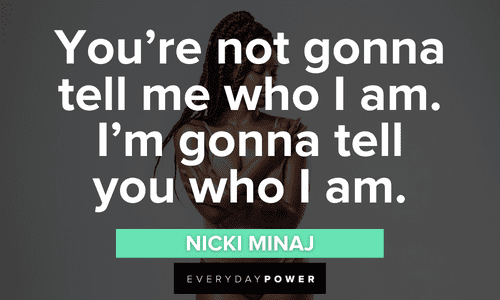 22. "I don't care about anyone not liking me, you bitches barely like yourselves." – Cardi B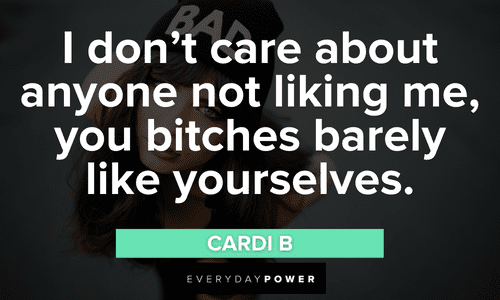 23. "Sometimes being a bitch is all a woman's got to hold on to." ― Stephen King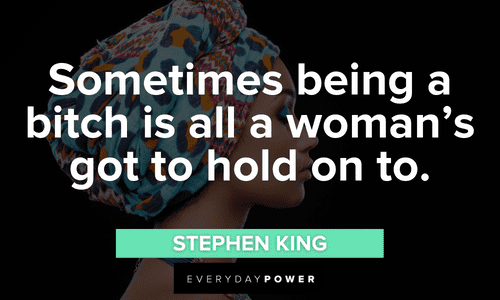 24. "If you obey all the rules, you miss all the fun." – Katharine Hepburn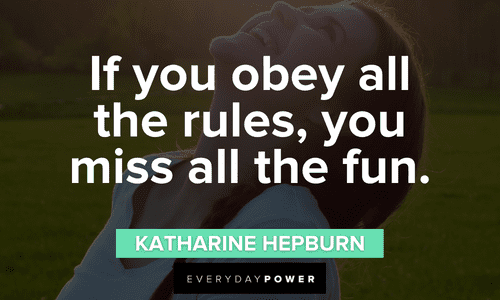 25. "Stop wearing your wishbone where your backbone ought to be." – Elizabeth Gilbert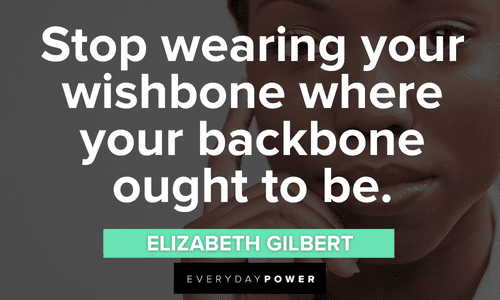 26. "Yeah, I'm in my bag, but I'm in his too, And that's why every time you see me, I got some new shoes." – Megan Thee Stallion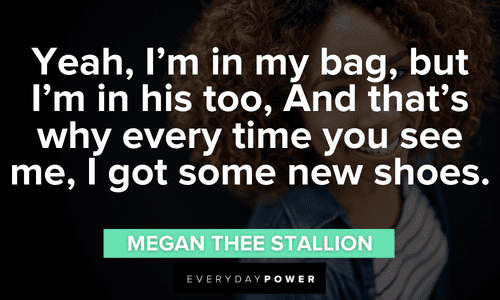 Bad bitch quotes about reaching goals
27. "A man does what he can; a woman does what a man cannot." – Isabel Allende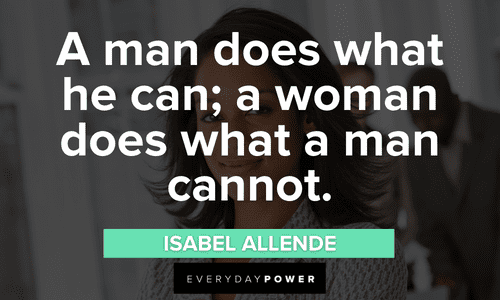 28. "A lot of people are afraid to say what they want. That's why they don't get what they want." – Madonna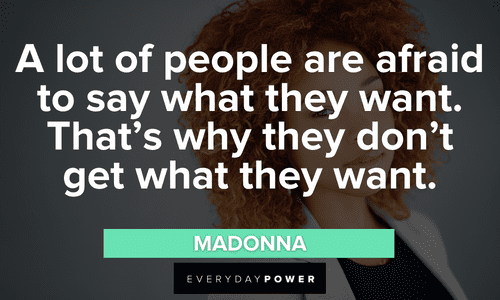 29. "You have to have confidence in your ability, and then be tough enough to follow through." – Rosalynn Carter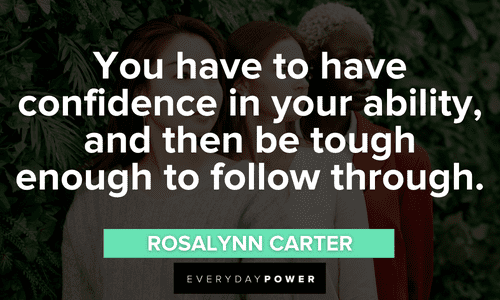 30. "Normal is nothing more than a cycle on a washing machine." – Whoopi Goldberg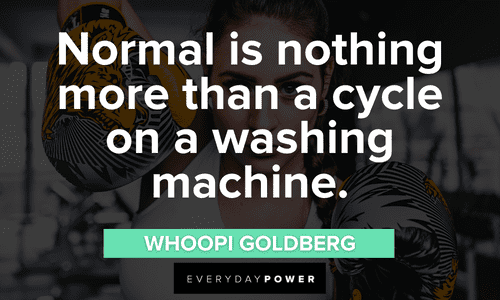 31. "Love who you are, embrace who you are. Love yourself. When you love yourself, people can kind of pick up on that: they can see confidence, they can see self-esteem, and naturally, people gravitate towards you." – Lilly Singh
32. "You wouldn't worry so much about what others think of you if you realized how seldom they do." – Eleanor Roosevelt
33. "Confidence is 10 percent hard work and 90 percent delusion, just thinking foolishly that you will be able to do what you want to do." – Tina Fey
34. "Walking with your chest out and head held high says you have earned the right to stomp and pummel this particular piece of real estate." – RuPaul
If you're enjoying these quotes, check out our collection of RuPaul quotes from the world's favorite drag queen.
35. "Confidence literally starts from yourself. You have to go look in the mirror at yourself. If you don't like what you see, you're going to give off that energy." – Megan Thee Stallion
36. "It's easy to kill an idea with a no, but the smartest people in the room learn how to say yes and make it work." – Lisa Gersh
37. "I taught myself confidence. When I'd walk into a room and feel scared to death, I'd tell myself, 'I'm not afraid of anybody.' And people believed me. You've got to teach yourself to take over the world." – Priyanka Chopra
38. "I learned to push the envelope when it comes to asking questions or making requests. And if you hear 'that's not possible,' then to ask 'what is possible,' instead of just saying thank you and leaving." – Emily Weiss
39. "I learned to always take on things I'd never done before. Growth and comfort do not coexist." – Ginni Rometty
Inspirational bad bitch quotes
40. "Knock me down nine times but I get up ten" —  Cardi B
41. "The most courageous act is still to think for yourself. Aloud." – Coco Chanel
42. "Find out who you are and be that person. That's what your soul was put on this Earth to be. Find that truth, live that truth and everything else will come." – Ellen DeGeneres
43. "Don't complain about what you don't have. Use what you've got. To be less than your best is a sin." – Oprah Winfrey
44. "In achieving your goals, you may run into roadblocks. Don't let that stop you, go around, over, or under. If you are committed to your goal, you will find a way." – Catherine Pulsifer
45. "You can waste your lives drawing lines, or you can live your life crossing them." – Shonda Rhimes
46. "The thing women have yet to learn is nobody gives you power. You just take it." – Rosanne Barr
47. "Take chances, make mistakes. That's how you grow. Pain nourishes your courage. You have to fail in order to practice being brave." – Mary Tyler Moore
48. "Good girls go to heaven and bad girls go everywhere." – Helen Gurley Brown
49. "Love yourself first and everything else falls into line. You really have to love yourself to get anything done in this world." – Lucille Ball
50. "It's the good girls who keep diaries; the bad girls never have the time." – Tallulah Bankhead
Powerful bad bitch quotes
51. "I'm tough, I'm ambitious, and I know exactly what I want. If that makes me a bitch, okay." – Madonna
If you're enjoying these quotes, make sure to read our collection of quotes for girls for young women of all ages.
52. "I am not a difficult woman at all. I am simply a strong woman and know my worth." – Angelina Jolie
53. "Real girl isn't perfect, and a perfect girl isn't real." – Harry Styles
54. "Be a first-rate version of yourself, not a second-rate version of someone else." – Judy Garland
55. "I am not apologizing for who I am." – Donna
56. "Once you figure out what respect tastes like, it tastes better than attention." – Pink
57. "There are no good girls gone wrong – just bad girls found out." —Mae West
58. "A woman is the full circle. Within her is the power to create, nurture and transform." – Diane Mariechild
59. "I prefer disaster to nothingness." – Coco Chanel
60. "Sometimes I wake up and think I look horrible. And sometimes I see a strong woman." – Irina Shayk
More bad bitch quotes
61. "Well-behaved women seldom make history." – Laurel Thatcher Ulrich
62. "Sometimes you have to be a bitch to get things done." – Madonna
63. "She may be a bitch, but she's a genuine bitch with a heart." – Emily Henry
64. "Life is a bitch; you get used though, or you kill yourself. Either way, you're winning." – Ahmed Mostafa
65. "I got all negative tags from that place where in the end I became unwanted." – Sonal Takalkar
66. "It's not my responsibility to be beautiful. I'm not alive for that purpose." – Warsan Shire
67. "Call it a curse, or just call me blessed. If you can't handle my worst, you ain't getting my best." – Marilyn Monroe
68. "I'm in my own lane, you ain't in my category." – HOV Lane
69. "Bitches ain't shit, and they ain't sayin' nothin', a hundred motherfuckers can't tell me nothin.'" – Beez in the Trap
70. "You could never understand why I grind as I do." – I'm the Best, Nicki Minaj
Bad bitch quotes about overcoming
71. "I believe that if you have problems, as a woman you deal with them, you don't play victim, you don't make yourself look pitiful, you don't point fingers. You stand and you deal." – C. JoyBell C. 
72. "She has fought many wars, most internal. The ones that you battle alone, for this, she is remarkable. She is a survivor." – Nikki Rowe 
73. "I may be in pain, but I am not weak."  – Veronica Roth
74. "Who says you have to be rich in order to be strong and beautiful?"  – AriaKang 
75. "When I think about the negative things that happened in my life, I don't feel defeated; I feel stronger."  – Nadine Sadaka Boulos 
76. "She's a strong woman. She has wings under her armour struggling to be free."  – Verliza Gajeles 
77. "You become stronger and more confident by showing the courage to change the things you have control over."  – Germany Kent 
78. "Strength isn't something we all naturally have, it is something we do and then become"  –Rachel D. Greenwell
79. "Dear self, Be brave enough to face every obstacle that comes in waves. It helps you to become a great warrior."  – Sophieya 
80. "You must be brave, little daughter, and remember that the stronger the wind the stronger the tree needs to be." – Maureen Lindley
Bad bitch quotes to inspire confidence
81. "The best don't stick around when you treat them poorly, only the desperate do."  – Shannon L. Alder 
82. "There's nothing more reassuring than the sight of a confident woman." – Abhijit Naskar
83. "A confident woman is a beautiful woman, inside and out." – Omar Cherif 
84. "A confident woman is not afraid to make mistakes, and if she does, she recovers and presses on!" – Adaeze Agbal
85. "Optimism is the faith that leads to achievement. Nothing can be done without hope and confidence." – Helen Keller
86. "I don't want to be better than you or her or him – I want to be better than I am right now." – Kerri Walsh
87. "A woman is like a tea bag; you never know how strong it is until it's in hot water." – Eleanor Roosevelt
88. "I can never be safe; I always try and go against the grain.  As soon as I accomplish one thing, I just set a higher goal.  That's how I've gotten to where I am." – Beyonce 
89. "I love challenging the status quo." – Sara Ramirez
90. "I can if I want to because it's my business." – Tabitha Brown
Bad bitch quotes to inspire hard work
91."I had to make my own living and my own opportunity. But I made it! Don't sit down and wait for the opportunities to come. Get up and make them." — Madame C.J. Walker
92. "We need women who are so strong they can be gentle, so educated they can be humble, so fierce they can be compassionate, so passionate they can be rational, and so disciplined they can be free." – Kavita Ramdas
93. "A strong woman is a woman determined to do something others are determined not be done." – Marge Piercy
94. "I believe in being strong when everything seems to be going wrong." – Audrey Hepburn
95. "I never dreamt of success. I worked for it." – Estee Lauder
96. "My father had a very simple view of life: you don't get anything for nothing. Everything has to be earned, through work, persistence, and honesty." – Grace Kelly
97. "Do not whine…do not complain. Work harder. Spend more time alone." – Joan Didion
98. "But dreams do not come true just because you dream them. It's hard work that makes things happen. It's hard work that creates change."- Shonda Rhimes
99. "Shout out to my haters, sorry that you couldn't faze me" – "Moment 4 Life"
100. "I've always done whatever I want and always been exactly who I am." – Billie Eilish
Bad bitch quotes to live by
101. "Forget safety. Live where you fear to live. Destroy your reputation. Be notorious." – Rumi
102. "I don't put up with being messed around, and I don't suffer fools gladly. The short version of that is that I'm a bitch." – Robin McKinley
103. "I know I'm a queen, but I don't need no crown." – Lizzo
104. "You can't make people love you, but you can make them fear you." – Blair Waldorf
105. "If a girl has beef with me, she's gon' have beef with me forever." – Cardi B
106. "Some girls want to be a princess when they grow up, I wanted to be in a bad bitch girl gang." – Natalia Kills
107. "How wrong is it for a woman to expect the man to build the world she wants, rather than to create it herself?" – Anais Nin
108. "If you touch me, I'll provide you with the opportunity to see if you can heal yourself." – Richelle Mead
109. "I am no bird, and no net ensnares me. I am a free human being with an independent will." – Charlotte Brontë
110. "Life's too short to bullshit." – Naomi Campbell
Bad bitch quotes to motivate you
111. "If you don't like the road you're walking, start paving another one."—Dolly Parton
112. "When I'm good, I'm good; but when I'm bad, I'm better." – Mae West
113. "Don't give up, don't take anything personally, and don't take no for an answer." —Sophia Amoruso
114. "I am not what you see. I am what time and effort and interaction slowly unveil." – Richelle E. Goodrich
115. "A wise girl knows her limits, a smart girl knows she has none."—​Marilyn Monroe
116. "There's nothing a man can do, that I can't do better and in heels." – Ginger Rogers
117. "Keep your head high and your middle finger higher." – Megan Fox
118. "A strong woman looks a challenge dead in the eye and gives it a wink." – Gina Carey
119. "My opinions may have changed, but not the fact that I'm right." – Ashleigh Brilliant
120. "Above all, be the heroine of your life, not the victim." – Nora Ephron
Bad Bitch Quotes That Make You Unapologetic
121. "I don't have dreams, I have goals." ― Harvey Specter
122. "I survived because the fire inside me burned brighter than the fire around me." ― Joshua Graham
123. "I think beautiful is like you taking care of yourself." ― Cardi B
124. "She's not being a bitch. She's just less likely to put up with your shit." ― r.h.Sin
125. "I can kill you and make your Death look like an accident." ― Reynalyn Arendain
126. "Failing is a crucial part of success. Every time you fail and get back up, you practice perseverance, which is the key to life. Your strength comes in your ability to recover." ― Michelle Obama
127. "Being called a bitch is a compliment to me because that means I'm getting my goals done." ― Tina Fey
128. "I was smart enough to go through any door that opened." ― Joan Rivers
129. "I'm really proud of you, because life comes at you fast, and sometimes it can be so hard, but if I can make it, I know you can make it. We can make it together." ― Lizzo
130. "I ain't got time to bleed." ― Blain
Take a note from the bad bitches featured above and don't let the negative thoughts of others penetrate your thinking.
I've learned that the reason why people are outwardly demeaning is because of their insecurity and jealousy.
They see that you are living in your truth and they are too afraid to live on their own. 
Keep chasing your dreams and turning your goals into fruition.
Soon, those negative people will become fans on the sidelines. 
Which of these bad bitch quotes and lines is your favorite?
How do you feel about the term "bad bitch"?
Let us know below!
October 28, 2022 5:00 AM EST