90 Orange Quotes to Brighten Your Day
Orange is a bright and vivid color that occurs between red and yellow in the visible spectrum.
It is often used to describe sunsets and other colorful sky events, as you will see in these orange quotes about the sun and sky.
Beyond being descriptive, what does the color orange mean?
Since it occurs between red and yellow, it is a mixture of the two color's meanings.
Red is associated with increasing our energies, while yellow often represents happiness.
We associate orange with things that stimulate our energy, such as creativity, success, determination, balance, sexuality, freedom, expression, and wonder.
When it comes to emotions orange represents joy, enthusiasm, encouragement, change, stimulation, happiness, fun, enjoyment.
It also has some physical representations like warmth, heat, sunshine, and health.
Oranges are a healthy fruit and have many benefits for your body, even if you just drink orange juice.
These orange quotes about the popular breakfast drink will educate you about the health benefits of oranges, as well as give you some excellent metaphors about life.
What is it about oranges that are good for you?
Citrus fruits help support the human body, protecting us from heart disease and cancer.
They also have some anti-inflammatory, antiviral and antimicrobial properties.
Oranges are also a wonderful source of fiber, vitamin B, vitamin A, calcium, and potassium, all things your body needs!
These orange quotes will educate you, make you laugh, and maybe even provide you with an Instagram caption for the next time you wear something orange!
Don't forget to also check out these red quotes that express passion.
Aesthetic orange quotes and sayings about color and art
1. "When I think of flavors, I think color, so lemon should be yellow and orange is orange." ― Dylan Lauren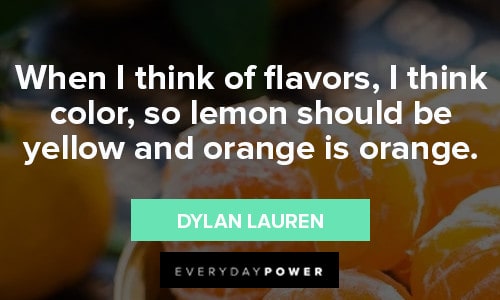 2. "Few people can look at a painting longer than it takes to peel an orange and eat it." ― Kenneth Clark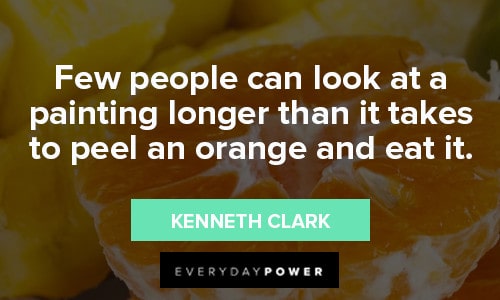 3. "Orange is the happiest color." ― Frank Sinatra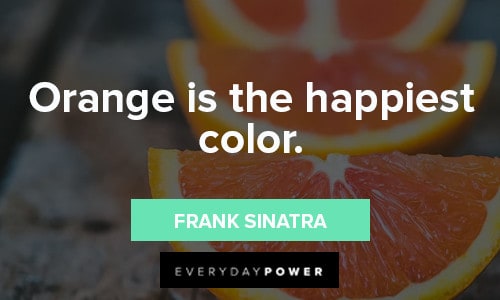 4. "When I watch the sunset, I observe an orange sky." ― Steven Magee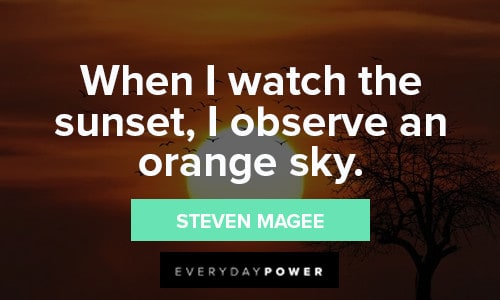 5. "In my head, the sky is blue, the grass is green and cats are orange." ― Jim Davis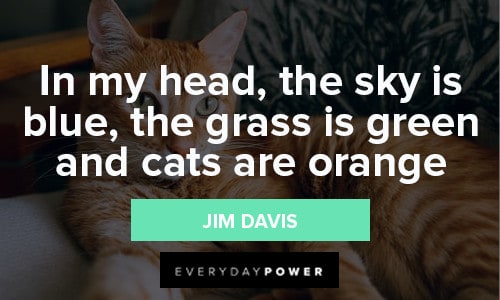 6. "Orange is red brought nearer to humanity by yellow." ― Wassily Kandinsky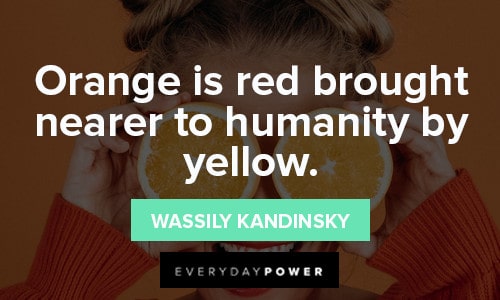 7. "There is no blue without yellow and without orange." ― Vincent Van Gogh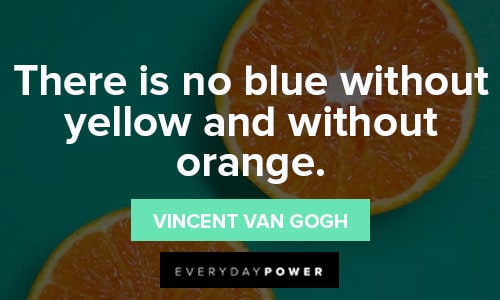 8. "Orange is an underrated color, it's the second most underrated color after yellow." ― Michel Gondry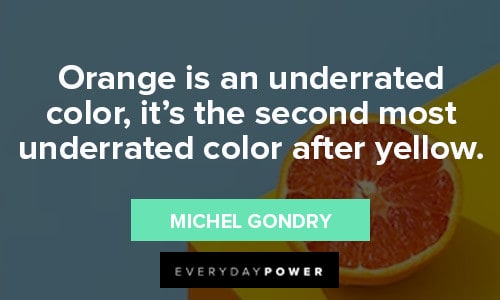 9. "Breakfast without orange juice is like a day without sunshine." ― Anita Bryant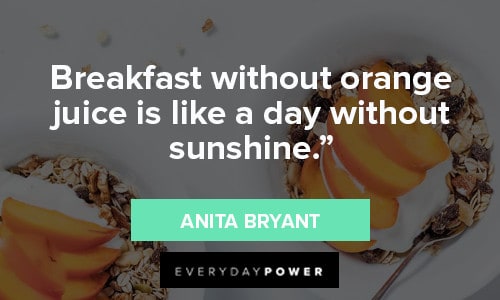 10. "God doesn't make orange juice, God makes oranges." ― Jesse Jackson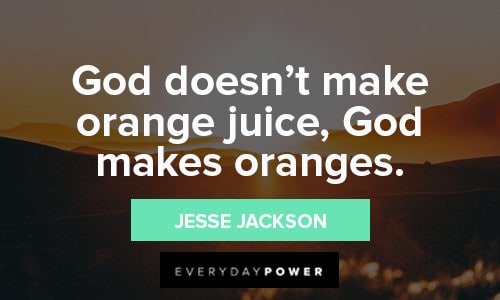 Poetic orange quotes about the sun and sky
11. "Mixing in some rusty oranges is a warm way to update your place for fall." ― Nate Berkus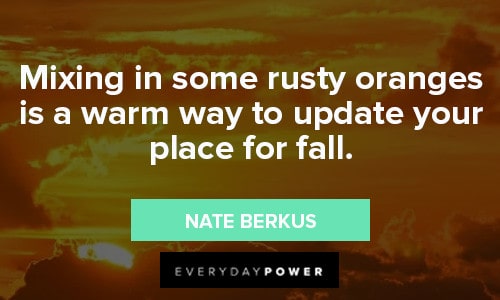 12. "Orange is the color of the sun. It is vital and a good color generally, indicating thoughtfulness and consideration of others." ― Edgar Cayce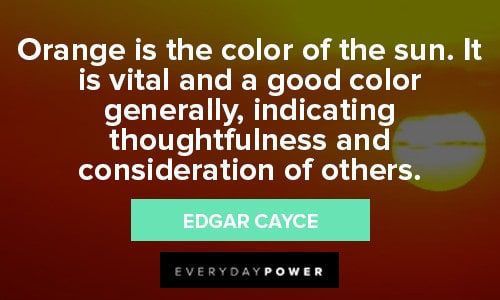 13. "Bright as the orange star falling from the silent sky." ― Mario William Vitale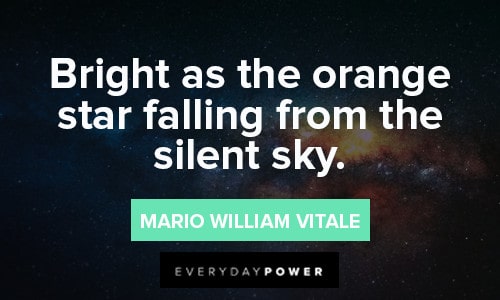 14. "The sky takes on shades of orange during sunrise and sunset, the color that gives you hope that the sun will set only to rise again." ― Ram Charan
15. "Meanwhile, the sunsets are mad orange fools raging in the gloom." ― Jack Kerouac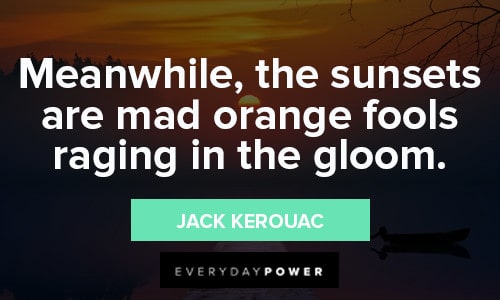 16. "Orange is a color of liberation, from the pains of hurtful love and inner insecurities. To channel orange is to truly be free, to be you." ― Frank Ocean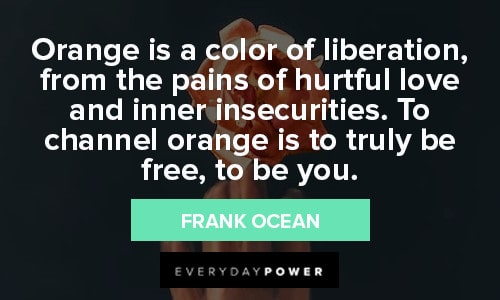 17. "Orange is not the colour of seduction, Christopher. Orange is the colour of despair, and pumpkins." ― Cassandra Clare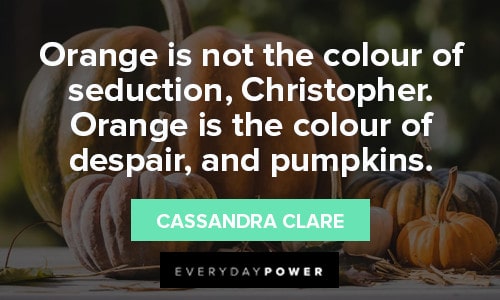 18. "And she sees that the moonlight is losing its orange glow. It has become buttery, and will soon turn to silver." ― Stephen King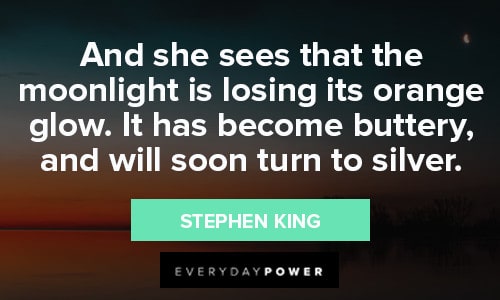 19. "He'd said the sun could burn me. It certainly looked angry enough, all orange and glowing mad." ― Ann Aguirre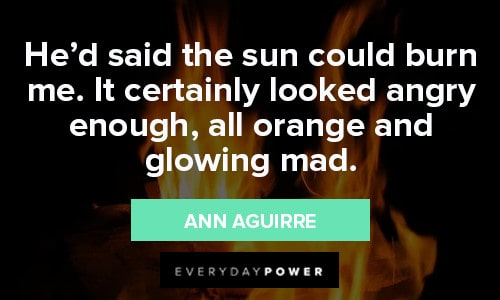 Cute orange quotes that will make you want some orange juice
20. "I forgive nothing. If you stole my orange crayon in the fifth grade, you're still on my hit list, buddy." ― Jonathan Carroll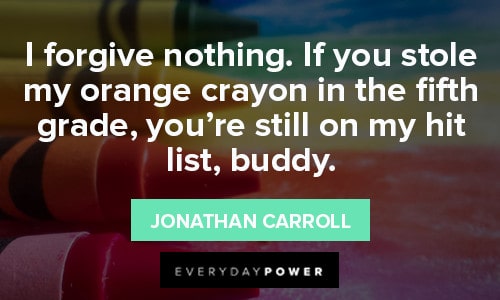 21. "Black is too morbid; red will set them on edge; pink is too juvenile; orange is freakish" ― Lauren Oliver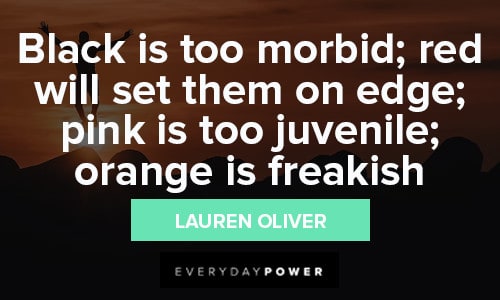 22. "I squeeze oranges every morning to make juice." ― Utada Hikaru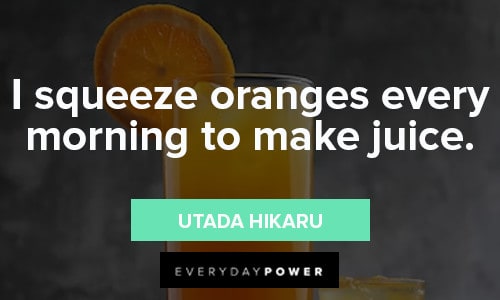 23. "When you squeeze an orange, orange juice comes out, because that's what's inside. When you are squeezed, what comes out is what is inside." ― Wayne W. Dyer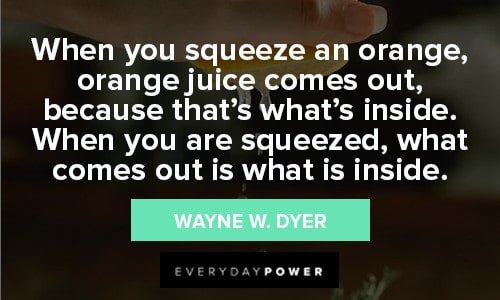 24. "Orange strengthens your emotional body, encouraging a general feeling of joy, well-being, and cheerfulness." ― Tae Yun Kim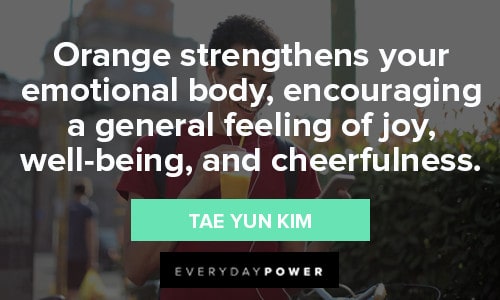 25. "If the real world is orange juice, then art is like orange-juice concentrate." ― Martin Mull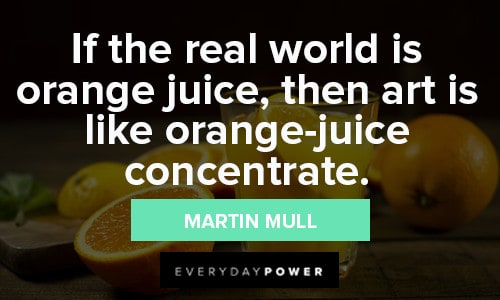 26. "Music can lift us out of depression or move us to tears – it is a remedy, a tonic, orange juice for the ear." ― Oliver Sacks
27. "Over coffee and orange juice the embryonic suicide brightens visibly." ― Sylvia Plath
28. "You might be a redneck if you've ever stared at a can of orange juice because it said concentrate." ― Jeff Foxworthy
29. "Some things just aren't meant to go together. Things like oil and water. Orange juice and toothpaste." ― Jim Butcher
Oranges quotes comparing apples (and other foods)
30. "You can't compare an apple to an orange. It will cause a lot of self-esteem issues." ― Craig Sheffer
31. "I think they named the orange before the carrot." ― Demetri Martin
32. "Books and movies are like apples and oranges. They both are fruit, but taste completely different." ― Stephen King
33. "One mustn't ask apple trees for oranges, France for sun, women for love, life for happiness." ― Gustave Flaubert
34. "To compare the albums is like trying to compare apples and oranges." ― Josh Silver
35. "I can't compare quarterbacks as apples and oranges in my mind because everybody's in a different system." ― John Elway
36. "I like strawberries, kiwis, and oranges." ― Tierra Whack
37. "When life gives you lemons… they could really be oranges." ― Ellen DeGeneres
38. "Why is a carrot more orange than an orange?" ― Steven Wright
39. "Life… is like a grapefruit. It's orange and squishy and has a few pips in it, and some folks have half a one for breakfast." ― Douglas Adams
Inspirational orange quotes you might have to read twice
40. "Plants are more courageous than almost all human beings: an orange tree would rather die than produce lemons, whereas instead of dying the average person would rather be someone they are not." ― Mokokoma Mokhonoana
41. "Who wants an orange whip? Orange whip? Orange whip? Three orange whips." ― John Candy
42. "The earth is blue like an orange." ― Paul Eluard
43. "I want it to sound like an orange." ― John Lennon
44. "My father always said that if you want oranges, you have to go to where the oranges grow." ― Terrence Howard
45. "And every day when I've been good, I get an orange after food." ― Robert Louis Stevenson
46. "Stolen oranges also have Vitamin C. Likewise, a stolen salmon, too, has omega-3 fatty acids." ― Mokokoma Mokhonoana
47. "In the wintertime, in the snow country, citrus fruit was so rare, and if you got one, it was better than ambrosia." ― James Earl Jones
48. "When an orange tastes like an onion, the knife takes the blame. But it is the one who handed us the knife that should be questioned." ― Paul Bamikole
49. "If I see three oranges, I have to juggle. And if I see two towers, I have to walk." ― Philippe Petit
50. "Be patient. Everything has its time. You can't make an orange mature right away because you are hungry." ― Bangambiki Habyarimana
More orange quotes and sayings
51. "Orange is the color of my love / Fragile orange wind in the garden." – Adrianne Lenker
52. "It's like comparing apples and oranges; they're both delicious." – Cyd Charisse
53. "An orange on the table, your dress on the rug, and you in my bed, sweet present of the present, cool of night, warmth of my life." – Jacques Prevert
54. "I'm an appalling cook. I can just about create a glass of orange juice and a ham-and-cheese sandwich." – Dara O Briain
55. "You can't eat the orange and throw the peel away – a man is not a piece of fruit." – Arthur Miller
56. "I like orange and blue together, but I would never wear them." – Darren Criss
57. "This evening on the orange tree." – John Shaw Neilson
58. "Just because an orange looks pretty doesn't mean it's juicy." – Unknown
59. "In the gutter you, the peel of some sweet golden orange fruit." – Mathilde Blind
60. "Orange is the color of joy and creativity." – Unknown
Deep, philosophical, or psychological orange quotes
61. "After I go out this door, I may only exist in the minds of all my acquaintances…I may be an orange peel." — J. D. Salinger
62. "If the family were a fruit, it would be an orange, a circle of sections, held together but separable—each segment distinct." — Letty Cottin Pogrebin
63. "When you squeeze an orange, orange juice comes out, because that's what's inside. When you are squeezed, what comes out is what is inside." — Wayne Dyer
64. "When life gives you lemons, make lemonade, and then throw it in the face of the person who gave you the lemons until they give you the oranges you originally asked for." — Cassandra Clare
65. "Try not thinking of peeling an orange. Try not imagining the juice running down your fingers, the soft inner part of the peel. The smell. Try and you can't. The brain doesn't process negatives." — Douglas Coupland
66. "Little things. The thought of losing them makes them unbearably dear … I only think of the sweetness. Simple things. The quarter moon, the taste of an orange. The smell of the pages of a new book." — Patricia Gaffney
67. "People are just as wonderful as sunsets if you let them be. When I look at a sunset, I don't find myself saying, "Soften the orange a bit on the right hand corner." I don't try to control a sunset. I watch with awe as it unfolds." — Carl Rogers
68. "From scarlet to powdered gold, to blazing yellow, to the rare ashen emerald, to the orange and black velvet of your shimmering corselet, out to the tip that like an amber thorn begins you, small, superlative being, you are a miracle, and you blaze." — Pablo Neruda
69. "We are all a little weird. And we like to think that there is always someone weirder. I mean, I am sure some of you are looking at me and thinking, "Well, at least I am not as weird as you," and I am thinking, "Well, at least I am not as weird as the people in the loony bin," and the people in the loony bin are thinking, "Well, at least I am an orange." — Jim Gaffigan
70. "Your mind makes out the orange by seeing it, hearing it, touching it, smelling it, tasting it and thinking about it but without this mind, you call it, the orange would not be seen or heard or smelled or tasted or even mentally noticed, it's actually, that orange, depending on your mind to exist! Don't you see that? By itself it's a no-thing, it's really mental, it's seen only of your mind. In other words it's empty and awake." — Jack Kerouac
Funny Orange Quotes To Make You Grab Your Orange Juice
71. "It's like apples and oranges, you can't compare it.  It was just a matter of playing with anyone who was breathing." ― Red Barber
72. "But as I see it, the most corrupt art is the sentimental art of orange blossoms which make pale women swoon." ― Camille Pissarro
73. "I was just so sick. I thought that orange juice was going to make me fat." ― Demi Lovato
74. "Who in the rainbow can draw the line where the violet tint ends and the orange tint begins?" ― Herman Melville
75."My worst fashion faux pas: probably orange shoes with white pants. I thought I looked spectacular." ― Kevin O'Leary
76. "Today he wore a burnt-orange shirt, black pants, and a tie that looked like a street fight at the south end of the color wheel." ― Kathy Reichs
77. "If Lady Gaga is like an orange Bugatti Veyron, then I am like a black 1970 Chevelle." ― Caity Lotz
78. "When I was a little girl, I remember carrying my orange UNICEF carton with me as I went Trick-or-Treating." ― Brandy Norwood
79. "I must always have fresh orange juice, alkaline water and hazelnut creamer for my coffee." ― Vivica Fox
80. "My grandfather got me mad and I peed inside his orange juice and asked him if it's tangy." ― Cam'ron
Orange Quotes To Make You Feel Vibrant
81. "And everywhere girls, tumbling from trees like orange blossoms and hitting the earth with sickening thuds. They crack open." ― Lauren DeStefano
82. "… on the whole we have just as much orange left and it tastes far better, if we give a good deal of it away." ― Margaret Warde
83. "See the last orange roses, how they blow / Deeper and heavier than in their prime, / In one defiant flame before they go." ― Vita Sackville-West
84. "Time will come; we will plant trees to other planets! I see the orange trees and the cherries in the far lands beyond the earth." ― Mehmet Murat Ildan
85. "Beautiful isles! beneath the sunset skies tall, silver-shafted palm-trees rise, between full orange-trees that shade the living colonade." ― William C. Bryant
86. "Wrapping Christmas presents is tough. Even peeling a Mandarin orange is tough. I have to get my kids to help me." ― Brendan Morrison
87. "I don't wear orange or yellow on the red carpet because my skin kind of blends in with them." ― Mark Indelicato
88. "You know who Boehner is, right? He's that orange looking guy. See, for Republicans that counts as diversity." ― Jay Leno
89. "The most-honored ancestors of your matriarch besmirched the season of the orange blossom." ― Nick Bakay
90. "I'm just an Orange County girl from a loving family making music with my friends. It's not really that big of a deal." ― Gwen Stefani
Which of these orange quotes is your favorite?
A popular phrase, "comparing apples to oranges," can teach us a valuable life lesson.
All fruit is not the same, just like all people are different.
Comparing your journey to someone else's and feeling guilt, shame, or disappointment in your progress doesn't serve you.
Apples can never be oranges, and oranges can never be apples.
The world benefits from having both, and each has its own unique set of benefits, just like you!
Remember that the only person you should compare yourself to is the person you were yesterday, last week, or last year!
Did you enjoy reading these orange quotes and sayings?
What is your favorite orange thing?
Is it a recipe for dinner involving orange zest?
Or maybe a baked good?
Do you like to just peel your oranges and eat them?
Maybe it's a painting or a favorite orange shirt?
Let us know in the comment section below.
And if you feel like you need a little happiness today, immerse yourself in the color for a bit, grab an Orange Julius, and go out there and "squeeze the day!"
October 28, 2022 5:00 AM EST