80 Cloud Quotes That Will Make You Look Up
Just as these cloud quotes show, we all have a mix of bright and dark days.
It's easy to take clouds for granted.
They are almost always up in the sky and we often don't notice them.
But then there are the moments when they command our attention.
The moments when the dark storm clouds bring in the loud claps of thunder.
Or the moments when the sun sets over the ocean and the clouds are painted with a rainbow of colors.
They are always something to be enjoyed, but we can learn from them too.
Even on the darkest of days, we know there is a blue sky hidden behind the clouds.
This is just one of the many lessons we can learn from the clouds.
Enjoy these cloud quotes and sayings!
Don't forget to also check out these sky quotes to marvel the world above.
Positive cloud quotes to provide strength
1. "No dark cloud can forever prevent the sun from shining!" ― Mehmet Murat ildan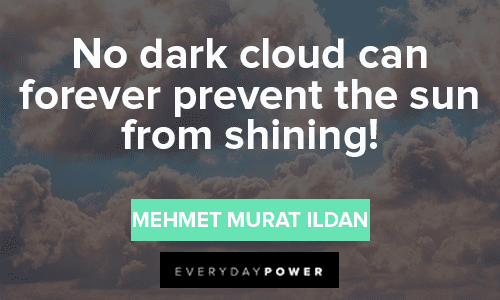 2. "The sun always shines above the clouds." – Paul F. Davis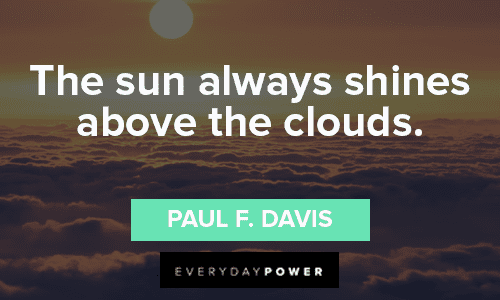 3. "Clouds suit my mood just fine." – Marie Lu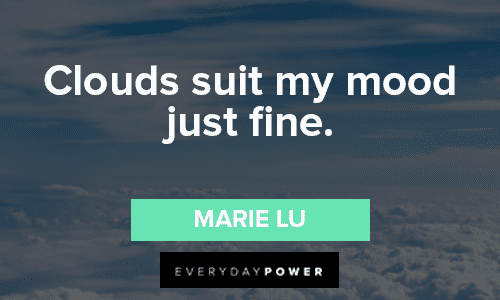 4. "Try to be a rainbow, in someone else cloud." – Maya Angelou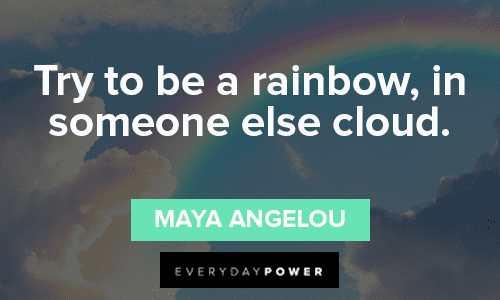 5. "Don't forget; beautiful sunset need cloudy skies." – Paulo Coelho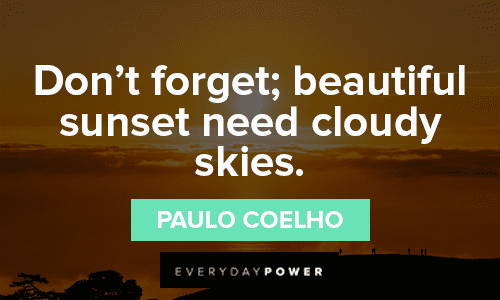 6. "There's crack in everything, that's how lights get in." – Leonard Cohen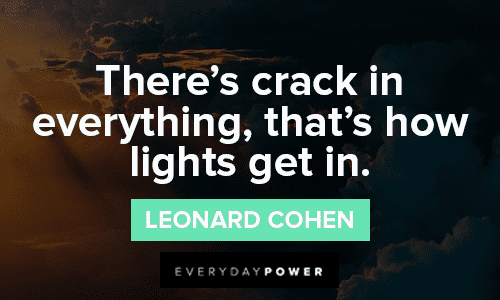 7. "What is eternal is the cloud drifting slowly out of sight." ― Marty Rubin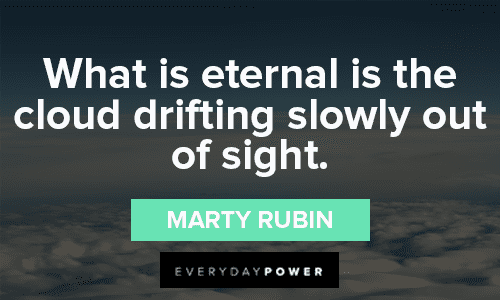 8. "Be comforted, dear soul, there is always light behind clouds" – Louisa May Alcott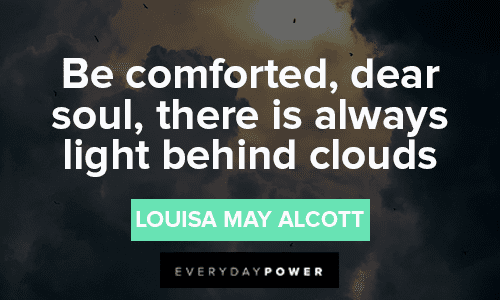 9. "Life is like a cloud; fluffy, beautiful and illusionary." – Ananya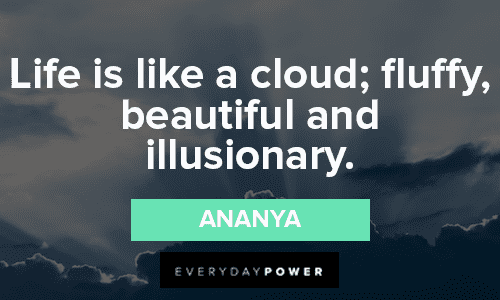 10. "When very thing is going write in your life, even the dark cloud looks beautiful." – Nikita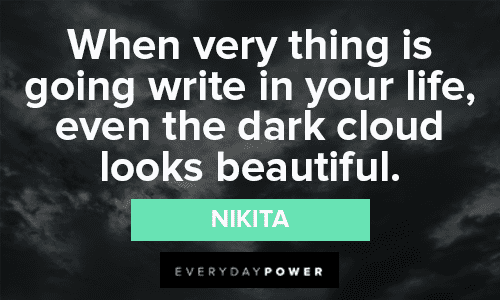 Cloud quotes about the sky
11. "Behind every dark cloud, there is an ever-shining sun. Just wait. In time the cloud will pass." – Marianne Williamson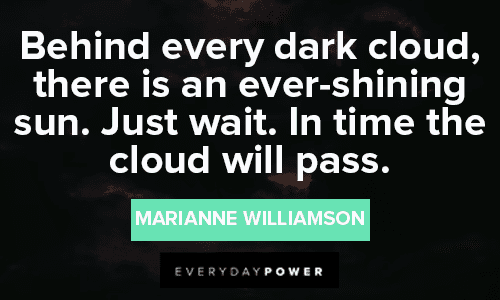 12. "A pessimist sees only the dark side of the clouds, and mopes; a philosopher sees both sides, and shrugs; an optimist doesn't see the clouds at all, he's walking on them." – Leonard Louis Levinson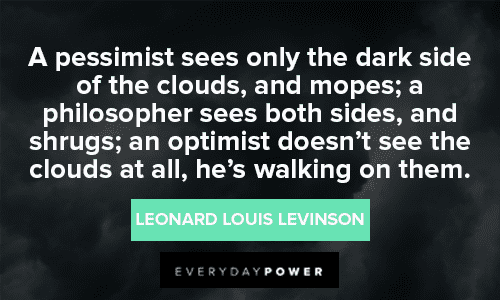 13. "Even if it is very foggy, cloudy, or stormy, the blue sky is always there for us, above the clouds." – Thich Nhat Hanh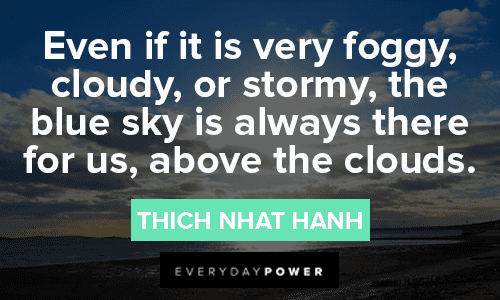 14. "A cloud does not know why it moves in just such a direction and at such a speed. It feels an impulsion; this is the place to go now. But the sky knows the reasons and the patterns behind all clouds, and you will know, too, when you lift yourself high enough to see beyond horizons." – Richard Bach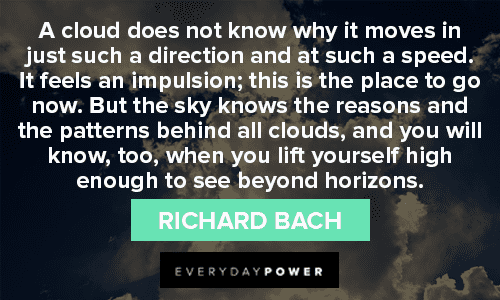 15. "The beauty of white clouds: Every morning brings new clouds and sunshine." – Lailah Gifty Akita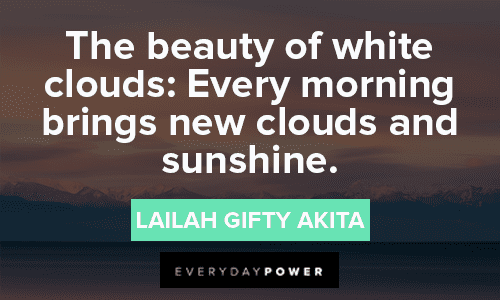 16. "The air up there in the clouds is very pure and fine, bracing and delicious. And why shouldn't it be? – It is the same the angels breathe." ― Mark Twain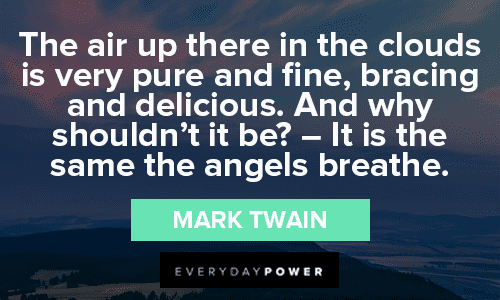 17. "A dream is where a boy can swim in the deepest ocean and fly over the highest clouds" – JK Rowling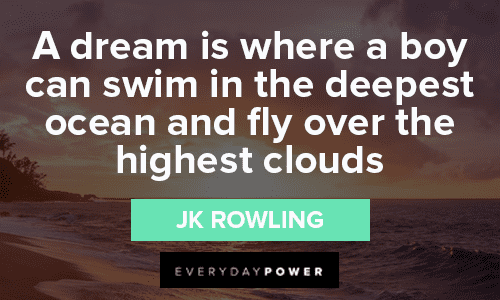 18. "Its cloud illusions I recall. I really don't know clouds at all." – Joni Mitchell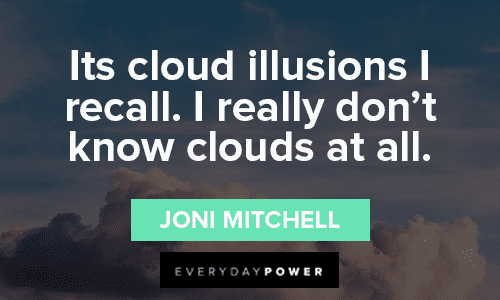 19. "If you use your imagination, you can see lots of things in the cloud formations." – Charles M. Schulz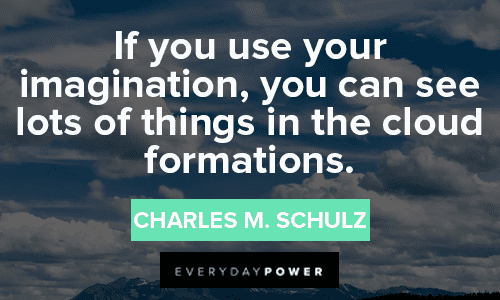 20. "There are no rules of architecture for a castle in the clouds." – Gilbert K. Chesterton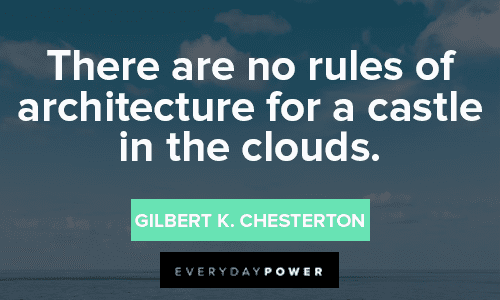 21. "Clouds in the sky very much resemble the thoughts in our minds! Both changes perpetually from one second to another!" – Mehmet Murat ildan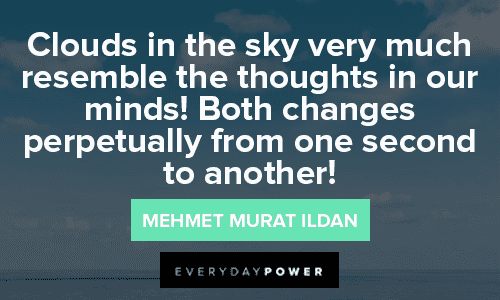 Beautiful clouds quotes and sayings
22. "There was a star riding through clouds one night, & I said to the star, 'Consume me'." – Virginia Woolf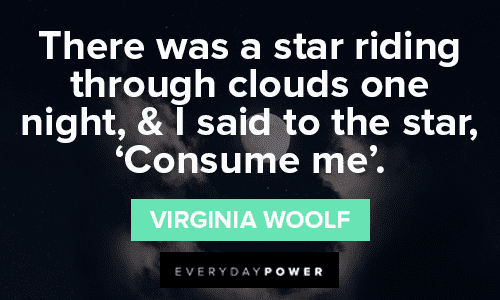 23. "For a second I was almost jealous of the clouds. Why was he looking to them for an escape when I was right here beside him?" – Kamila Shamsie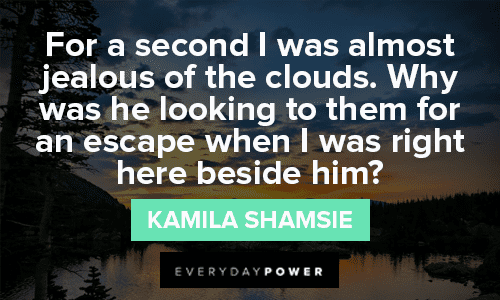 24. When people look at clouds they do not see their real shape, which is no shape at all, or every shape, because they are constantly changing. They see whatever it is that their heart yearns for." – Jose Eduardo Agualusa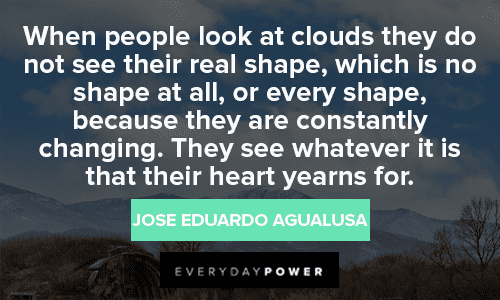 25. "Look at the heavens, and the sea, and behold the clouds, which are higher than you." – Unknown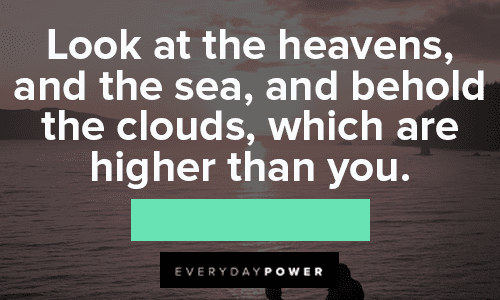 26. "Aren't the clouds beautiful? They look like big balls of cotton… I could just lie here all day, and watch them drift by… If you use your imagination, you can see lots of things in the cloud formations." – Charles M Schulz
27. "And from the midst of cheerless gloom, I passed to bright unclouded day." – Emily Bronte
28. "Thirty-nine years of my life had passed before I understood that clouds were not my enemy; that they were beautiful, and that I needed them. I suppose this, for me, marked the beginning of wisdom. Life is short." – Limani David
29. "Winter's sky is an old blue soul, weaving dark clouds with wonder." – Angie Wieland
30. "The beauty of sky is visible during sunrise and sunset." – Mohammed Ahith
31. There's going to be a symbiotic relationship between the edge and the cloud." – Peter Levine
32. "You must not blame me if I talk to the clouds." – Thoreau
33. "Yesterday I inhaled a cloud, and immediately my eyes started raining." – Jarod Kintz
Best Inspirational cloud quotes
34. The moon will light the clouds, just as the tides shall shape the sand." – Anthony T. Hincks
35. "I am a dreamer. I have to dream and reach for the stars, and if I miss a star then I grab a handful of clouds." – Mike Tyson
36. "The clouds – the only birds that never sleep." – Victor Hugo
37. "Happiness is like a cloud if you stare at it long enough, it evaporates." – Sarah McLachlan
38. "To say goodbye is to die a little. To say good morning is a hope for a new sunshine in a cloudy winter."― Nabil Toussi
39. "When we look up, it widens our horizons. we see what a little speck we are in the universe, so insignificant, and we all take ourselves so seriously, but in the sky, there are no boundaries. No differences of caste or religion or race."― Julia Gregson, East of the Sun
40. "Even when clouds grow thick, the sun still pours its light earthward." – Mark Nepo
41. "Clouds are on top for a reason. They float so high because they refuse to carry any burden!" – Jasleen Kaur Gumber
42. "I can see clouds a thousand miles away; hear ancient music in the pines." – Ikkyu
43. "I can be jubilant one moment and pensive the next and a cloud could go by and make that happen." – Bob Dylan
44. The sky, a perfect empty canvas, offers clouds nonetheless. They shift and drift and beg interpretation… such is the nature of art."― Jeb Dickerson
45. Dark clouds become heaven's flowers when kissed by light." ― Rabindranath Tagore
46. Now, if God made the clouds so beautiful, did He not mean us to gaze upon them and be thankful for them?" ― Alfred Rowland
More cloud quotes that are full of wisdom
47. "I know that I shall meet my fate somewhere among the clouds above; those that I fight I do not hate, those that I guard I do not love." ― W.B. Yeats
48. "We pledge to fight 'blue-sky thinking wherever we find it. Life would be dull if we had to look up at cloudless monotony day after day." ― Gavin Pretor-Pinney
49. "It stood calm against the suburban storm raging around it. The thunder screamed across the sky; it slapped the clouds into a heated turmoil that flew towards the south." ― J.D. Stroube
50. "Brushing the clouds away from my eyes, I see clarity in the raindrop and beauty in the first ray of morning sun…
Life is strange and wondrous…"
― Virginia Alison
51. "Complains are like the clouds that produce no rain no matter how thick they gather. Never depend on your complaint thinking they are stair cases. Drop that thing." ― Israelmore Ayivor
52. "Heavy clouds were putting out the stars." ― Antoine de Saint-Exupéry
53. "God is a cloud from which rain fell." ― Dejan Stojanovic
54. "There is bound to be turbulence in the clouds of confusion before one can view the friendly skies, and an illuminated landing strip." ― T.F. Hodge
55. "How long can the clouds arrest the sunshine? It is not hypothetical, until the cloud bursts due to the sun's heat." ― P.S. Jagadeesh Kumar
56. "Clouds have to block the sun to bring the rain, for the absence of either means the existence of nothing." ― Craig D. Lounsbrough
57. "Month after month of rain and clouds. Hug the light wherever you find it." ― Marty Rubin
Cloud Quotes For You To Enjoy Their Movement
58. "The sky and the sun are always there. It's the clouds that come and go." ― Rachel Joyce
59. "A radiant full moon of silver hangs in the black sky, between the veils of misty clouds." ― Moonshine Noire
60. "There is divinity in the clouds." ― Lailah Gifty Akita
61. "For it is when calm clouds gather that thunder is made." ― Soroosh Shahrivar
62. "The sky has a huge heart open for all clouds even on the gloomiest of days." ― Munia Khan
63. "The best friends of the highest mountains are only the clouds and the adventurer mountaineers!" ― Mehmet Murat ildan
64. "She gathered the books like clouds and words poured down like rain." ― Markus Zusak
65. "Changes are like clouds in the sky- come and go. Leadership is like riding on a plane to enjoy the clouds." ― Amit Ray
66. "When we feel stuck, look at the sky, the clouds reminds us that everything changes." – Unknown
67. "We all have bad days, but one thing is true; no cloud is so dark that sun can't shine through." – Anonymous
68. "Sometimes I go about pitying myself, and all the while I am being carried across the sky by beautiful clouds." – Anonymous
69. There are no rules of architecture, for the castle in the clouds." – Anonymous
70. "Happiness is like a cloud, staying up there, no matter it rains or shines." – Unknown
Cloud Quotes To Give You Hope
71. "Step outside of the thoughts and observe them. Do not entertain them, just allow them to pass like clouds in the sky." ― Fearne Cotton
72. "I will shine again even though I know the clouds of life will come-and go; again I will be strong and determined." ― Shirley Jones-Witcher
73. "The clouds remind me that life isn't always clear blue sky, and sometimes the sun is obstructed." ― Lawrence Mollot
74. "Clouds have a way of breaking disappointments." ― Prairie Farmer
75. "Clouds and cloudscapes are the greatest free show on earth. It doesn't cost a penny to look up and feast your eyes on the view." ― John A. Day
76. "The blue sky, with the soft, white clouds, make me feel happy often just to see them, and they are so much better than the gray, cloudy sky we have when it storms." ― Mary W. MACLAIN
77. "Even rain clouds or storm clouds make me feel comfortable and secure." ― Mani Feniger
78. "The darkly rolling clouds now grandly bright, The startling cracking peal proclaims its height; Now slowly comes the calm." ― Spero
79. "See how the clouds fly past this morning, as though they're in a hurry." ― Poh Seng Goh
80. "God is behind every cloud and sees all our shadows." ― Lettie Lavilla Burlingame
What did you learn from these cloud quotes?
There is just something about clouds that can bring awe and inspiration.
Whether it's big, dark, storm clouds rolling in and showing their power or big white fluffy clouds that accent the bright, blue sky, they are beautiful.
The clouds are what allow us to enjoy stunning sunrises and sunsets as well.
There is a lot that we can learn from watching the clouds.
They keep on moving along no matter what.
And behind every cloud is a bright beautiful day.
This can motivate us to keep hope even during the dark and stormy periods of life.
What's your biggest takeaway from these cloud quotes and sayings?
Do you have any other favorite quotes to add?
Let us know in the comment section below.
October 28, 2022 11:18 PM EST