80 Baby Quotes that New Parents Can Relate To (2022)
There are many emotions and feelings that you experience as a new parent that only other parents can understand.
As a new parent, you'll certainly relate to the following baby quotes.
How does it feel to be a new parent?
There is nothing else that can change your life the same way that a new baby can.
You will experience a love that you never experienced before and also a sense of responsibility that surpasses anything else.
Nothing will compare to your new little bundle of joy. 
But with that sweet baby comes sleepless nights, exhaustion, and spit-up.
Thankfully the great experiences far outweigh all of those.
The baby quotes below encapsulate some things you can expect as a new parent.
Also, check out these baby boy quotes for expecting moms and dads.
Baby quotes that show a parent's love
1. "Children need love, especially when they do not deserve it." – Harold Hulbert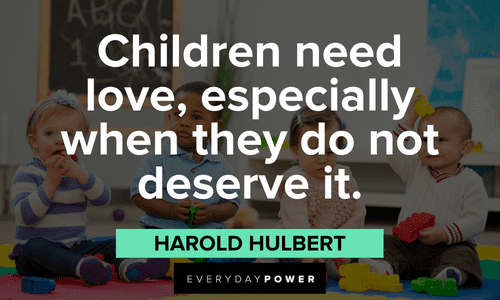 2. "And she loved a little boy very, very much, even more than she loved herself." – Shel Silverstein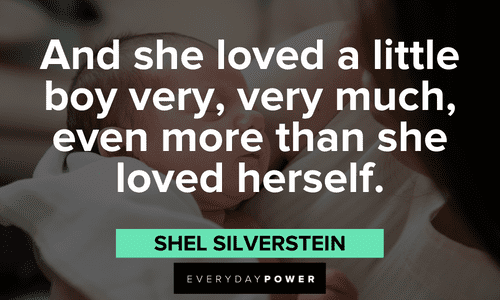 3. "We never know the love of a parent until we become parents ourselves." – Henry Ward Beecher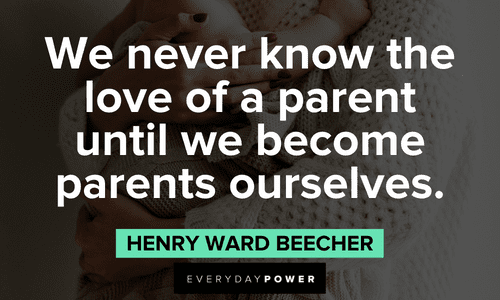 4. "Motherhood is the greatest thing and the hardest thing." – Ricki Lake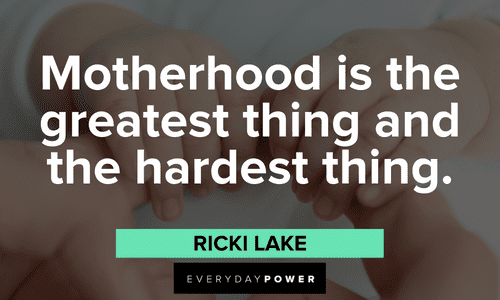 5. "Being a mom has made me so tired. And so happy." – Tina Fey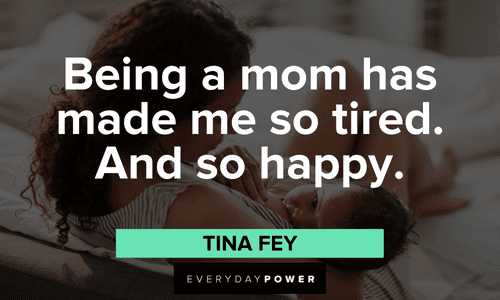 6. "People who say they sleep like a baby usually don't have one." – Leo Burke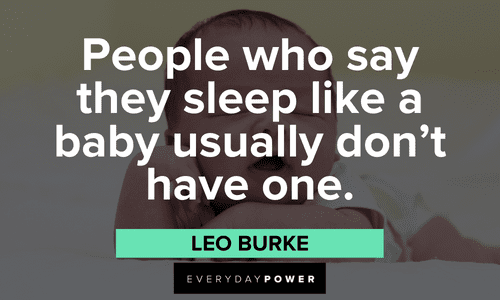 7. "There's no way to be a perfect mother and a million ways to be a good one." – Jill Churchill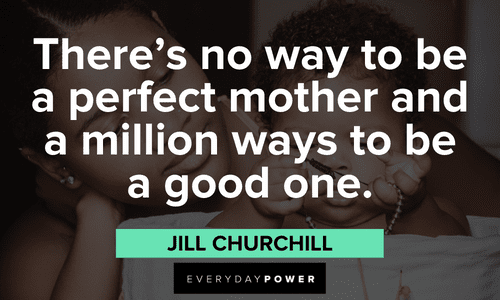 8. "Children make you want to start life over." – Muhammad Ali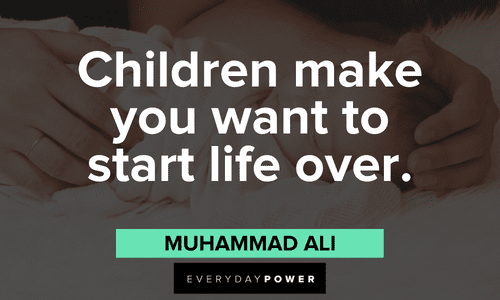 9. "A tiny daughter gives parents a life in a climate of perpetual wonder." – Pierre Doucet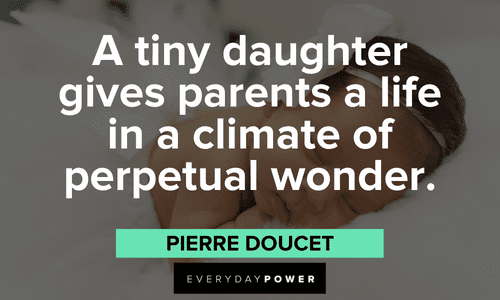 10. "A mother's arms are made of tenderness and children sleep soundly in them." – Victor Hugo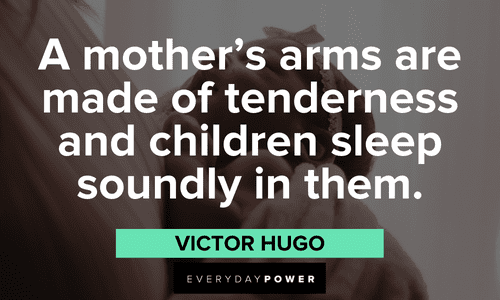 Baby quotes about motherhood
11. "Perfection only exists in babies and pastries." — Gayle Wray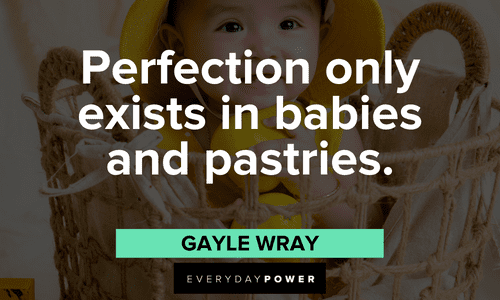 12. "Make no mistake about why these babies are here—they are here to replace us." — Jerry Seinfeld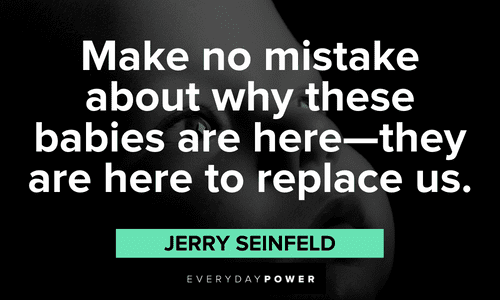 13. "A baby is born with a need to be loved—and never outgrows it." — Frank A. Clark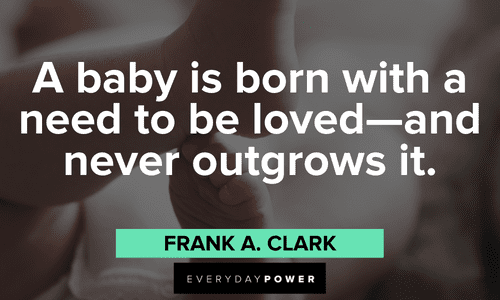 14. "A new baby is like the beginning of all things-wonder, hope, a dream of possibilities." —Eda J. Le Shan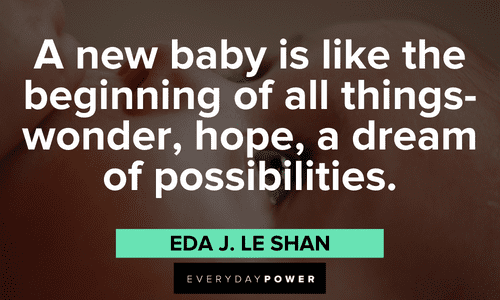 15. "Babies love fat." ― Kathryn Stockett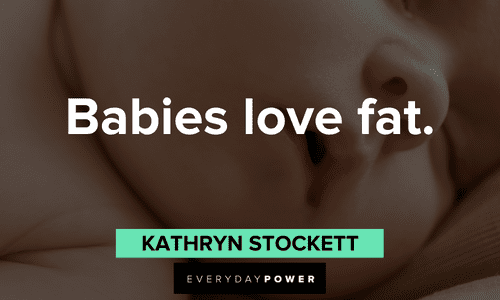 16. "A baby's cry is precisely as serious as it sounds." ― Jean Liedloff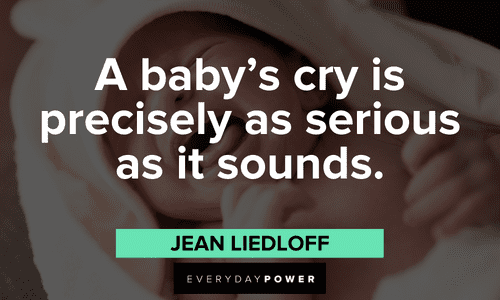 17. "Newborns reminded her of tiny buddhas." ― Jodi Picoult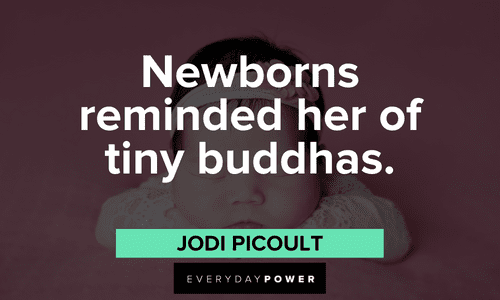 18. "Never give a lousy person the opportunity to create lousy babies." ― Roberto Hogue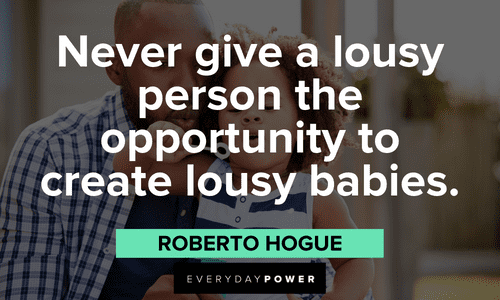 19. "The only creatures that are evolved enough to convey pure love are dogs and infants."
― Johnny Depp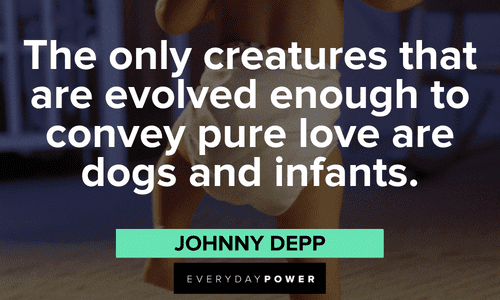 20. "Babies are such a nice way to start people." – Don Herold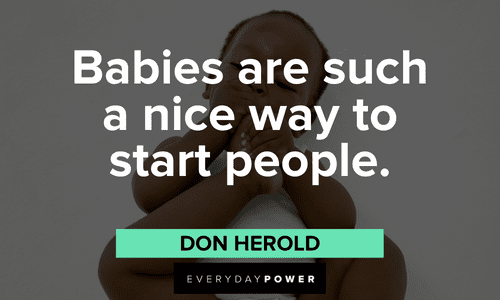 21. "Every child begins the world again." – Henry David Thoreau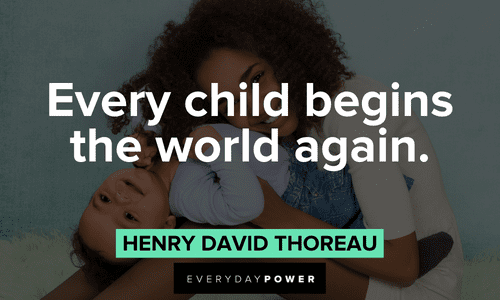 22. "Babies are bits of stardust, blown from the hand of God." – Larry Barretto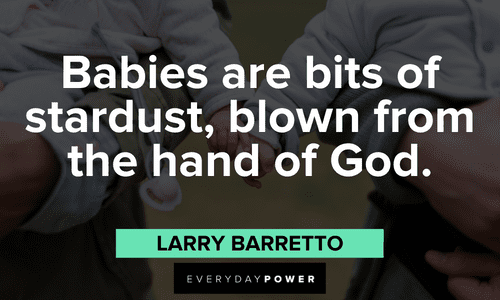 23. "Babies are always more trouble than you thought – and more wonderful." – Charles Osgood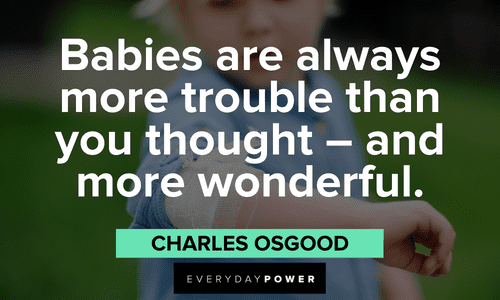 24. "A mother continues to labor long after the baby is born." – Lisa Jo Baker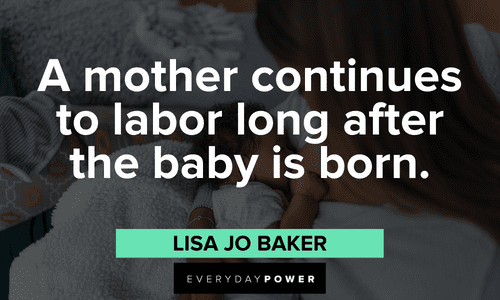 25. "Of all the rights of women, the greatest is to be a mother." – Lin Yutang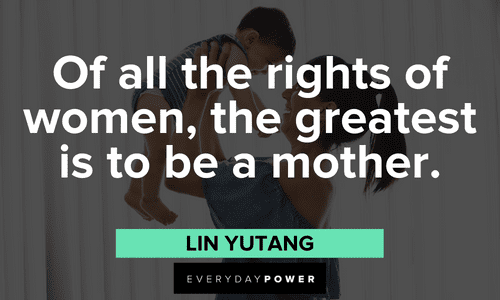 You might also like these amazing children quotes that will fill your heart with love and laughter.
Baby quotes about the wonderful changes babies bring
26. "A baby fills a place in your heart that you never knew was empty." – Anonymous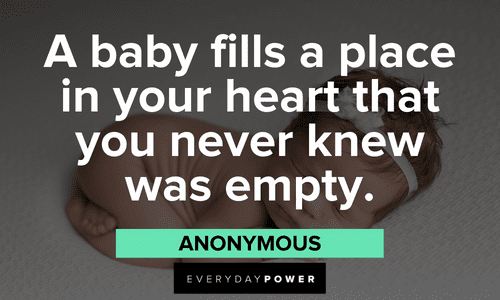 27. "A daughter is one of the best gifts this world has to give." – Laurel Atherton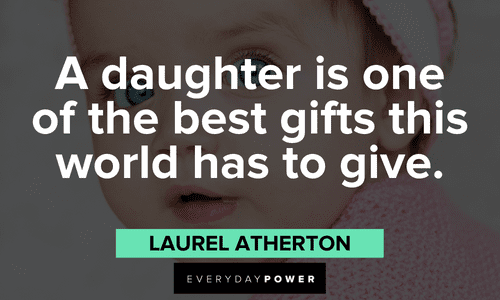 28. "A perfect example of minority rule is a baby in the house." – Milwaukee Journal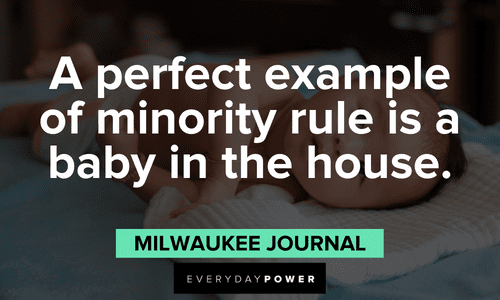 29. "There are words in the soul of a newborn baby, wanting and waiting to be written." – Toba Beta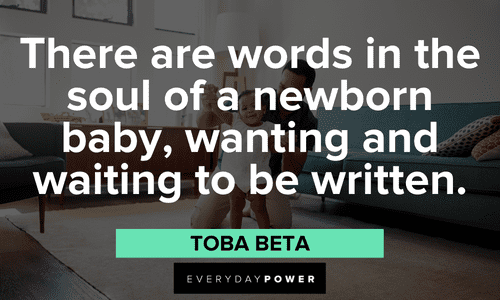 30. "Children bring us a piece of heaven on earth." – Roland Leonhardt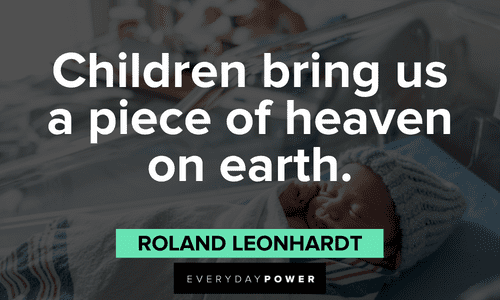 Baby quotes about the wonder of a new baby
31. "I think that I see something deeper, more infinite, more eternal than the ocean in the expression of the eyes of a little baby when it wakes in the morning and coos or laughs because it sees the sun shining on its cradle." – Vincent Van Gogh
32. "Whether your pregnancy was meticulously planned, medically coaxed, or happened by surprise, one thing is certain – your life will never be the same." – Catherine Jones
33. "Having my baby fall asleep in my arms takes away all of my worries and stresses. A sense of complete and total peace comes over me." – Maria Jose Ovalle
34. "Nothing compares to becoming aware of the massive face of the universe hidden in a newborn's stare." – Curtis Tyrone Jones
35. "When we encourage new parents to 'treasure these moments because they don't last forever,' we need to remember to also reassure them that they will survive these moments because they don't last forever." – L.R. Knost
36. "A baby boy has a special way of bringing out the man in his father and the little boy in his grandfather." – Tanya Masse
37. "To be a mother of a son is one of the most important things you can do to change the world. Raise them to respect women, raise them to stand up for others, raise them to be kind." – Shannon L. Alder
If you're enjoying these quotes, make sure to read our collection of mother and son quotes that put words to this unbreakable bond.
38. "There are no words that can describe the euphoria you feel when your baby recognizes you for the first time and smiles." – Jared Padalecki
39. "I know now why God gave us babies. They require constant attention, of course. They make messes and disturb the peace, but their cuteness and smiles are something the only reminder of God we have in the house." – Ann Rinaldi
40. "For me, this baby was the most precious thing I had ever had. He was my treasure, my joy, my world, my everything now." – Preeti Shenoy
41. "You know what the great thing about babies is? They are like little bundles of hope. Like the future in a basket." – Lish McBride
42. "A baby is something you carry inside you for nine months, in your arms for three years and in your heart till the day you die." – Mary Mason
Also check out these insightful co-parenting quotes to inspire separated parents.
Baby quotes about the challenges of a new baby
43. "Motherhood: the only place you can experience heaven and hell at the same time." – Anonymous
44. "A baby will make love stronger, days shorter, nights longer, bankroll smaller, home happier, clothes shabbier, the past forgotten, and the future worth living for." – Anonymous
45. "The amazing thing about becoming a parent is that you will never again be your own first priority." – Olivia Wilde
46. "Sleep is like the unicorn—it is rumored to exist, but I doubt I will see any." – Unknown
47. "Making the decision to have a children is momentous. It is to decide forever to have your heart go walking around outside your body." – Elizabeth Stone
More baby quotes
48. "What good mothers and fathers instinctively feel like doing for their babies is usually best after all." – Benjamin Spock
If you're enjoying these quotes, make sure to check out our collection of Mother's Day quotes that help us celebrate moms all around the world.
49. "If your baby is beautiful and perfect, never cries or fusses, sleeps on schedule and burps on demand, an angel all the time – you're the grandma." – Theresa Bloomingdale
50. "Rigid plans work best if you're building a skyscraper; with something as mysteriously human as giving birth, it's best, both literally and figuratively, to keep your knees bent." – Mark Sloan
Heartwarming baby quotes
51. "It's a good thing babies don't give you a lot of time to think. You fall in love with them and when you realize how much they love you back, life is very simple." – Anita Diamant
52. "The moment a child is born, the mother is also born. She never existed before. The woman existed, but the mother, never. A mother is something absolutely new." – Bhagwan Shree Rajneesh
53. "I learned what is obvious to a child. That life is simply a collection of little lives, each lived one day at a time." – Nicholas Sparks
54. "When he finally was placed into my arms, I looked into his precious eyes and felt an overwhelming, unconditional love….I never felt so complete and empowered in my life." – Gisele Bündchen
55. "It's all kinds of these profound things crashing on you when your child arrives into the world. It's like you've met your reason to live." – Johnny Depp
56. "A baby is a wishing well. Everyone puts their hopes, their fears, their pasts, their two cents in." – Elizabeth Bard
57. "It's hard to feel like much is wrong in the world when you're looking into the eyes of a happy baby." – Lisa Wingate
58. "There is nothing like a newborn baby to renew your spirit and to buttress your resolve to make the world a better place." – Virginia Kelley
59. "I think, at a child's birth, if a mother could ask a fairy godmother to endow it with the most useful gift, that gift would be curiosity." – Eleanor Roosevelt
60. "​A mother's joy begins when new life is stirring inside…when a tiny heartbeat is heard for the very first time, and a playful kick reminds her that she is never alone." – Unknown
Baby quotes that are full of wisdom
61. "Just as there is no warning for childbirth, there is no preparation for the sight of a first child. There should be a song for women to sing at this moment, or a prayer to recite. But perhaps there is none because there are no words strong enough to name that moment." – Anita Diamant
62. "A first child is your own best foot forward, and how you do cheer those little feet as they strike out. You examine every turn of flesh for precocity, and crow it to the world. But the last one: the baby who trails her scent like a flag of surrender through your life when there will be no more coming after–oh, that' s love by a different name." ― Barbara Kingsolver
63. "Don't stand unmoving outside the door of a crying baby whose only desire is to touch you. Go to your baby. Go to your baby a million times. Demonstrate that people can be trusted, that the environment can be trusted, that we live in a benign universe." ― Peggy O'Mara
64. "The baby will talk when he talks, relax. It ain't like he knows the cure for cancer and just ain't spitting it out." ― Justin Halpern
65. "If you were to open up a baby's head – and I am not for a moment suggesting that you should – you would find nothing but an enormous drool gland." ― Dave Barry
66. "Giving birth is an ecstatic jubilant adventure not available to males. It is a woman's crowning creative experience of a lifetime." – John Stevenson
67. "It's important for us to explain to our nation that life is important. It's not only life of babies, but it's life of children living in, you know, the dark dungeons of the Internet." ― George W. Bush
68. "Heaven on earth is looking at my little boy. The minute he was born, I knew if I never did anything other than being a mom, I'd be fine." – Jenny McCarthy
69. "All those cliches, those things you hear about having a baby and motherhood –– all of them are true." – Penelope Cruz
70. "I like to think of motherhood as a great big adventure. You set off on a journey, you don't really know how to navigate things, and you don't exactly know where you're going or how you're going to get there." – Cynthia Rowley
More baby quotes that you can relate to if you're a parent
71. "I always wondered why babies spend so much time sucking their thumbs. Then I tasted baby food." — Robert Orben
72. "When your first baby drops her pacifier, you sterilize it. When your second baby drops her pacifier, you tell the dog: 'Fetch!'." — Bruce Lansky
73. "Before I got married I had six theories about raising children. Now, I have six children and no theories." — John Wilmot
74. "Loving a baby is a circular business, a kind of feedback loop. The more you give the more you get and the more you get the more you feel like giving." — Penelope Leach
75. "Babies control and bring up their families as much as they are controlled by them; in fact, the family brings up baby by being brought up by him." — Erik H. Erikson
76. "A happy baby has shining eyes. It walks open-hearted into the world and spreads magic." — Sigrid Leo
77. "When the baby is born, all that pain (that was endured) vanishes in an instant. Love for that tiny baby makes one forget the pain, the fear." – Hope Bradford
78. "The biggest surprise, which is also the best, is that I didn't know I would love motherhood as much as I do." – Deborah Norville
​79. "Before you were born I carried you under my heart. From the moment you arrived in this world until the moment I leave it, I will always carry you in my heart." – Mandy Harrison
80. "You may hate being pregnant, but the minute the baby is born, she is God's precious child, given to you as a gift." – Sandra Dallas
If you're enjoying these quotes, make sure to read our collection of pregnancy quotes celebrating the pregnancy process.
Enjoy each moment
It's hard to enjoy the rough days when the little one is fussy or you feel like you can't keep up with everything you need to do, however, those moments will pass faster than you can imagine.
Before you know it, your little one will be not so little and you will be wondering where the time has gone. 
It's easy to feel up-tight as a new parent.
But remember to relax and trust your intuition because it goes a long way. 
Take time to enjoy these early days with your little one because they go fast.
And don't worry, you will come through stronger on the other side. 
Did you enjoy these cute baby quotes?
Which of the quotes is your favorite?
Tell us in the comment section below.
We would love to hear all about it.