70 Being Alone Quotes for Inspiration & Strength
These collection of "being alone quotes" will help you overcome the feeling of loneliness so you can get the most out of life.
In today's constantly connected world, spending time alone can actually be good for your health and well being.
Being alone provides a chance for your brain to rest and replenish itself.
Inserting a little solitude into your overfilled schedule will improve your concentration and help you get more work done in a shorter amount of time.
When you spend time alone, you build your mental strength, develop more compassion, and become more creative.
Besides, being alone affords you time to think deeply, discover yourself and find your own voice.
This will help you become more comfortable in your own skin.
Although we are wired for connection, spending some quiet time alone will allow you to plan how to get the most out of life.
You should never feel guilty about finding a little time for yourself.
Let this collection of being alone quotes inspire you to live your best life.
To help you embrace solitude and conquer the feeling of loneliness, below is our collection of inspirational, wise, and uplifting being alone quotes, being alone sayings, and being alone proverbs, collected from a variety of sources over the years.
Also check out our selection of quotes on loneliness that will help you invite happiness back in.
Being alone quotes to conquer feeling lonely
1. "Associate yourself with people of good quality, for it is better to be alone than in bad company." – Booker T. Washington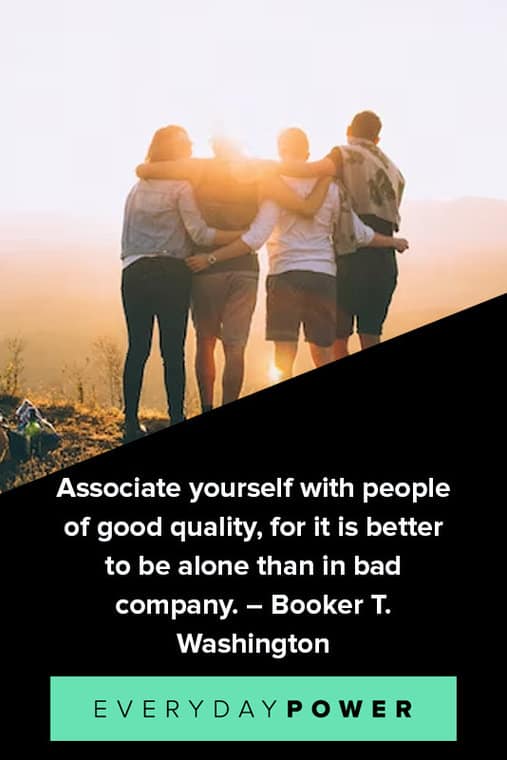 2. "Without great solitude no serious work is possible." – Pablo Picasso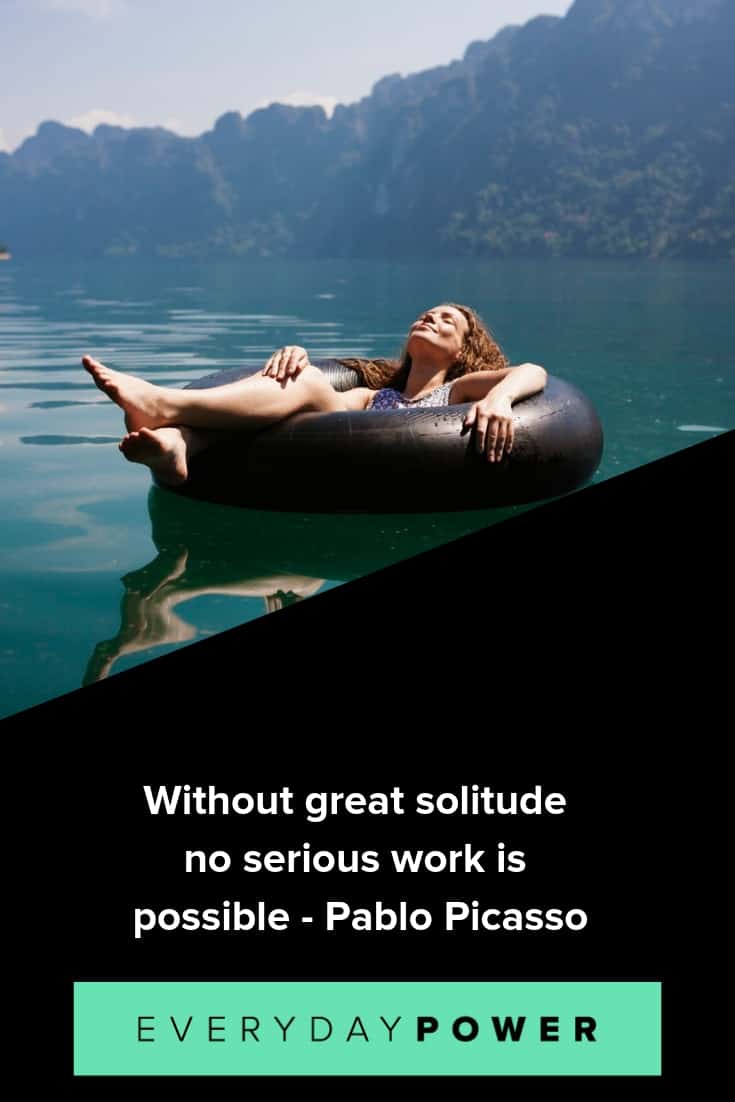 3. "No one saves us but ourselves. No one can and no one may. We ourselves must walk the path."  – Gautama Buddha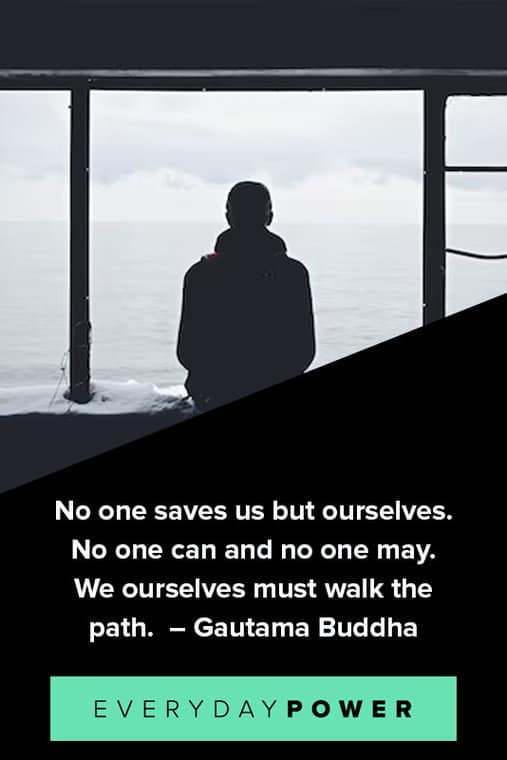 4. "I used to think that the worst thing in life was to end up all alone. It's not. The worst thing in life is ending up with people who make you feel all alone." – Robin Williams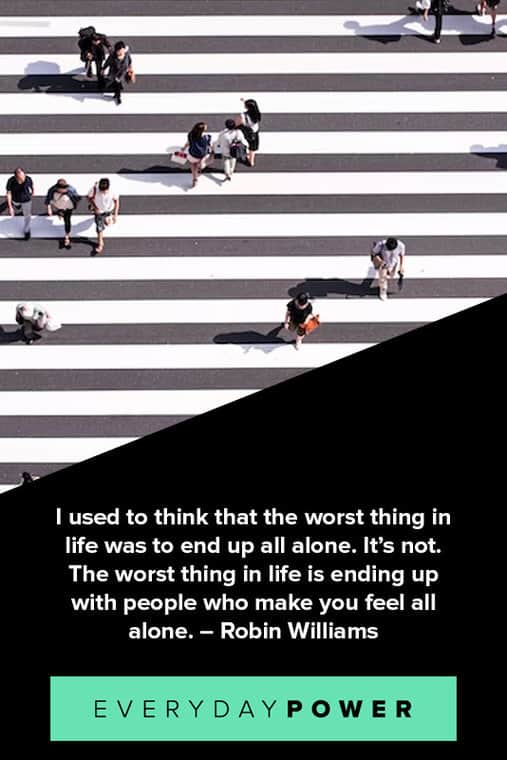 5. "Until you get comfortable with being alone, you'll never know if you're choosing someone out of love or loneliness." – Mandy Hale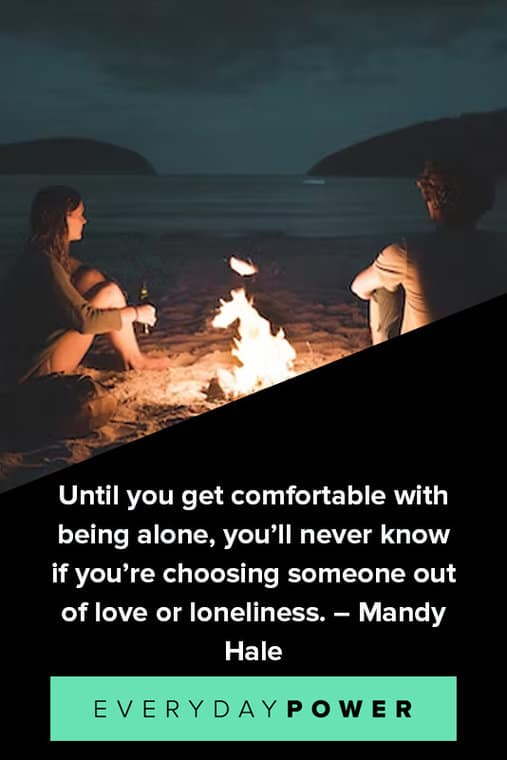 6. "In order to be open to creativity, one must have the capacity for constructive use of solitude. One must overcome the fear of being alone." – Rollo May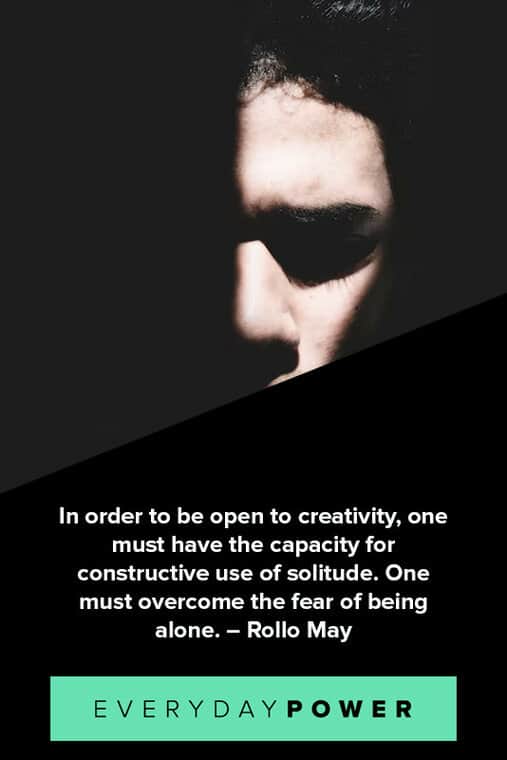 7. "Being alone and actually sitting with our own thoughts can lead to such growth and realizations that are rare in our everyday busy lives." – Kourtney Kardashian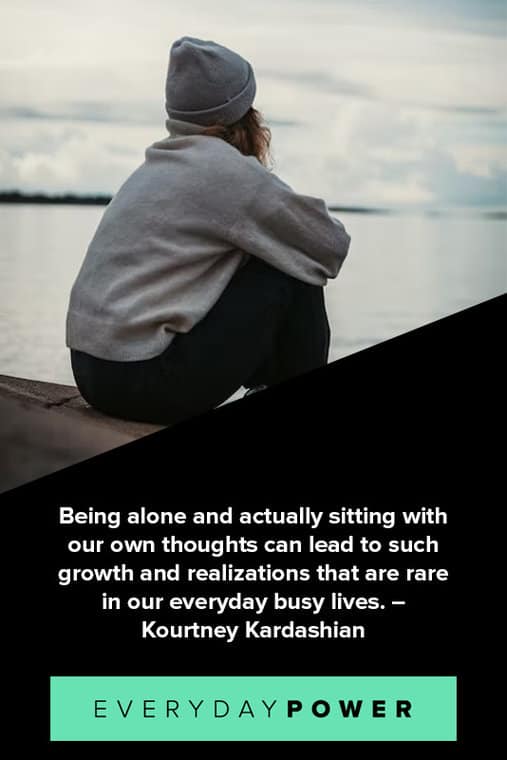 8. "I'm fascinated with myself and love hearing the sound of my own voice. I'd like to hear what I have to say. A lot of people don't like being alone because they truly don't like themselves, but I love me." – Gene Simmons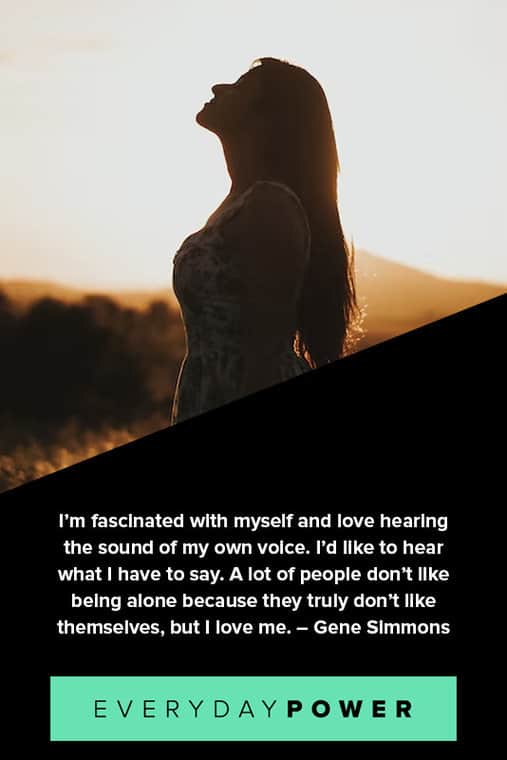 9. "The thought of being on my own really terrified me. But then I realized being alone is really a cleansing thing." –  Lindsey Buckingham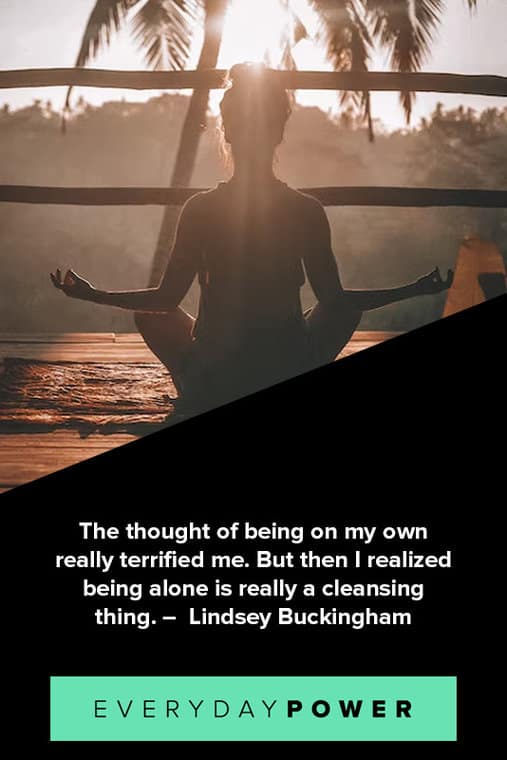 10. "Loneliness adds beauty to life. It puts a special burn on sunsets and makes night air smell better." – Henry Rollins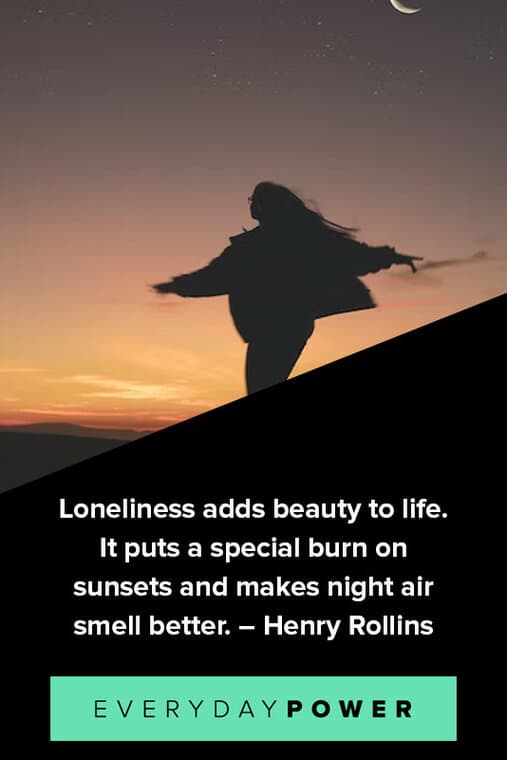 Being alone quotes to help you get the best our of life
11. "If you want to be happy, learn to be alone without being lonely. Learn that being alone does not mean being unhappy. The world is full of plenty of interesting and enjoyable things to do and people who can enrich your life." – Michael Josephson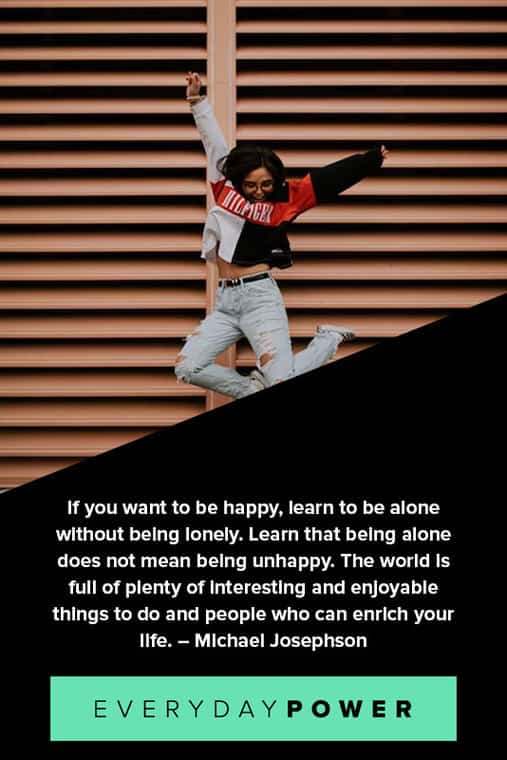 12. "We need quiet time to examine our lives openly and honestly – spending quiet time alone gives your mind an opportunity to renew itself and create order."  – Susan L. Taylor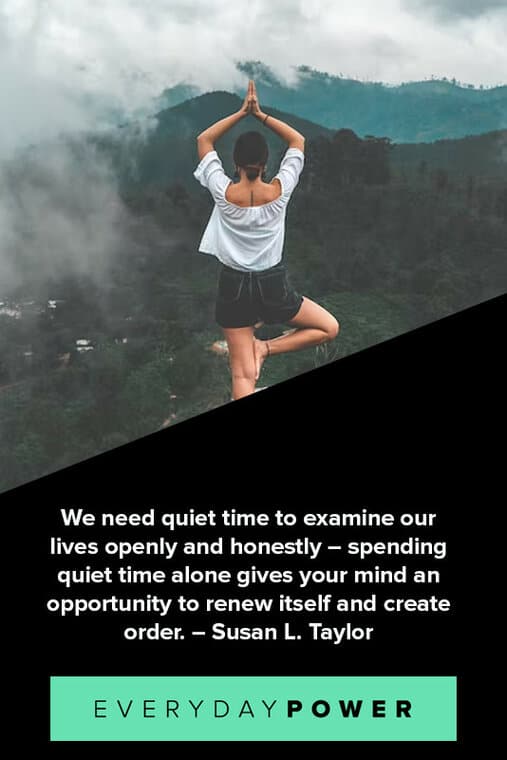 13. "Nothing else so destroys the power to stand alone as the habit of leaning upon others. If you lean, you will never be strong or original. Stand alone or bury your ambition to be somebody in the world." – Orison Swett Marden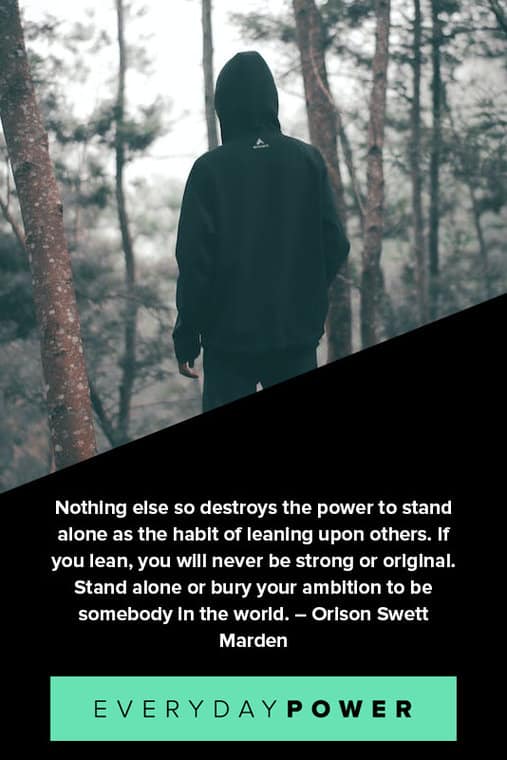 14. "Sometimes, you need to be alone. Not to be lonely, but to enjoy your free time being yourself." – Unknown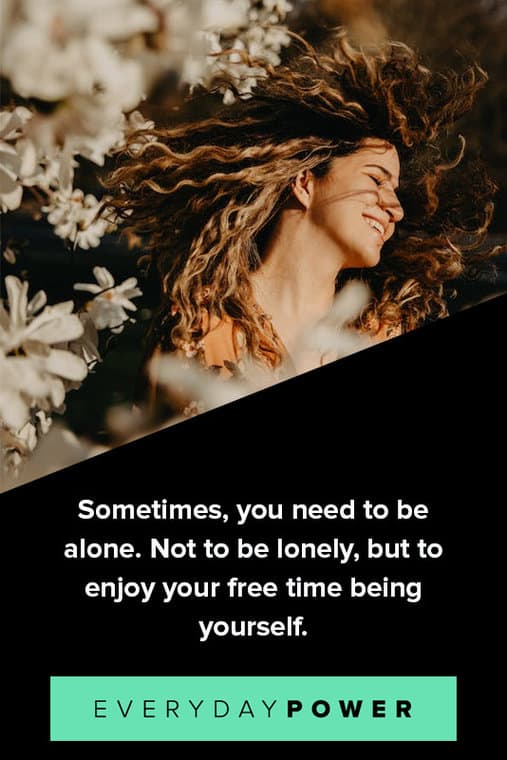 15. "You cannot be lonely if you like the person you're alone with." – Wayne Dyer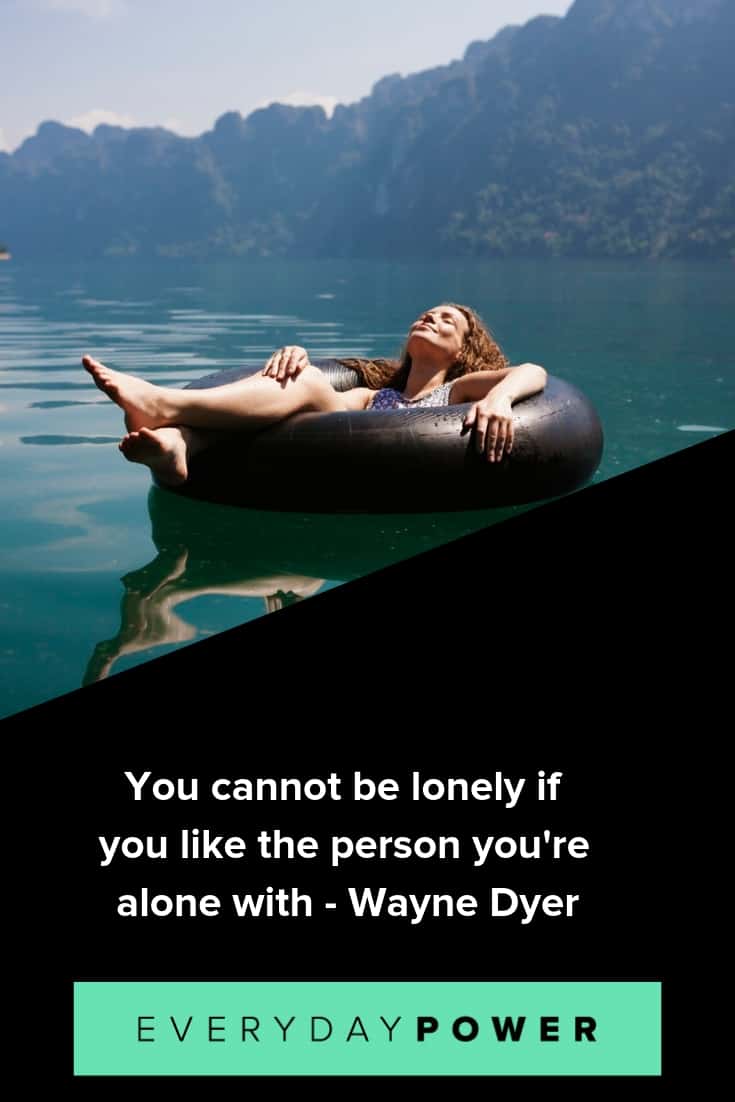 16. "If you wanted to do something absolutely honest, something true, it always turned out to be a thing that had to be done alone."  – Richard Yates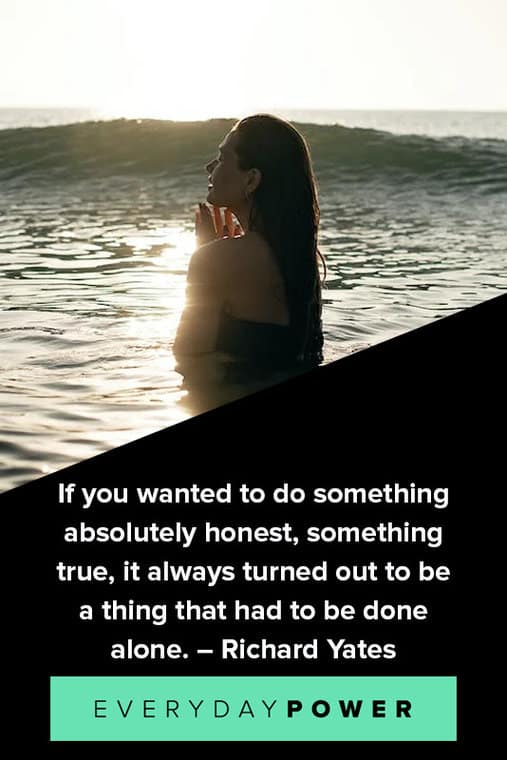 17. "Sometimes you need to take a break from everyone and spend time alone, to experience, appreciate and love yourself."  – Robert Tew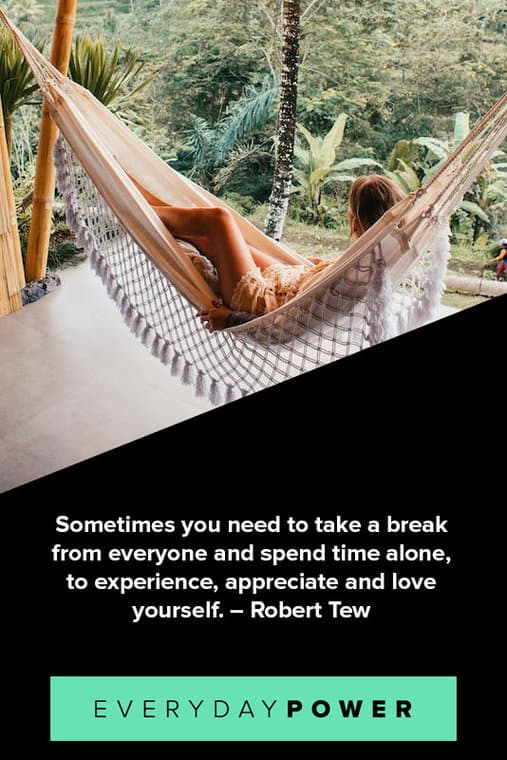 18. "When you learn how to be alone you'll discover the difference between alone and lonely."  – LJ Vanier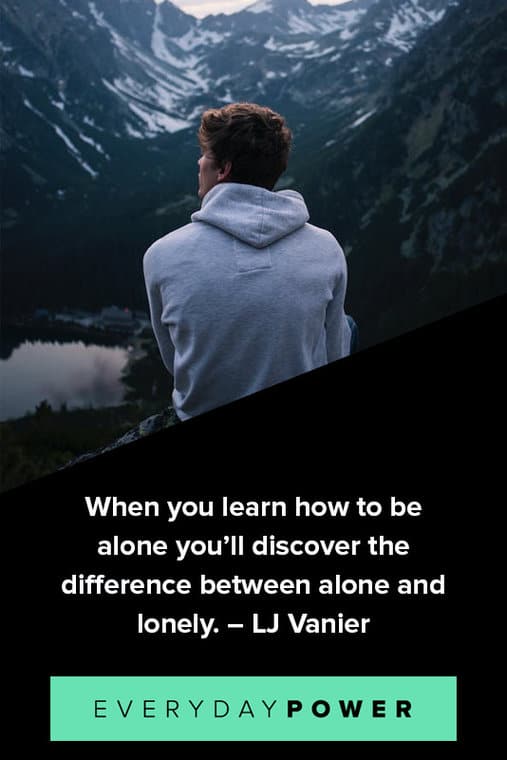 19. "Truth is, I'm generally happiest when it's just me. It's okay to be madly in love with yourself." – Richelle E. Goodrich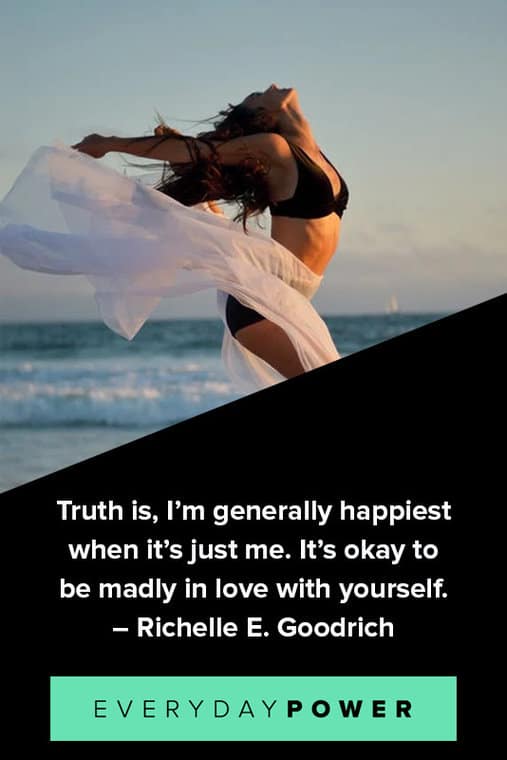 20. "One of the greatest regrets in life is being what others would want you to be, rather than being yourself." – Shannon L. Alder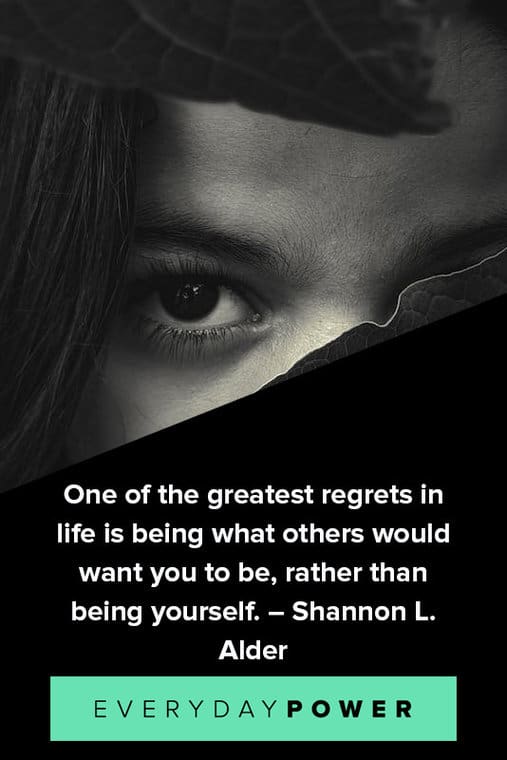 Don't forget to also check out our list of introvert quotes about contentment and solitude.
Being alone quotes to inspire self love
21. "People who do a job that claims to be creative have to be alone to recharge their batteries. You can't live 24 hours a day in the spotlight and remain creative. For people like me, solitude is a victory."  – Karl Lagerfeld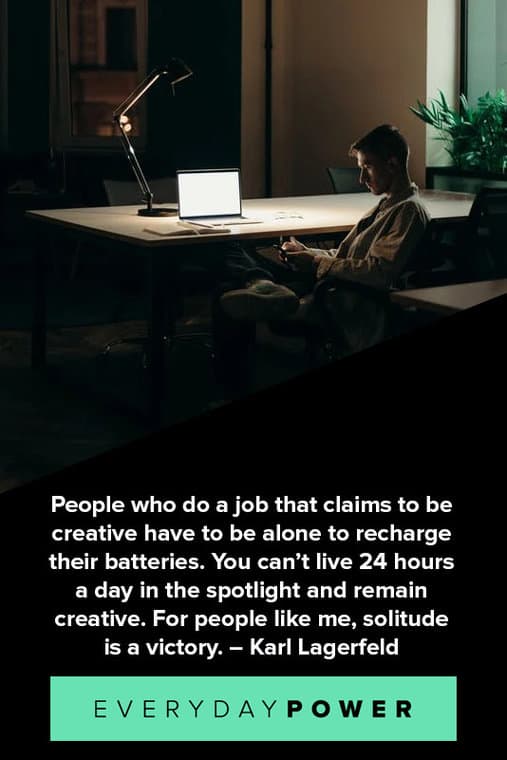 If you're enjoying these quotes, make sure to read our collection of Karl Lagerfeld quotes that will make you see the art in life.
22. "To be of good quality, you have to excuse yourself from the presence of shallow and callow minded individuals."  – Michael Bassey Johnson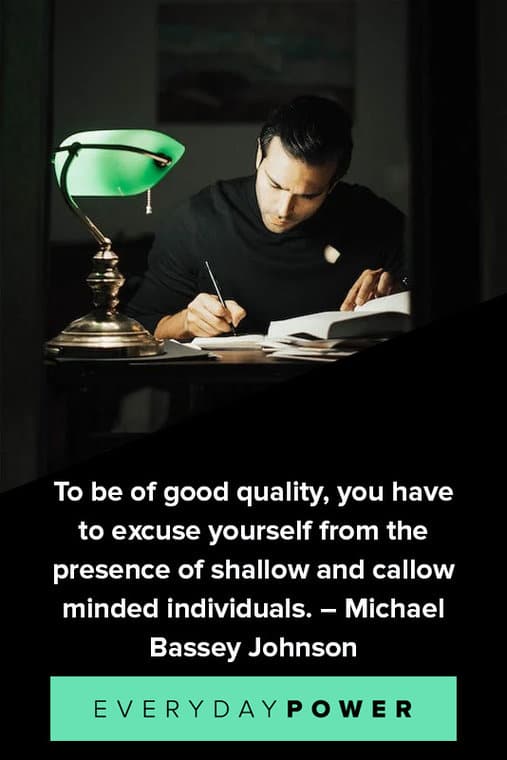 23. "You are never alone. You are eternally connected with everyone."  – Amit Ray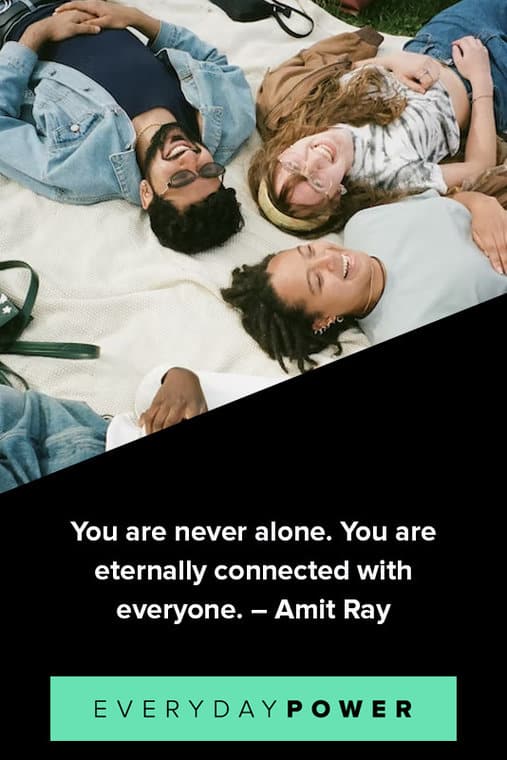 24. "If you are never alone, you cannot know yourself."  – Paulo Coelho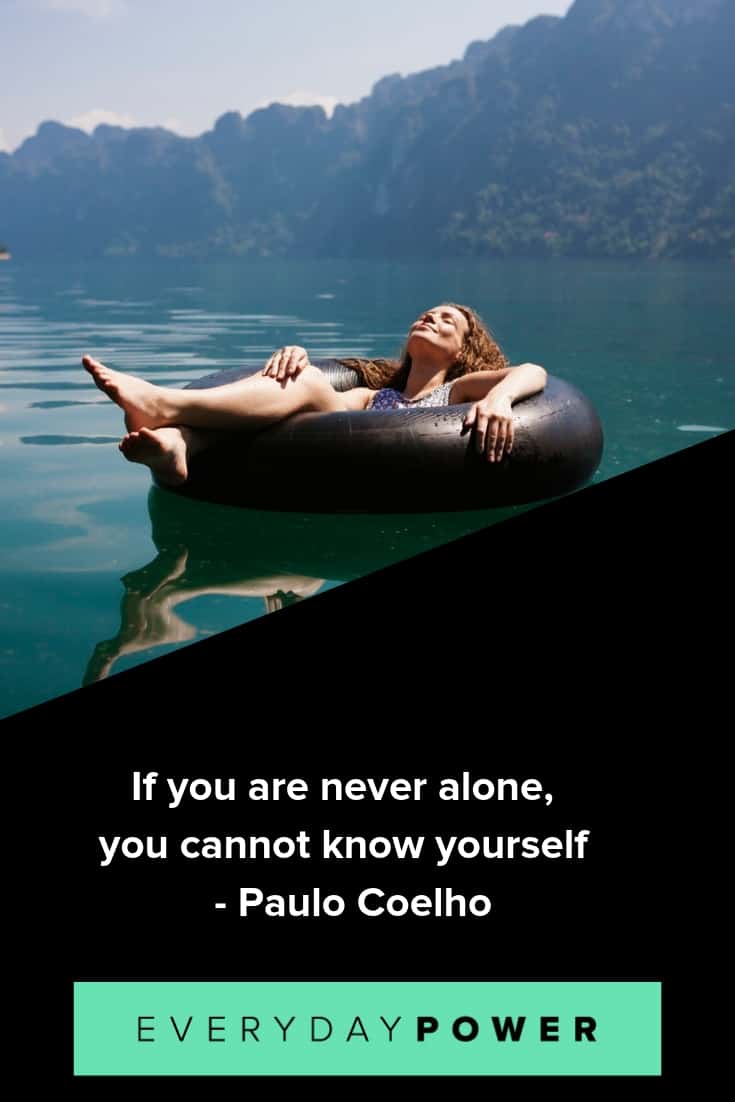 25. "A season of loneliness and isolation is when the caterpillar gets its wings. Remember that next time you feel alone."  – Mandy Hale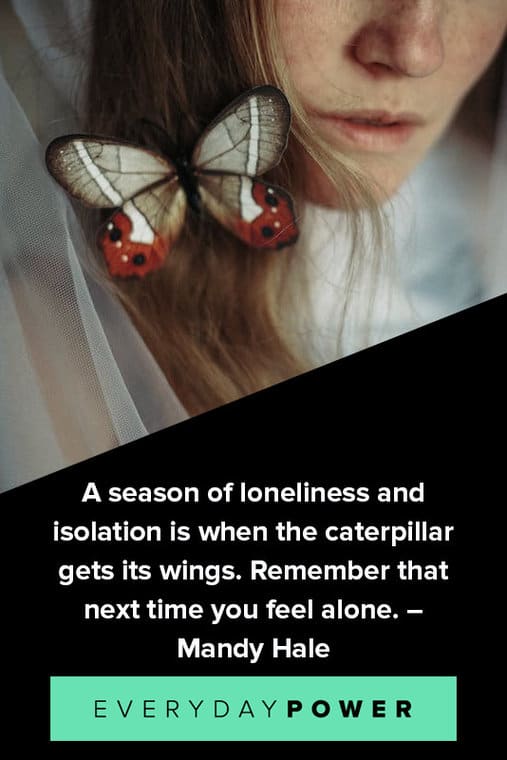 26. "Sometimes you need to sit lonely on the floor in a quiet room in order to hear your own voice and not let it drown in the noise of others."  – Charlotte Eriksson
27. "Do not whine… Do not complain. Work harder. Spend more time alone."  – Joan Didion
28. "I was lonely. I felt it deeply and permanently, that this state of being on my own might never disappear. But I welcomed the loneliness, which had everything to do with being anonymous. It's never loneliness that nibbles away at a person's insides, but not having room inside themselves to be comfortably alone."  – Rachel Sontag
29. "Never give importance to anyone more than yourself, because once that person becomes important, you become nothing…." – Viren
30. "There are some places in life where you can only go alone. Embrace the beauty of your solo journey."  – Mandy Hale
Have you seen these powerful silence quotes on the importance of reflection?
Being alone quotes to help you live your best life
31. "Loneliness is the human condition. Cultivate it. The way it tunnels into you allows your soul room to grow. Never expect to outgrow loneliness. Never hope to find people who will understand you, someone to fill that space. If you expect to find people who will understand you, you will grow murderous with disappointment."  – Janet Fitch
32. "We need solitude, because when we're alone, we're free from obligations, we don't need to put on a show, and we can hear our own thoughts." – Tamim Ansary
33. "As regards intellectual work it remains a fact, indeed, that great decisions in the realm of thought and momentous discoveries and solutions of problems are only possible to an individual, working in solitude."  – Sigmund Freud
34. "The thing about living alone is that it gives you a lot of time to think. You don't necessarily reach any conclusions, because wisdom is largely a function of intelligence and self-awareness, not time on your hands. But you do become very good at thinking yourself into endless loops of desperation in half the time it would take a normal person."  – Jonathan Tropper
If you're enjoying this article, be sure to also check out our collection of lonely quotes that prove it's okay to be alone.
35. "You're not alone, there is more to this I know. You can make it out, you will live to tell."  – Saosin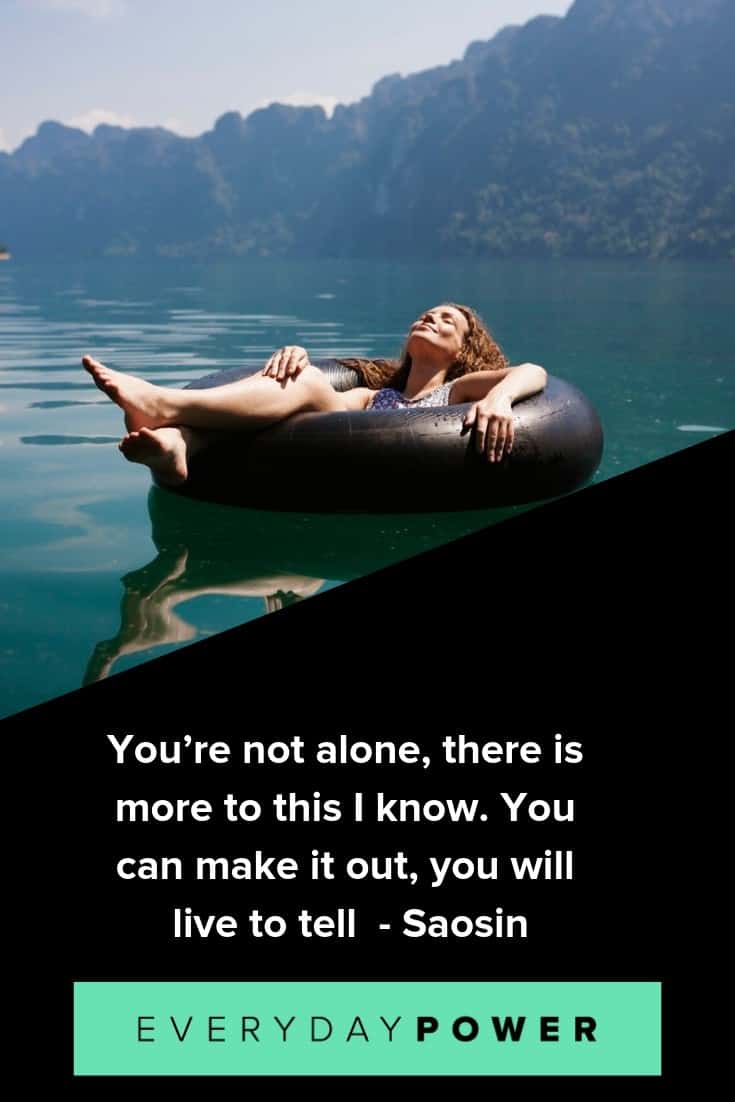 36. "I've always believed that the only defeats and victories that matter in life are those you lose or win alone, against yourself."  – Mihail Sebastian
37. "Solitude is the soil in which genius is planted, creativity grows, and legends bloom; faith in oneself is the rain that cultivates a hero to endure the storm, and bare the genesis of a new world, a new forest."  – Mike Norton
38. "Many people seek fellowship because they are afraid to be alone…let him who cannot be alone beware of community. He will do harm to himself and to the community. Alone you stood before God when he called you; alone you had to answer that call; alone you had to struggle and pray; and alone you will die and give an account to God. You cannot escape yourself, for God has singled you out."  – Dietrich Bonhoeffer
39. "You have to go ahead, even if no one goes with you."  – Lailah Gifty Akita
40. "Never make the mistake of thinking you are alone — or inconsequential. Ignorance is voluntary and confusion is temporary. You see the world as-is, which is more than can be said for the vast populace."  – Rebecca McKinsey
You might also like these calming solitude quotes to bring you peace.
Being alone quotes to help you be your absolute happiest
41. "Everything that is tearing us down today will become a memory, and this memory will be shared as an anecdote or a story or a poem or a play or a warning. It will be shared with another human being, who will then understand that he is not alone in his sadness. This is why we show up for others and tell our tales and listen to others. The great congregation meets daily, and you are someone's angel today." – Tennessee Williams
42. "Being alone doesn't necessarily mean loneliness. people are great! but being alone is wonderful. I prefer the silence of alone. and the sounds of nature." – Jayson Zabate
43. "There is something immaculate about loneliness which only lonely people can understand" – Munia Khan
44. "I made my way here alone for a long while. It took some time to find my place. It took more time to become somebody worth protecting." – Melissa Albert
45. "There are two kinds of luxuries; being alone and being with someone who understands."- Nitya Prakash
46. "Like it or not, there are times when you need to be alone; times when you need to be lonely; times when you need to need other people."  – Alan Bradley
47. "If you are ever sad and think that life is hard, remember that you are not alone…" – Abbas Kazerooni
48. "It is never too late to make a change and taking some much needed alone time for yourself to reflect is not selfish."  – Nyki Mack
49. "If you make friends with yourself, you'll never be alone."  – Maxwell Maltz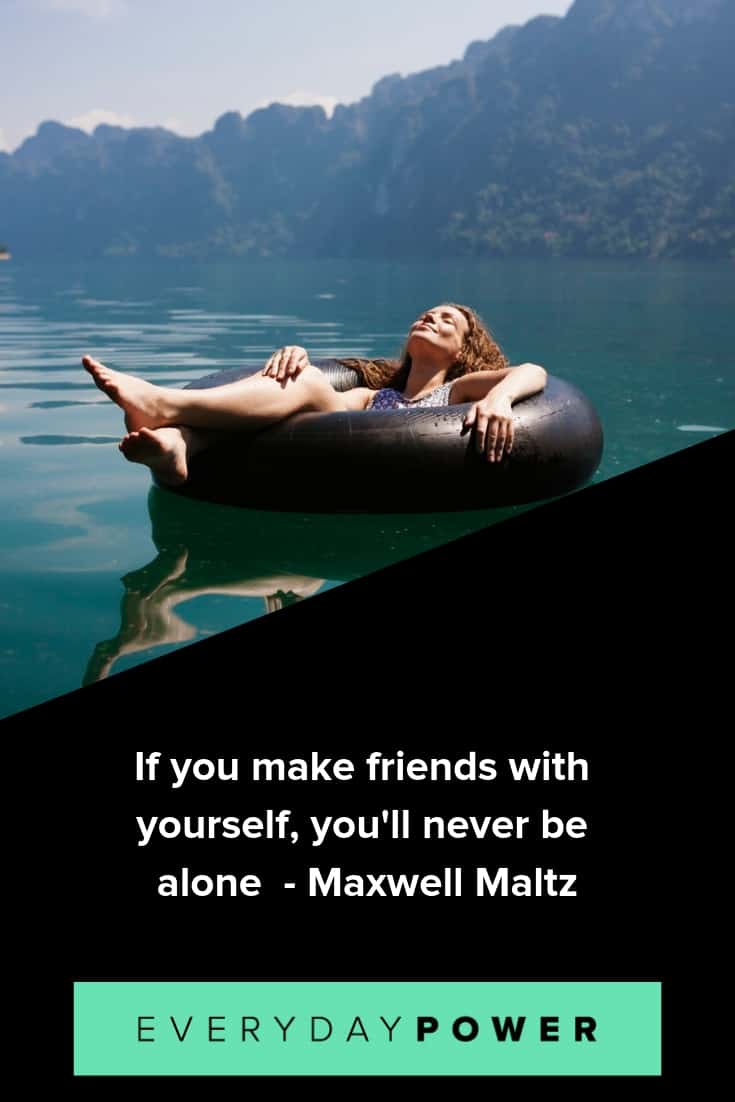 50. "Learn to be alone and to like it. There is nothing more freeing and empowering than learning to like your own company."  – Unknown
Being alone quotes to help you find yourself
51. "You've got to find yourself first. Everything else will follow." – Charles de Lint
52. "I always joke about being alone forever but really do believe there isn't someone out there for me." – Unknown
53. "Should we say the self, once perceived, becomes the soul?" – Theodore Roethke
54. "Those who love and free nature are never alone." – Rachel Carson
55. "Be who you are, and find yourself so you can be your own person and enjoy life with no regret." – Bonnie Zackson Koury
56. "Most women would not be happy being me. People say, "But you're alone." But I don't feel alone. I feel very un-alone." – Stevie Nicks
57. "You cannot dream yourself into a character; you must hammer and forge yourself one." – James A. Froude
58. "We're born alone, we live alone, we die alone. Only through our love and friendship can we create the illusion for the moment that we're not alone." – Orson Welles
59. "I wasn't searching for something or someone….I was searching for me." – Carrie Bradshaw
60. "We born alone, we all die alone." – Dalin Shu
The power of being alone quotes
61. "Solitude is independence." — Hermann Hesse
62. "Solitude vivifies; isolation kills." — Joseph Roux
63. "I restore myself when I'm alone." — Marilyn Monroe
64. "You only grow when you are alone." — Paul Newman
65. "Let your mind alone, and see what happens." —  Virgil Thomson
66. "To live alone is the fate of all great souls." — Arthur Schopenhauer
67. "It is far better to be alone, than to be in bad company." — George Washington
68. "Loneliness is the poverty of self; solitude is the richness of self." — May Sarton
69. "The strongest man in the world is he who stands most alone." — Henrik Ibsen
70. "The time you feel lonely is the time you most need to be by yourself." — Douglas Coupland
Being alone quotes for times of solitude
71. "I live in that solitude which is painful in youth, but delicious in the years of maturity." -Albert Einstein
72. "In solitude the mind gains strength and learns to lean upon itself." -Laurence Sterne
73. "Loneliness expresses the pain of being alone and solitude expresses the glory of being alone." -Paul Tillich
74. "Solitude is pleasant. Loneliness is not." -Anna Neagle
75. "Women need real moments of solitude and self-reflection to balance out how much of ourselves we give away." -Barbara de Angelis
76. "Only in solitude do we find ourselves; and in finding ourselves, we find in ourselves all our brothers in solitude." -Miguel de Unamuno
77. "As you simplify your life, the laws of the universe will be simpler; solitude will not be solitude, poverty will not be poverty, nor weakness weakness." -Henry David Thoreau
78. "Solitude is very different from a 'time-out' from our busy lives. Solitude is the very ground from which community grows. Whenever we pray alone, study, read, write, or simply spend quiet time away from the places where we interact with each other directly, we are potentially opened for a deeper intimacy with each other." -Henri Nouwen
79. "Solitude has its own very strange beauty to it." -Liv Tyler
80. "The thoughtful soul to solitude retires." -Omar Khayyam
Did you enjoy these being alone quotes?
Spending time alone has many physical and psychological benefits.
It provides an opportunity for you to ensure there's purpose to all your hustling so you can get the best out of life.
Although the feeling of loneliness can take root within you, you can learn to recognize and manage it.
Hopefully, the being alone quotes above will help you conquer feeling lonely so you can live your best life.
Which of these being alone quotes resonated with you best?
Do you have any other quotes to add?
Tell us in the comment section below.
We would love to hear all about it.