25 Maya Angelou Quotes Celebrating Success, Love & Life (2022)
If you want a way to love life despite the challenges, these motivational Maya Angelou quotes are the perfect words for you.
Get inspired by these quotes by Maya Angelou to see the good in all things with this late legendary poet as your thoughtful guide.
Maya Angelou (April 4, 1928 – May 28, 2014) was a celebrated author, influential poet, dancer, actress, singer, and activist.
Maya received over 50 honorary degrees and is celebrated for her series of 7 autobiographies, which focus on her childhood and adult experiences.
In 2010, she received one of the country's highest honors when President Barack Obama awarded her the Presidential Medal of Freedom.
Maya Angelou's life represented confidence, contribution, and perseverance.
She left behind a lifetime of wisdom that will be cherished for many years to come.
Here are some of our favorite Maya Angelou quotes!
Her words are a mix of straight talk and poetry and her messages transcend race and generations.
You'll find quotes on life, love, happiness, courage, family, friendship, education and much more.
Enjoy!
Remember to also read our selection of quotes by Alan Watts that will open your mind.
Maya Angelou Quotes About Essential Life Truths
1. "Nothing will work unless you do." – Maya Angelou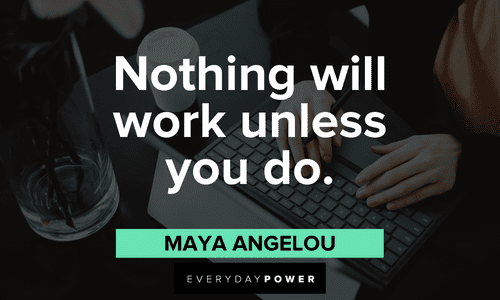 2. "Try to be a rainbow in someone's cloud." – Maya Angelou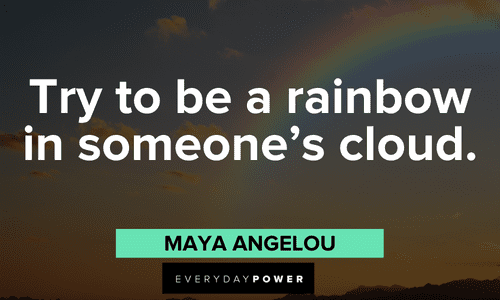 3. "All great achievements require time." – Maya Angelou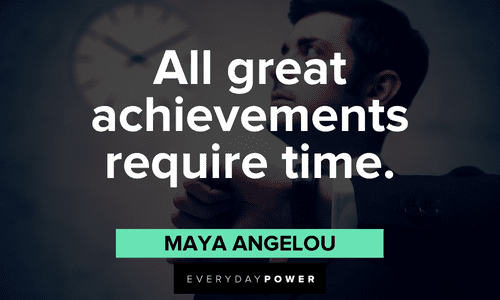 4. "If you have only one smile in you give it to the people you love." – Maya Angelou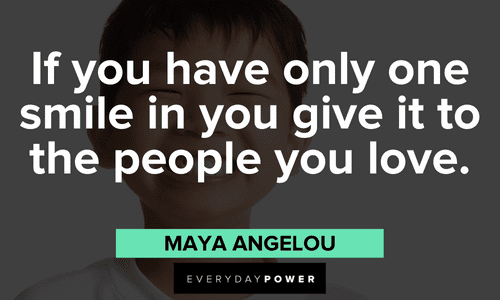 5. "Love is like a virus. It can happen to anybody at any time." – Maya Angelou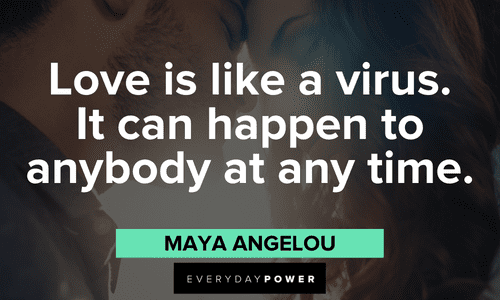 6. "I believe that every person is born with talent." – Maya Angelou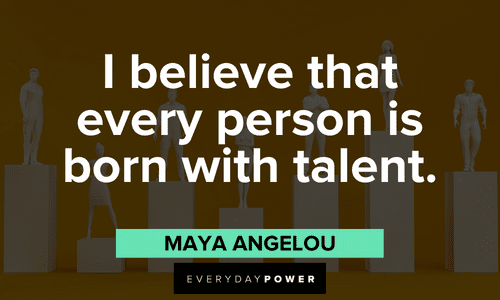 7. "At 50, I began to know who I was. It was like waking up to myself." – Maya Angelou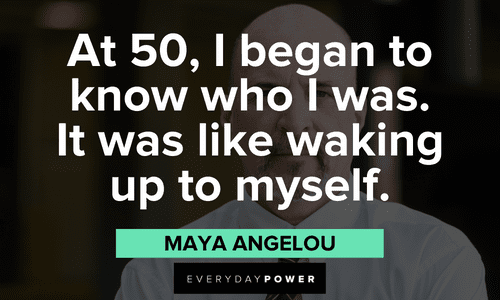 8. "We may encounter many defeats but we must not be defeated." – Maya Angelou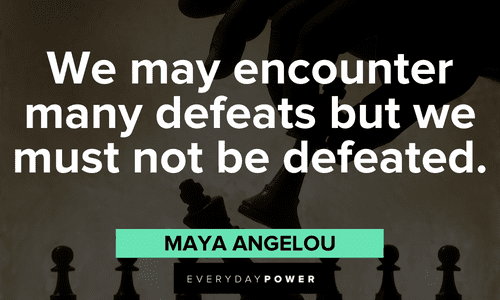 9. "If you don't like something, change it. If you can't change it, change your attitude." – Maya Angelou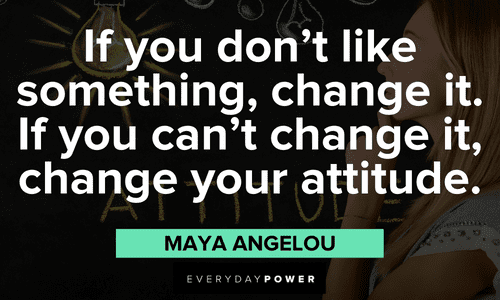 10. "I know for sure that loves saves me and that it is here to save us all." – Maya Angelou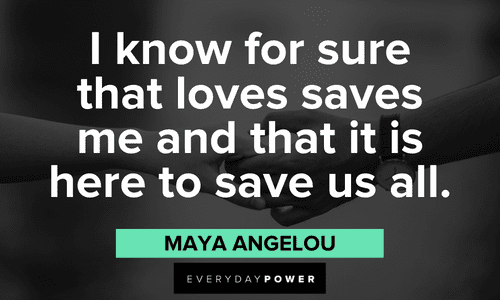 Inspirational Maya Angelou Quotes About Hope
11. "While I know myself as a creation of God, I am also obligated to realize and remember that everyone else and everything else is also God's creation." – Maya Angelou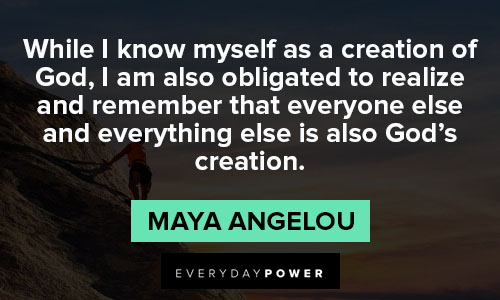 12. "Love recognizes no barriers. It jumps hurdles, leaps fences, penetrates walls to arrive at its destination full of hope." – Maya Angelou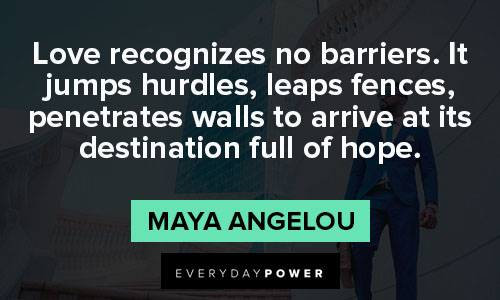 13. "Courage is the most important of all the virtues because without courage you can't practice any other virtue consistently." – Maya Angelou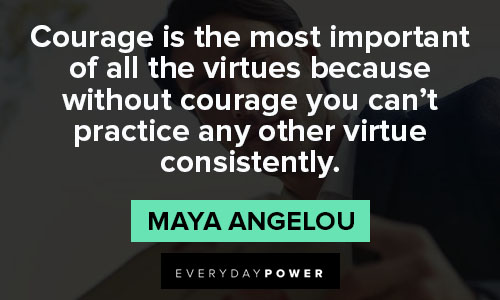 Don't forget to also read these black women quotes that will keep you motivated.
Uplifting Maya Angelou Quotes About Loving others
14. "My great hope is to laugh as much as I cry; to get my work done and try to love somebody and have the courage to accept the love in return." – Maya Angelou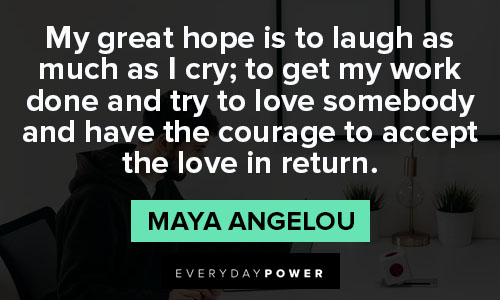 If you're enjoying this article, make sure to also check out these quotes by famous people about life, love and success.
15. "I've learned that people will forget what you said, people will forget what you did, but people will never forget how you made them feel." – Maya Angelou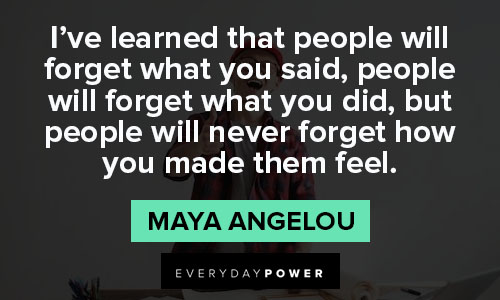 16. "You are the sum total of everything you've ever seen, heard, eaten, smelled, been told, forgot – it's all there. Everything influences each of us, and because of that I try to make sure that my experiences are positive." – Maya Angelou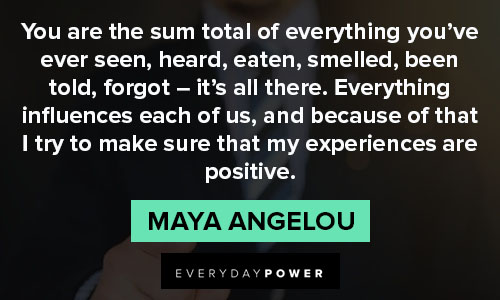 17. "One isn't necessarily born with courage, but one is born with potential. Without courage, we cannot practice any other virtue with consistency." – Maya Angelou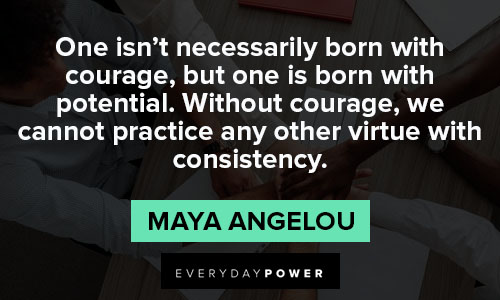 18. "A wise woman wishes to be no one's enemy; a wise woman refuses to be anyone's victim." – Maya Angelou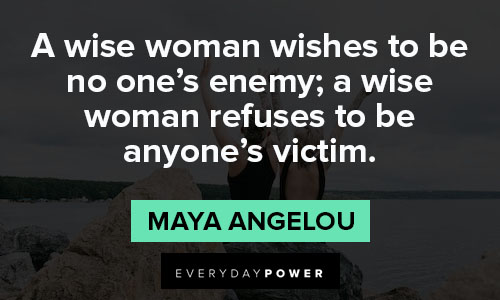 19. "Words mean more than what is set down on paper. It takes the human voice to infuse them with deeper meaning." – Maya Angelou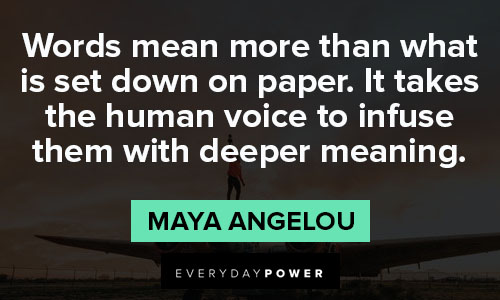 20. "My life has been one great big joke, a dance that's walked, a song that's spoke, I laugh so hard I almost choke when I think about myself." – Maya Angelou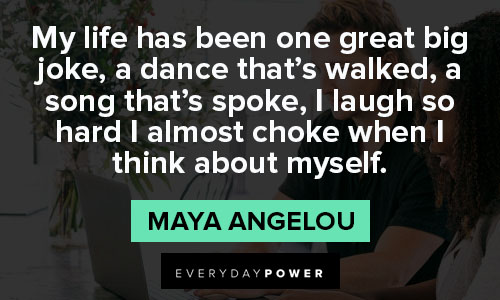 Also read these classic Mary Oliver quotes that will give you a brand new perspective on life.
Maya Angelou quotes about love and greatness
21. "You can't forgive without loving. And I don't mean sentimentality. I don't mean mush. I mean having enough courage to stand up and say, 'I forgive. I'm finished with it."' – Maya Angelou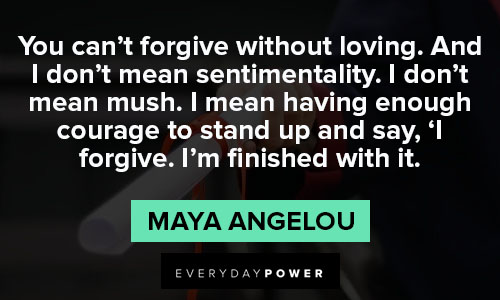 22. "History, despite its wrenching pain, cannot be unlived, but if faced with courage, need not be lived again." – Maya Angelou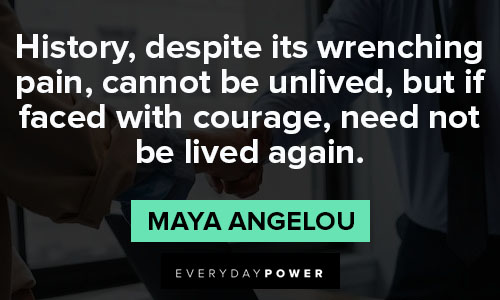 23. "If you don't like something, change it. If you can't change it, change your attitude. Don't complain." – Maya Angelou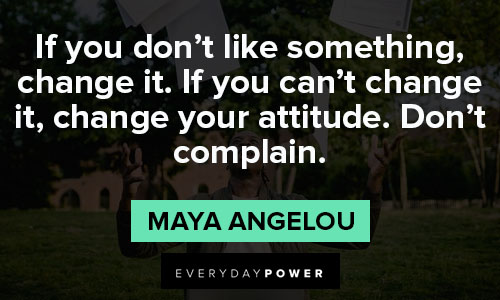 24. "Whatever you want to do, if you want to be great at it, you have to love it and be able to make sacrifices for it." – Maya Angelou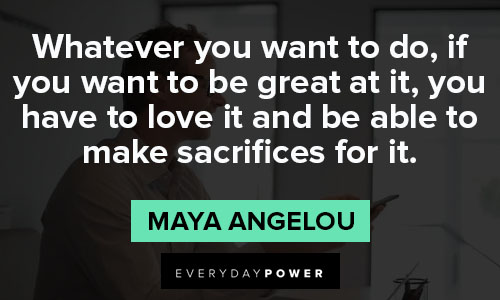 25. "It's one of the greatest gifts you can give yourself, to forgive. Forgive everybody." – Maya Angelou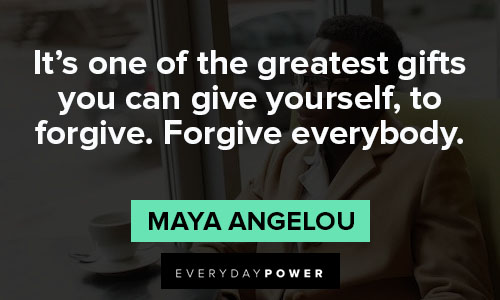 Did You Enjoy These Maya Angelou Quotes?
Though Maya Angelou died in 2014, her legacy still lives.
She will always be remembered not only for her poetry and storytelling but also as an educator, civil activist, actress, and filmmaker.
Maya overcame sexual abuse, racism, poverty, violence and more to become an award-winning author and a recipient of the Presidential Medal of Freedom.
Hopefully, these Maya Angelou quotes have inspired you to love the life you have and to overcome any obstacles that may come your way.
So, did you enjoy these Maya Angelou quotes?
Tell us in the comment section below.
If you have any other quotes from Maya Angelou to share with us, please don't hesitate to mention it.
Also, feel free to share the quotes with your friends and followers.